The former first secretary of France's ruling Socialist Party Martine Aubry has stirred up a major row on the Left after she made a stinging attack on the government of President François Hollande and his prime minister Manuel Valls. Writing in Le Monde newspaper, Aubry, who is mayor of the northern city of Lille, said that the pair were in danger of "permanently weakening France" with their policies.
In a long article signed by other figures on the Left, Aubry attacked what she called the "fool's bargain" of the so-called responsibility pact in which Hollande's socialist government lowered charges and introduced tax breaks for firms in the hope they would hire more workers. She also attacked the "dreadful debate" over stripping French nationality from convicted terrorists, as well as the comments made by Valls against German chancellor Angela Merkel's immigration policy in a "shameful speech in Munich" that she described as a "stain".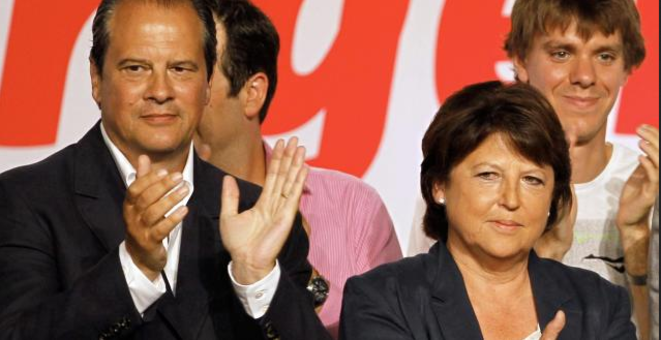 Then and now: former party boss Martine Aubry with current first secretary Jean-Christophe Cambadélis, seen here at La Rochelle in 2012. © Reuters
Martine Aubry also expressed her "anger" over the current and deeply controversial proposed liberalisation of
employment law
which has already split the Left. "That employers' institutions make these demands, fair enough … But for them to become the Republic's laws, certainly not! Not that, not us, not the Left!" she wrote.
The article in Wednesday's Le Monde was signed by Members of Parliament who are close to her, François Lamy and Jean-Marc Germain, and intellectuals who supported her at the socialists' primary election in 2011, Daniel Cohen, Axel Kahn and Michel Wieviorka. Other signatories include green politicians who want a primary on the Left to choose a presidential candidate for 2017, Daniel Cohn-Bendit and Yannick Jadot, plus former ministers and leaders of the left-wing alternative movement at the party's 2015 congress at Poitiers, Benoît Hamon and Christian Paul.
"We wanted this text to be representative of what the diversity of the 'government Left' is thinking," explains MP Jean-Marc Germain. "It's not about being anti-Hollande, we recognise that some good things have been done, but it seems important to us to put forward our own vision of reformism. We don't want to endorse Valls' idea according to which there is a reforming Left and a conservative Left. We've always been reformers, but we need to give back meaning to the word 'reform'," he adds.
At the moment the message appears to be – and is being widely interpreted as such – a cryptic appeal to François Hollande to change his prime minister. In recent weeks there have been signs of a growing tension between Valls and President Hollande. "To say that there are two irreconcilable Lefts [editor's note, as Valls has recently said] is really stupid," says François Lamy. "Because it gives everyone the desire to prove the opposite." Those close to Martine Aubry make no secret of the fact that they were contacted before the recent government reshuffle. "We asked if there was 'movement', a change in line, even a small one," explains one of those approached. "They replied no. So we said goodbye..."
Martine Aubry's comment article was swiftly condemned by government loyalists, with minister in charge of Parliamentary relations Jean-Marie Le Guen describing it as a "political mistake". Manuel Valls himself responded to the article on Thursday describing it as an "opinion article of proclamation" in which the former party boss made no attempt to make concrete "proposals" of her own. The prime minister made clear that he would not altering the government's course, something that would be seen as a sign of weakness. "That would not only be damaging for the president and me but also for the country," he said.
Meanwhile some on the Left sympathetic to this latest attack by Aubry fear that it may not be followed through by the mayor of Lille. Camille Peugny, a sociologist who backed Aubry at the 2011 primary but who did not co-sign the Le Monde article, says there is a great fear that "as too often with Martine Aubry it will be followed by several months of silence".
Indeed, to judge by a previous outburst from the mayor of Lille, supporters hoping for a sustained campaign from her this time have every reason to remain cautious. In October 2014 she was also critical of the government in a long interview given to the Sunday newspaper the Journal du Dimanche. But just a few weeks later she and her friends lined up behind the current PS first secretary Jean-Christophe Cambadélis, and alongside Manuel Valls, ahead of the party's conference at Poitiers in June 2015, a meeting which clarified none of the party's internal conflicts. Aubry even had to suffer the indignity of losing "her" party federation in the département or county of Nord, to allies of minister Patrick Kanner, backed by both Hollande and Valls.
Nonetheless it is that congress's legacy – the notion that the party is broadly united behind the government – that is now at stake. Indeed the question arises of whether the party's current leadership is now viable at all. The congress majority put together by Jean-Christophe Cambadélis now looks very fragile faced with the loss of the Aubry supporters – who made up nearly a third of the majority vote at the congress – and the continuing opposition of those who voted against the PS boss back then.
"Today's he's lost [the majority]," MP Yann Galut, who is on the left of the party, says of Cambadélis. "That doesn't mean that we want to bring him down, but he must take account of the situation and make the interests of the party heard faced with a liberal line that still only represents 5% [of the vote] that Manuel Valls [received] at the [2011] primary. Cambadélis must stop trying to defuse things and state the reality of the party. A vote on the [proposed] employment law will attract a minority among activists, on the [party's] national council and the national committee..."
Though he was not one of the signatories to the Aubry letter – he may not be considered "reformist" enough – socialist Euro MP Emmanuel Maurel is delighted to see an "extension of the field of internal opposition" which he says shows the "state of disarray and anger" among socialists who just six months ago had wanted to believe that a change in direction by the government was still possible. "The guilt over the Poitiers congress should herald an exit from the leadership and thus the end of Cambadélis's hypothetical majority," says Maurel, an internal opponent in the party since 2012. He backs this "salutary" wake-up call at a time when "activists are returning their party cards and when MPs no longer believe in it".
Looking at the strategic landscape confronting the party, a senior party figure asks: "The question is, just where do the Aubry supporters want to go in the coming months? Open hostilities to launch a possible Aubry candidacy in 2017 [for the presidential election]? Make Hollande give way on the [political] direction and go back into the government? Force the holding of a primary to support Hamon or [former economy minister Arnaud] Montebourg? Or just make a symbolic gesture?"
The question is, do Aubry's supporters themselves know the answer? For the time being, even if her allies brush aside talk of her return to front-line national politics, they are playing for time. "Before thinking about the methods for 2017, if we want to avoid disaster and be able to talk seriously about a primary, we need a programme that enables this and government action that is compatible with this hope," says MP Jean-Marc Germain. Thus after this latest salvo it seems a little too early to know if and when Martine Aubry will once again go back to her political slumbers.

-------------------------------------------------------------------------
The French version of this article can be found here.
English version by Michael Streeter.