Over a period of 13 years, Claire Thibout, 52, was employed by L''Oréal heiress Liliane Bettencourt as an accountant. She worked for both the Bettencourt household and for Clymène, the company that manages the billionaire''s wealth.
In an exclusive interview with Mediapart she gave details of how, over many years, Liliane Bettencourt and her late husband André, previously a minister in several governments, gave cash donations to French politicians during visits to their family home close to Paris.
That interview, first published in July and reproduced below here, had the effect of a political bombshell. Among those she alleges took cash donations, handed out in manila envelopes after dinner, was Nicolas Sarkozy - before he became president. "Everyone in the household knew about it," she told Mediapart.
During the interview, Claire Thibout also recalled an occasion when she was asked to prepare 150,000 euros in cash to be given to Nicolas Sarkozy's fund manager for the 2007 presidential election campaign, Eric Woerth, the current French labour minister and former budget minister. This would have been an illegal donation.
Our interview with Claire Thibout took place on Monday July 5th, 2010, after she had been questioned for the second time that day by the Economic and Financial Investigations Squad of the Paris police.
Their investigations were part of a preliminary enquiry into the series of suspected criminal activities disclosed in transcripts of secretly-recorded conversations between Liliane Bettencourt and her close entourage of advisors (including her lawyer in charge of fiscal affairs, her chief financial manager and the socialite François-Marie Banier) between May 2009 and May 2010. The suspected crimes include fraud, tax evasion, abuse of power and money laundering. The police investigation was led by public prosecutor Philippe Courroye, head of the prosecutors' office in the western Paris suburb of Nanterre, close to Neuilly.
The contents of the tapes, recorded by Bettencourt's butler, Pascal Bonnefoy, were first revealed by Mediapart on June 16th, 2010. Privy to all of the conversations, Mediapart revealed only what it considered to be of public interest.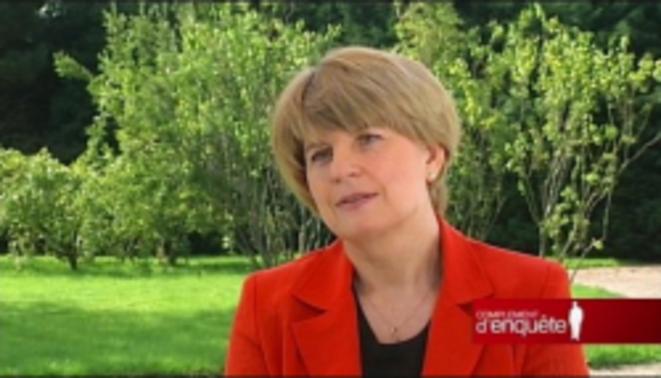 Claire Thibout, after her Mediapart interview, on French TV channel France 2.
During police questioning on July 5th this year, Claire Thibout was asked about the accounts in which she had meticulously, year after year, noted all cash withdrawals she made on behalf of Liliane Bettencourt and her husband André, who died in October 2007. She kept the records between May, 1995, when she was hired by the Bettencourt couple, until November 2008, at which point her employment was ended with a redundancy payment of 400,000 euros.
In our interview later that evening, she told Mediapart that she had consequently revealed a number of activities within the Bettencourt household.
Firstly, Thibout explained to us why she has decided to make her revelations to the police, and to Mediapart. ""I am fed up with seeing all these different people shunning their responsibilities and talking a lot of nonsense,"" she told us. ""It''s time to say what went on. And also, after all, I have nothing to blame myself for.""
She spoke of her anger at becoming the object of a civil complaint for 'theft'. That complaint, made by Liliane Bettencourt''s lawyer Georges Kiejman, notably includes the accusation that she did not return, at the time she was made redundant, several book-keeping documents.