'We need specific solutions'
In 'France and the 1998 World Cup', a book published in 1999 following France's victorious World Cup played out at home the previous year, former DTN chief, ex-Liverpool manager and current coach of English Premier League club Aston Villa, Gérard Houllier, wrote in a preface: "Coaching policy in France is under the control of the Direction Technique National of the French Football Federation, and the DTN has always made coaching its principle objective. Ever concerned to improve its activities, the DTN even introduced a far-reaching scheme of Youth Development ('pré-formation', or 'pre-training') for very young players who can learn advanced skills in seven centres across France. The current élite of players of the French First Division have all developed their skills in one of these centres, and the policy of Youth Development has turned out to be a total success, promising a rosy future for French football in the coming years."
A report commissioned in 2010 by the DTN, which controls French football coaching policy, and which focused on the results at the INF coaching centre at Clairefontaine, concluded that too many players with dual nationality, or who can claim dual nationality, go on to join a foreign national team after being trained in France.
Under article 15 of the rules and regulations of FIFA, the international governing body of football, players with dual nationality are authorised, since 2004, to be be selected for either one of their countries' teams, on the condition that they have not already played for the A-team (over 21s) of the other.
According to Mediapart sources, the DTN has never, in its discussions on the subject, detailed the problem in terms of nationality but rather in terms of "blacks" and "beurs"1 - the latter a popular French term used to describe people of North African origin.
Similarly, Mediapart has learnt that Laurent Blanc told a DTN meeting that it was necessary "to limit" the number of French players with a second nationality and who "leave to play in North African or African teams", but without mentioning examples of the countries concerned.
In an interview published in April 2011 by the FFF's official magazine Foot Mag, French Under-21 team coach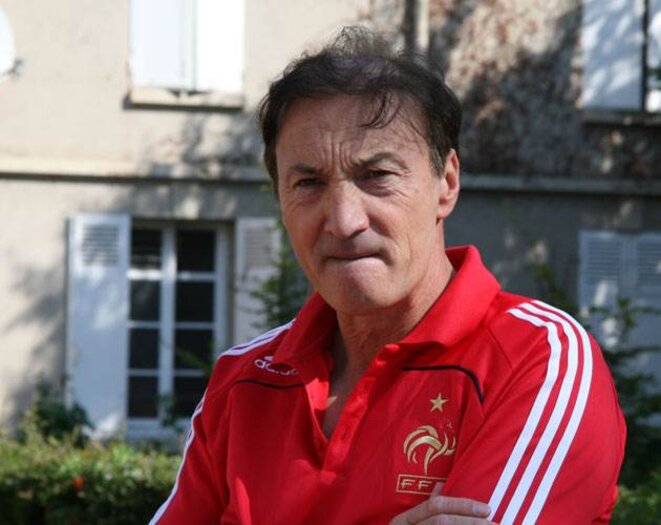 Erick Mombaerts. © (dr)
Erick Mombaerts commented: "We have no need of a player who is not fond of the blue jersey. Let's have the courage to go the heart of our ideas on this matter. And let's not forget another problem raised by Laurent Blanc, [
which is
] losing our young international players [...] We need to find specific solutions."
Mombaerts told a DTN meeting last year that two leading French football clubs, Olympique de Marseille and Olympique Lyonnais, had unofficially already begun operating a quota system at their own training academies, and that their example was currently being followed by other clubs.
But the DTN's concerns about the racial origins of the France team even extend to the issue of the morphology of players, notably black players. ---------------------------
1: 'Beur' is a popular term applied in France for and by the country's population of North African origin. After the France team's 1998 World Cup victory, by a squad that was made up of players of white French, Afro and Maghrebi origin, and which notably included current coach Laurent Blanc, the standard, traditional 'Blue, White, Red' phrase to describe the French tricolour flag, a representation of the republican state and its founding revolution, was popularly re-interpreted with the catchphrase 'White, Black, Beur'.