'Who are the large, strong, powerful? The blacks.'
Mediapart has learnt that during a DTN meeting last year, Laurent Blanc suggested that a stereotype of player, which he reportedly described as "large, strong, powerful" needed to be changed. According to Mediapart's sources, he told the meeting of DTN board members: "And who are the large, strong, powerful? The blacks. That's the way it is. It is a current fact. God knows that in the training centres and football academies, there are lots."
Contacted by Mediapart, Lyon's training director Rémi Garde denied the suggestion the club had begun imposing ethnic quotas. "It is not a question of colour, but a question of profile," he said. "We have always tried to recruit players who have a certain intelligence for the game. But you can be big, strong and intelligent. We'll listen to the messages from the DTN, but for the moment, we haven't yet discussed anything."
Marseille football club did not answer our request for an interview.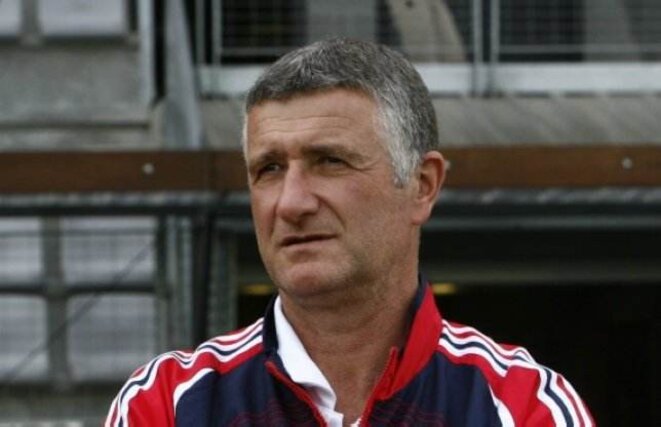 François Blaquart, directeur technique national. © (dr)
Already in March 2010, Under-21 national team coach Erick Mombaerts told French daily Le Monde: "Should only athletic players be recruited? [...] In 1998, the team was 'white, black, beur', today it's more like 'black, beur, white'". Shortly after he was confirmed in his post as DTN director in February, François Blaquart spoke at a press conference of the necessity "to prioritise intelligence in the game with respect to the technical and, above all, athletic aspect."
While some DTN staff began to toy with this type of discrimination some years ago, the idea of "limiting", as it is described within the FFF, the proportion of black and 'beur' players who reach a place in the national team , the French team's mutiny at the soccer World Cup last summer in South Africa appears to have swayed the idea for many more.
At the time many, members of the DTN expressed the view, in official meetings or in private, that black players like team captain Patrice Evra or Muslim players (including the converted Franck Ribéry) were mainly responsible for the fiasco in South Africa.
Shortly after the World Cup such ideas were mooted during a DTN meeting in Ouistreham, Normandy, held from July 18th to 21st. Only two DTN managers expressed disagreement with this vision of the future, one FFF official present at the meeting told Mediapart.