Youth team players 'checked for prayer mats'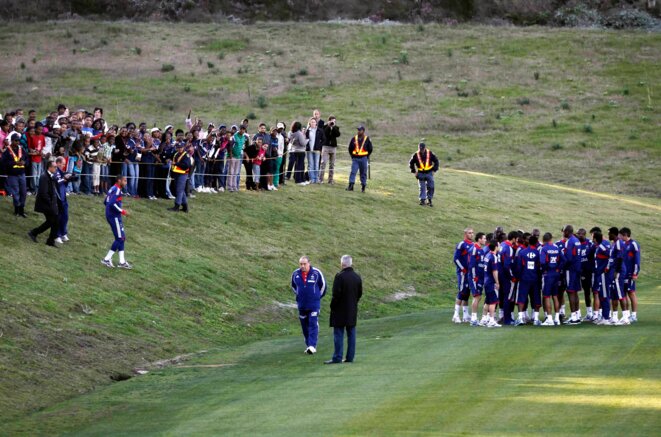 Afrique du Sud, grève de l'équipe de France lors du Mondial. © (Reuters)
One of the first measures taken by Laurent Blanc when he became coach for Les Bleus last summer was to ban halal meat from the players' meals. He told French television at the time that out of respect for Muslims, there would be no pork either. However, the French team's meals do not usually contain pork, a meat that is said to be too fatty for top-level sportsmen.
Several former FFF officials have told Mediapart of an incident in 1997 when DTN officials ordered searches of bags belonging to players of Maghrebi origin in the national youth team (16-17-year-olds), to check they were not carrying prayer mats.
The following year, in 1998, the victory of France and the Zinedine Zidane and Lilian Thuram generation at the World Cup tournament in Paris, which inspired the 'blanc, black, beur' description to denote their racial mix, helped to briefly obscure cultural and racial differences.
But things have changed since, notably following the French team's rout last summer in South Africa. Mediapart has been told it is is not uncommon to hear DTN officials talk privately about Muslim players as Islamists or Saracens.