The jewel of Kazakh sport is once again taking part in the Tour de France which began in Germany on Saturday July 1st and which will then weaves its way across France until it concludes at Paris on July 23rd. The Astana cycling team – it takes its name from the capital of Kazakhstan – exists to bolster the image of that country's dictatorship. Run by former cyclist Alexander Vinokourov, its team outfit bears the national colours adorned with a badge depicting a steppe eagle beneath an image of the sun.
But behind the turquoise blue of the team jersey there is the reality known to all cycling fans: that while the team is indeed financed by Kazakh sovereign funds, it is in fact based in Luxembourg. It is there that the company Abacanto, which owns the team's professional cycling licence, has its headquarters and pays its riders, and where it has existed in complete legality since its creation in 2007, in a country known for its low taxes. In the world of cycling, they are not alone in having made this choice.
Mediapart has discovered that there is a growing tendency among riders to take advantage of Luxembourg's favourable tax system. A handful of cyclists have established themselves there full time, but most use tax trusts to receive profits from the sale of image rights in an arrangement that is legal as long as the income is declared to the tax authorities.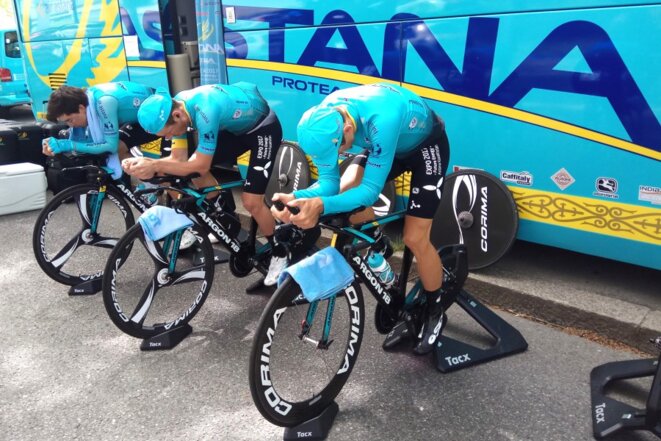 Though financed by sovereign funds from Kazakhstan, the Astana team is legally based in Luxembourg. © Astana pro team

Alain Gallopin is an important name in French cycling. He was himself a professional rider for just three months before suffering a serious accident in 1982 and has since had a successful career as a trainer. Today he is sporting director of the Trek-Segafredo team (part of the elite World Tour) and in the past he has coached some of the biggest names in cycling such as Jan Ullrich, Fabian Cancellara, the Schleck brothers Andy and Fränk, and Spaniard Alberto Contador.

In 2008, when he was part of Astana, he set up his first company in Luxembourg, called Milnown Lux. "At the time it was the team who suggested this set-up. I'd also heard it spoken about here and there," he told Mediapart. Gallopin says he received "the equivalent of 30% of my salary in image rights in Luxembourg". The rest of the money was paid in France. "The arrangement suited everyone," says Alain Gallopin. The cycling team had to pay less in employer social contributions while the profits on his Luxembourg company were lightly taxed. This is because Luxembourg has opted to exempt from tax 80% of income from intellectual property and from selling intellectual property rights. This means that the effective tax rate on intellectual property rights is less than 6%.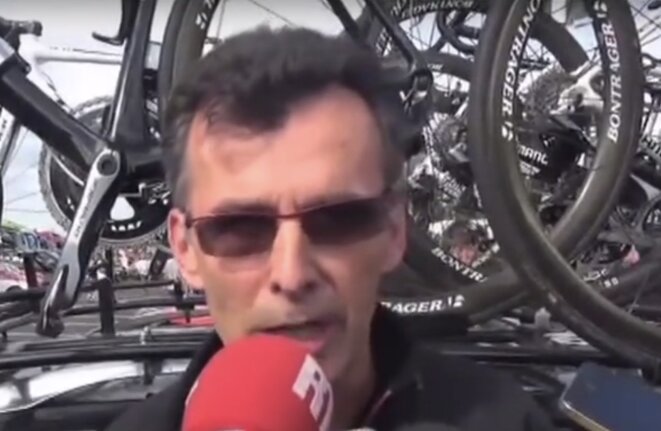 Rider-turned-trainer Alain Gallopin. © Capture d'écran Youtube
As a partner and manager of Milnown Lux, Alain Gallopin received around 70,000 euros in dividends and paid just a few hundred euros in tax. What is not clear is what the tax rate was once this money was taken into France. The French cycling trainer says he does not know much about the subject and merely says that "it was all declared to the tax authorities". He closed the company in 2014. "Today all my business activities are in France, it's much clearer like that. In the end I didn't gain a lot, almost nothing, I think it's mainly worth it for huge salaries," he says. Then he adds: "It's the firms who deal with all that who profit from it most of all."
The company involved in Alain Gallopin's tax arrangement was International Tax Consult (ITC). Run by the Flemish accountant Jan Vanden Abeele - who did not respond to Mediapart's questions having asked for them in writing - it describes itself as a "leader" in international tax affairs. "We help clients all over the world solving problems that arise in relation to international taxation in a broad sense," the firm says on its website. Since 2005 it has helped dozens of sports people reduce their tax payments, starting with Belgian cyclist Johann Bruyneel, one of the first in his sport to use Luxembourg's tax system in this way. Bruyneel, who was sporting director for the later disgraced American cyclist Lance Armstrong at the US Postal Service team (later known as the Discovery Channel team), owned two companies there.
The first of these was 2.IN BVBA & Cie, founded in 2005; the second was Lockdale Lux, set up a year later in 2006. Both were dissolved after Bruyneel retired in 2012. Between them they handled a turnover of close to 10 million euros, allowing Bruyneel – who was resident in Spain then the UK – to pocket significant dividends. Lockdale Lux also benefited from a mysterious shareholder bearing the same name (Lockdale Limited) and based in Cyprus, where ITC have a branch. Mediapart was unable to find out who was behind this additional structure
The same set-up was duplicated for other riders and team managers: the Slovene Janez Brajkovic, Carlos Barredo from Spain, Irishman Philip Deignan, Australian Allan Davis and the Belgian sporting director Lorenzo Lapage. None of them wanted to talk to Mediapart. Even the Belgian mechanic Chris Van Roosbroeck had his own Luxembourg shell company whose business aim was the "utilisation of intellectual property, with a speciality in the technical support of a team of professional racing cyclists". According to documents seen by Mediapart some 120,000 euros had accumulated in the company up until 2013. Contacted by telephone Van Roosbroeck said: "I've nothing to say about all that."
The Italian cyclist Ivan Basso, who has twice been on the podium in the Tour de France, also benefited from an identical tax set-up. In 2007 his company Roksper Lux amassed 460,000 euros in revenue but says it paid just 3,820.53 euros in income and business tax. It paid out more than 320,000 euros in dividends that year. Basso declined to speak to Mediapart.