How the scandal grew: a chronology of the Karachi affair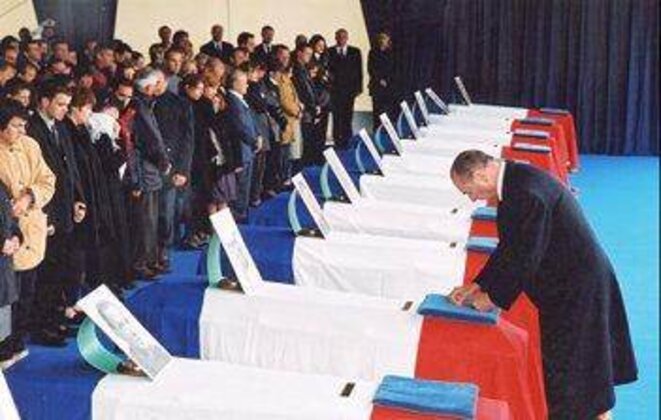 Jacques Chirac before the coffins of the 11 engineers, May 2002. © Elysée Palace
1992
September - Commissions totalling 52 million euros agreed by French defence contractor DCN in relation to proposed sale of three Agosta-class submarines to Pakistan.
1993
March 29 - Edouard Balladur becomes prime minister under President Mitterrand.
March 30 - Nicolas Sarkozy becomes budget minister and government spokesman.
1994
Summer - Government of Edouard Balladur orders two new intermediaries and 33 million euros in new commissions to be added to Agosta deal even though sales contract is just awaiting signature.
September 21 - Agosta contract signed.
November 18 - Creation by DCN of Luxembourg-based company Heine.
1995
January 28 - Balladur announces running for presidency against centre-right colleague and friend Jacques Chirac.
April 23 - Balladur eliminated in first round of presidential election.
April 26 - 10.25 million French francs (about 1.5 million euros) deposited in large denomination notes in Balladur's campaign bank account in Paris.
May 7 - Jacques Chirac elected president of France. Chirac quickly orders new defence minister Charles Millon to identify those arms contracts containing retro-commissions signed under premiership of his rival Balladur.
October 3 - Investigators working for Constitutional Council recommend rejecting Balaldur's election accounts.
October 11 - The Council approves the accounts.
1996
July - The Agosta contract intermediaries used by Balladur's government are informed they will not get the balance of the commissions due to them.
1997
September - French armed Forces controller-general Jean-Louis Porchier starts inquiry into Agosta contract.
1998
May - Porchier delivers report. Based on what he has found out, he is asked to start another inquiry in tandem with the financial investigation authorities, the Inspection générale des finances (IGF).
1999
March - Porchier delivers final report to defence ministry. It remains classified.
2000
September 28 - OECD-negotiated agreement outlawing corrupt payments - bribes - to foreign officials adopted into French law.
2001
September 21 - internal DCN memo confirms that remaining commission due to Agosta intermediary has not been paid.
2002
May 5 - Jacques Chirac re-elected president of France.
May 8 - car bomb aimed at bus carrying DCN staff working on Agosta contract in Karachi kills 14, 11 French citizens and three Pakistanis.
May 27 - judicial inquiry into murders begins. Anti-terrorist judge Jean-Louis Bruguière works on theory that blast was work of Al-Qaeda.
September - former counter-espionage official Claude Thévenet concludes inquiry into the bombing. His report, known as Nautilus, concludes that blast was linked to Agosta contract commissions.
December 4 - Two men, Asif Zaheer and Mohammad Rizwan, arrested by police in Pakistan on suspicion of being involved in the murders.
2003
June 30 - Asif Zaheer, Mohammad Rizwan and a third man Muhammad Sohai - said to be on the run - sentenced to death in Pakistan for carrying out the attack.
2006
- In series of private letters to senior people in French state, Jean-Marie Boivin, former boss of Luxembourg-based company Heine, threatens revelations about commission payments unless he is paid eight million euros.
26 October - Boivin receives visit from two former security agency officials over his threats and he claims they were sent by then-interior minister Nicolas Sarkozy and that he was threatened physically.
2007
January - Jean-Louis Bruguière resigns from his job as magistrate to begin a political career with Nicolas sarkozy's UMP party. He is replaced by judge Marc Trévidic who starts the inquiry from scratch.
May 6 - Nicolas Sarkozy elected president of France.
2008
April 4 - President Sarkozy meets families of Karachi victims and promises he will do all he can to help the inquiry.
September 13 - Mediapart reveals existence of Nautilus report. Judge Trévidic requests that the authorities send him a copy.
2009
January 24 - Boivin signs an agreement with the DCN and French state in relation to Heine and its activities.
May 5 - Asif Zaheer and Mohammad Rizwan are acquitted by the High Court in Pakistan which says there is no proof they were behind the attack.
June 18 - Judge Trévidic tells Karachi victims' families that he is no longer looking at the theory that Al-Qaeda were behind the attack. From now on the investigation will focus on the lead that it was linked to the cancellation of commissions by the Chirac government.
June 19 - President Sarkozy describes theory that attack was linked to commissions and retro-commissions that financed Balladur's campaign as a "fairytale".
2010
19 January - report by Luxembourg police says that as budget minister Nicolas Sarkozy was "directly" involved in setting up the company Heine that was used to channel commission payments.
May - Mediapart journalists Fabrice Lhomme and Fabrice Arfi publish their book "Le Contrat" on the Karachi affair.
June 28 - Boivin is interviewed under caution by judges Françoise Desset and Jean-Christophe Hullin who are investigating separate allegations of corruption at the DCN.
June - Victims' families make formal complaint about the impeding of justice, false testimony and corruption in relation to the investigation into the Karachi affair.
September 14 - Under pressure from the families' complaint, Paris prosecution authorities hand new investigation into impeding justice and false testimony - but not corruption - to experienced judge Renaud Van Ruymbeke. Working in parallel with Judge Trévidic, however, within weeks he announces he is opening an investigation into the issue of the retro-commissions, i.e. alleged corruption.
October 7th - The Paris public prosecutor's office launches an appeal (in the Paris Appeals Court) to have Van Ruymbeke's investigation annulled. The Court's decision on this is pending.
November 9 - Former DCN finance director Gérard-Philippe Menayas confirms existence of blackmail by Boivin against the French state in relation to Heine and commission payments.

November 10 - Speaker of the National Assembly Bernard Accoyer refuses to hand over to Judge Trédivic the witness statements of 60 people who gave evidence to a parliamentary inquiry into the affair.
November 19 - Prime Minister François Fillon refuses permission for Judge Van Ruymbeke to search the offices of the French intelligence agency the DGSE which had been involved in investigating the commissions paid in the Karachi deal.
November 22 - Giving evidence to Van Ruymbeke, former defence minister Charles Millon confirms that after his investigations he concluded retro-commissions were paid in the Agosta arms deal. He suggests they were also paid in a separate arms deal also concluded under Balladur's premiership - the sale to Saudi Arabia of three La Fayette-class frigates. This deal, worth three billion euros (at the time negotiated in French francs) was officially called Sawari II.
November 30 - Judge Van Ruymbeke asks for official sanction to extend the brief of his corruption investigation to the Sawari II contract.