Three people were arrested on Sunday in connection with the Bastille Day massacre in Nice, according to judicial sources cited by press agencies Reuters and AFP, bringing the total number of people now held for questioning to seven.
A man arrested early Sunday is reported to be a 38-year-old Albanian national who is suspected of supplying the 7.65mm pistol Mohamed Lahouaiej Bouhlel used to fire at police as he drove a 19-tonne refrigerated truck into crowds walking along the seafront Promenade des Anglais on Thursday evening, killing 84 people.
The truck was finally halted after zigzagging for about two kilometres - latterly at high speed - among pedestrians when Bouhlel, a 31-year-old Tunisian who lived in Nice, was shot dead by police. Beside his body, slumped in the passenger seat, ammunition and spent cartridges were found, as well as a fake pistol, two "replica" (the term by the public prosecutor) semi-automatic Klashnikov and M16 rifles, and a fake grenade. Also found in the truck's cab was Bouhlel's ten-year residency permit, and a credit card and mobile phone belonging to him.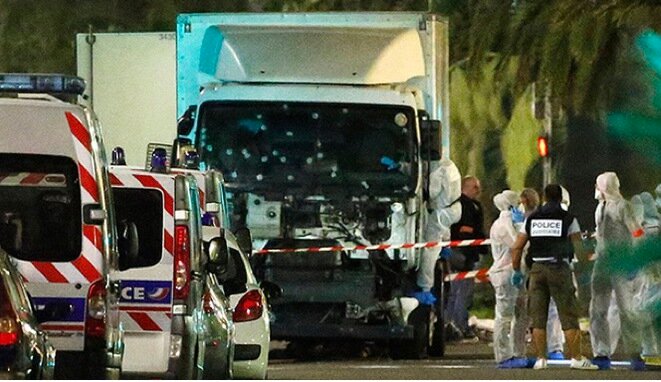 The bullet-ridden truck driven by Mohammed Lahouaiej Bouhlel on the Promenade des Anglais in Nice on July 14th. © Reuters
The vehicle, rented by Bouhlel in nearby Saint-Laurent-du-Var on July 4th, mounted the pavement, ploughing into hundreds of people, many of whom were families with children, at about 10.45 p.m., shortly after a Bastille Day fireworks display.
His estranged wife, who had presented herself voluntarily to police on Friday, was released from custody on Sunday after 48 hours of questioning. She was not placed under investigation, a French legal status that precedes charges.
The Islamic State group (IS) on Saturday claimed responsibility for the attack in a statement released by the Amaq agency, which serves as a mouthpiece for the jihadist organisation. The statement said Bouhlel carried out the attack "in response to calls to target the citizens of the coalition that is fighting the Islamic State". By late Sunday, that remained the only known element directly linking Bouhlel with IS, while reports emerging this weekend suggested that the Tunisian had carefully planned his act.
French President François Hollande and Prime Minister Manuel Valls have repeatedly described the atrocity in Nice as a "terrorist" act, although interior minister Bernard Cazeneuve, interviewed by French TV channel TF1 on Friday night, when he was asked whether he was in a position to say clearly that Bouhel was linked to radical Islamists, answered "No".
"We have an individual who is not at all known to the intelligence services for activities linked to radical Islamism," added Cazeneuve.
On Saturday however, speaking to the press after a defence and security council meeting at the French presidency, Cazeneuve said of Bouhlel that "it seems that he was radicalized very rapidly", adding this was indicated by "witness accounts of his entourage."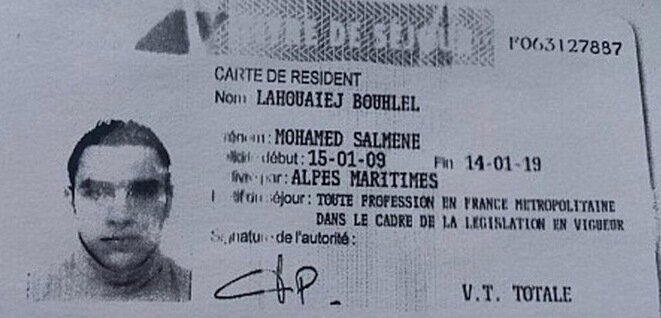 Mohamed Lahouaiej Bouhlel's residency permit. © DR
THE EMERGING PROFILE OF THE KILLER
Bouhlel, a father of three, lived in a modest flat in the north of Nice, where worked as a delivery driver. Questioned by reporters, his neighbours in Nice said his dress bore no hallmarks of religion, and he was not known to attend a mosque. Mediapart reporter Laurent Geslin visited the neighbourhood, Rouret Bateco, where a local chemist shop manager, Véronique (last name withheld), described Bouhlel as a "closed and silent man" who "had difficulty communicating".
"I also have a lot of sadness for his wife, a person who is very brave, with no job, who tries as much as she can to bring up her three children," said Véronique. "This winter, I saw one of the little girls walking in shoes with holes. Life is not easy for them, and it's going to be even worse now, with everything that's hit them."
Statements to the media by both acquaintances and members of Bouhlel's family in his native Tunisia, including his father and sister, spoke of his history of mental illness.
Reuters reported on Sunday that his sister said her brother was treated for psychological problems before he left Tunisia for France in 2005. The psychiatrist who reportedly treated him, Chemceddine Hamouda, told Reuters that Bouhlel's parents brought him to his clinic in the family's home town of Msaken, close to Sousse in north-east Tunisia, in August 2004.
"He had behavioural problems with his parents at that time ... he was very aggressive with them," Hamouda told Reuters. "Sometimes he had tried to lock his parents in a room in their house […] He had problems with his body. He said: 'Why am I thin? I'm not happy with my body.'"
"I just gave him some pills to calm these behavioral issues and this aggression," added the psychiatrist.
The French authorities on Friday said Bouhlel was known to police for several incidents of aggression and theft between 2010, one year after his arrival in Nice, and 2016. In March this year, he was given a six-month suspended jail sentence for violence in a dispute with another driver during a traffic incident.
BBC News reported on Sunday that Tunisian security sources had told the broadcaster that Bouhlel "visited Tunisia frequently, the last time eight months ago".
Reuters also reported on Sunday that Bouhlel's brother Jabeur told the agency that he received a phone call from Mohamed on July 14th, just hours before driving his truck into the crowds on the Promenade des Anglais. Jabeur claimed his brother sent a photo of himself mingling among the people enjoying the national holiday in the city. He declined to show the photo to the Reuters' correspondent.
"That last day he said he was in Nice with his European friends to celebrate the national holiday," Jabeur told Reuters, adding that "he seemed very happy and pleased, he was laughing a lot."
Reuters reported that family members said Bouhlel had begun frequently calling them in recent weeks. "He spoke to me about the town of Msaken, about boxing and sport, and how he was going to come back to Msaken soon," his brother Jabeur told Reuters.
"He asked for news about our parents. He always spoke to me, we were very close," he added. "He sent us small sums of money recently, sometimes 300 or 400 euros, and mobile telephones."
A LONER'S PREMEDITATION, OR TERRORIST PLANNING?
CCTV footage from cameras along the Promenade des Anglais showed Bouhlel on July 12th and 13th driving past the stretch of the seafront boulevard where he would commit the massacre, on July 14th. He reportedly could be seen in the footage carefully scrutinizing the scene.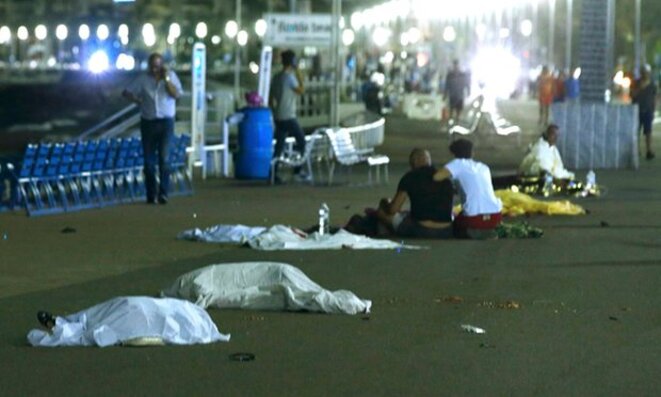 Bodies of victims on the Promenade des Anglais in Nice, July 14th. © Reuters
In a report this weekend, French weekly
JDD
cited an unnamed police source as saying: "
Mohamed Lahouaiej Bouhlel
emptied his [
bank
] account in one week and sold his car the day before July 14th, and had declared to those close to him his radicalisation."
According to unconfirmed reports in regional daily Nice-Matin, investigators have found suspicious text messages on Bouhlel's mobile phone, including one which read "I have the equipment".
THE SHOCKING AFTERMATH
Meanwhile, French health minister Marisol Touraine visited Nice on Sunday, where she said "about 85" people out of the more than 300 who were injured during Bouhlel's Bastille Day rampage remain hospitalised. These include 29 who are in intensive care units of which 18, including a child, are in a critical condition. Touraine said she used the term "about" to described the total number still receiving hospital care "because these are figures that evolve very quickly" due to some leaving hospital while others are readmitted.
She added that some 500 people had consulted five dedicated psychological care units since last Thursday's carnage. A mobile psychological help unit was to be established on the Promenade des Anglais, as well a phone hotline.
The essential of what we know Sunday evening:
Mohamed Lahouaiej Bouhlel, the 31-year-old Tunisian who drove a heavy truck into Bastille Day crowds in Nice on Thursday, killing 84 people, was a loner who had a history of psychological problems, and a criminal record for aggressive behaviour.
He had apparently prepared the July 14th massacre days before, as demonstrated by CCTV footage of him reconnoitring the scene of the massacre on July 12th and 13th, and his acquiring of live and fake weapons.
Neighbours, acquaintances and family interviewed by the press say he had no obvious links to Islamic militants or their ideology.
However, according to the French authorities who cite his close entourage he had lately spoken of his sympathy to the jihadist cause. Interior minister Bernard Cazeneuve says these comments suggest a "rapid" radicalisation.
No direct link has been established between him and the Islamic State group other than their claim that he acted as the jihadist group's "soldier", referring to their call for such acts to be mounted against "citizens of the coalition that is fighting the Islamic State".
Thursday's death toll of 84 included 10 minors and people of numerous nationalities, including French, Algerian, American, Armenian, Belgian, German, Madagascan, Moroccan, Russian, Tunisian, and Ukrainian victims. Not all the dead have yet been identified.
French interior minister Bernard Cazeneuve on Saturday announced a voluntary call-up of an estimated 12,000 gendarmerie and police reservists (9,000 and 3,000 respectively) to help relieve the strain on regular forces as security is stepped up across the country during the summer festivities, which include dozens of popular cultural festivals. Most are to be deployed on border surveillance.
Cazeneuve appealed for "French patriots" to join the call-up. He said that since the terrorist attacks in Paris in January 2015, about 53,000 National Police force officers, 36,000 gendarmes and 10,000 military personnel were deployed on security missions "on all fronts".
-------------------------