It was about 4pm on July 15th 2015, a warm and sunny day, when Mohamed Abrini, a Belgian from the Molenbeek district of Brussels where he had recently sold his snack bar, arrived as agreed in front of a pizzeria in the Small Heath area of the British city of Birmingham. It was close to a local park, where members of the local Muslim community often prey when the weather allows.
Just a few days earlier, Abrini had left Syria.
Abrini, of Moroccan descent, spoke into his phone in a mixture of English and Arabic, two languages that he spoke with difficulty. The person he was talking with told him to wait for a man dressed in a blue top and three-quarter-length trousers.
Abrini had arrived at Heathrow airport on July 9th on a flight from Istanbul. He spent the four days between July 10th and 13th shopping in London, before travelling to Birmingham where he took photographs around the city, notably the back of the central New Street railway station, and hung around the casino. Abrini, who was arrested in Belgium the following year, would explain that, "I am a gambler, it's my vice, I play roulette, poker and one-armed bandits".
He held numerous phone conversations with a man who had sent him on several occasions to the park in Small Heath, and each time the appointment was finally called off, which he later explained was a way of checking he wasn't being followed. He would subsequently learn that it was also to make sure he was who he was supposed to be and not an undercover police officer.
That afternoon on July 15th Abrini had waited about ten minutes before a dark-skinned man with a blue top, his head covered by its hood and, despite the heat, his face obscured by a scarf , approached him. At a distance he indicated to Abrini to follow him. Separated by about ten metres, they walked through Small Heath Park, then crossed a bridge over the nearby A45 motorway and entered some woodland where a third man – who had no beard, moustache or disguise –was waiting. Abrini would later explain: "I began by speaking in Arabic and he said to me that it was OK, I could speak in French."
The third man handed Abrini a bag and the meeting was quickly over. The Belgian left the woodland, back the way he came, and made for his hotel. Over the following days Abrini continued with his travels, including a visit to the Manchester United football club's ground Old Trafford where he also took pictures of the stadium. Abrini was an avowed supporter of Spanish club Barcelona.
On his WhatsApp profile is a photo in which Abrini can be seen giving a thumbs-up beside two street entertainers who are disguised as Marvel comics hero Iron Man. In the photo is a cash collection bucket with a price marked up in pounds, and in the background is an advert in English. On July 16th Abrini, a man unknown to intelligence services and with no criminal record, left Britain, slipping away as invisible as he had arrived.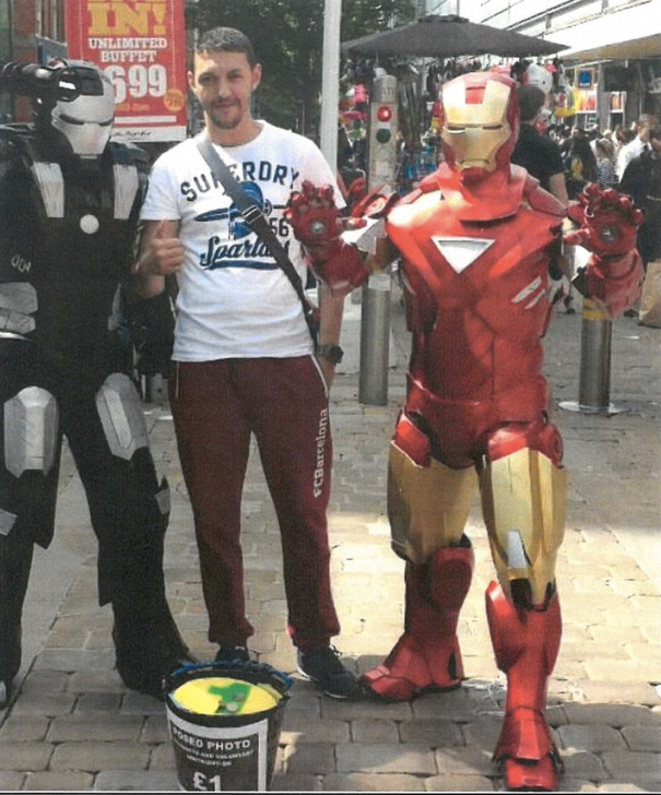 Mohamed Abrini, as he appears in his WhatsApp profile, giving a thumbs-up beside two street entertainers.
It was much later when the West Midlands Police Counter Terrorism Unit, one of five teams that form the national UK Counter Terrorism policing Network, became interested in his sojourn in Birmingham, when the two men he met in Small Heath, members of a local Islamist cell, were identified and arrested. They were accused of handing £3,000 (about 3,800 euros) to Abrini who, the police established, had also been in contact during his stay in Britain with Abdelhamid Abaaoud, a childhood friend who had become a senior figure in the Islamic State group (IS). Abaaoud was suspected of being one of the principal planners of the November 2015 attacks in Paris (and who was killed by French police several days later).
Abrini had taken precautions before his trip. He had asked his-brother-in-law in Belgium to keep a record of five phone numbers which he did not want to be discovered in case of his arrest in Britain. These included numbers which connected with warehouses in Turkey where on-site guards were able to make contact with Abaaoud.
It was in April 2016 that Abrini was arrested in Belgium for his role in the terrorist bombings Brussels in March that year. He was filmed on CCTV cameras pushing a luggage trolley containing a suitcase bomb at Brussels' Zaventem airport on March 22nd 2016, alongside two of the suicide bombers and half-hidden behind sunglasses and a hat. Following his arrest, British counter-terrorism police assisted his questioning by the Belgian colleagues. Abrini admitted travelling to Syria in June 2015, which he said was to visit the grave of his younger brother who had been killed in combat there. He said that while there, Abdelhamid Abaaoud had given him the task of collecting money he was owed by the men he met in Birmingham. The claim was placed in doubt given that Abaaoud gave Arbrini 2,000 US dollars to make the trip, which would have left little change against the money supposedly owed. The British police concluded that he had in fact made the trip to carry out reconnaissance.
In compiling this report, Mediapart has had access to numerous documents, many of which are cited here. These include statements, both from suspects and witnesses, and documents from intelligence services, notably, but not only, the French internal and external services, respectively the DGSI and the DGSE, which are directly cited here. Mediapart has also interviewed officials from security services and former jihadists. This report also draws on research by third-party organisations, referenced in their comments below.
In an IS video claiming responsibility for the November 13th 2015 terrorist shootings and bombings in and around Paris, which left 130 people dead and another 368 wounded, it also threatened attacks in Britain – threats which were illustrated with images of then British prime minister David Cameron and also the British parliament. A report by the French internal intelligence service, the DGSI, reported that the threat was "very credible" and that, "Along with France and Belgium, the United Kingdom featured among the priority targets of Abdelhamid Abaaoud during the summer of 2015".
Under questioning, Mohamed Abrini insisted that he did not travel to Britain in July 2015 to prepare terrorist attacks. In his statement he said: "Neither in London, nor Birmingham nor Manchester did I carry out reconnaissance in connection with the preparing of terrorist attacks […] There is no plan aimed at England as a potential target of a terrorist act. From what I know, it's France that is the sworn enemy of the Islamic State. I think that England has secret services that are more developed, better in the practice of observation and so on. Therefore more difficult to hit. I haven't had contact either with English nationals in Syria."
Concerning his photographing of the Old Trafford football stadium in Manchester, he added: "I had nothing to do so I went by the [Manchester United] football stadium." He said an Algerian national who worked in a hookah bar spoke to him about "visits, activities that went on" at the Manchester United ground. "So I visited the stadium and took photos," he said, insisting: "I have played football all my life […] I was not carrying out reconnaissance."
In a separate statement, given just a few days earlier, Abrini had referred to the connection that could be made between his visit to Old Trafford and the Paris attacks in November 2015 when, along with the mass shootings at the Bataclan music hall and of customers of Paris cafés, suicide bombers also attacked the Stade de France sports stadium. "Even if you can make a link between the attacks in Paris – the stadium in Paris and the photos of the stadium in Manchester, I confirm that it [Editor's note: the visit to Old Trafford] did not involve reconnaissance," his statement read. "It was pure tourism."
But Abrini's insistence that he was an innocent man unknowingly caught up in a web of terrorism by a childhood friend does not stand up to examination. Indeed, as French daily Le Monde revealed earlier this year, shortly before he arrived in Britain one of Abrini's mobile phones had been in contact with Réda Hame, a French member of IS who was arrested in the summer of 2015 in France where, he admitted under questioning, he had been sent from Syria by Abaaoud to commit an attack against a concert hall.
As for the suggestion by Abrini that he had travelled to Syria to visit his brother's grave, a report by the French internal intelligence service, the DGSI, found that he had stayed for several months within IS-controlled territory in Syria, between December 2014 and May 2015.
Shortly after the November 13th 2015 terrorist attacks in Paris, Nicolas Moreau (see page 1 of the first report in this series) asked to be re-questioned by the DGSI. The repentant French jihadist had been first interrogated by the DGSI after his arrest in June that year on his return to France from Syria where he had joined the ranks of IS. But now, Moreau, who was raised in France by a couple from the town of Nantes after they adopted him from an orphanage in South Korea, offered information about two men which he said would be the "jackpot" for the DGSI because "you will avoid terrorist actions" in the future.
The men Moreau offered information about were "Abu Souleymane" and an accomplice, both from Brussels and of Moroccan origins, and both members of what Moreau called "the Islamic State's external secret services". He said neither took part in combat on the frontline, nor would they be called to carry out suicide bombings, such was their importance to the IS group. He described them as "true professionals in melting into the crowd". They are tasked with buying weapons and, more generally, looking after "organization and logistics".
"They won't directly carry out an attack, but they will ensure it's a success," said Moreau. During his subsequent trial in December 2016 and January 2017, when he was sentenced to 10 years in prison for criminal association with a terrorist group, the true identity of the man who went by the nom de guerre Abu Souleymane emerged; it was Mohamed Abrini. Souleymane was the first name of his deceased younger brother.
After Abrini's arrest in Belgium in April 2016, he partially revealed his loyalties under questioning by a Belgian examining magistrate. He tried to justify the actions of IS which was made up, he said, of "people who wanted to defend the people who were being massacred", "to defend widows and orphans", adding: "Of course there are other things. That's life madam," he told the magistrate. "It's not Alice in Wonderland." The "other things" he referred to were terrorist attacks in which IS carried out in its war against what it calls "the crusaders".