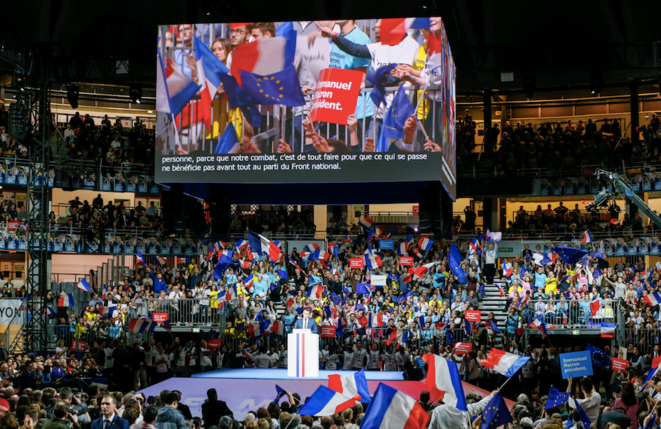 The glitzy Emmanuel Macron rally at Lyon on Saturday February 4th, 2017. © Reuters
With just over 70 days to go before the first round of the French presidential election, former economy minister Emmanuel Macron continues to attract large crowds to his rallies and is doing well in the opinion polls. Yet what does the founder of the 'En Marche!' political movement - who keeps talking about "bringing people together" - actually plan to do if he is elected president? Mathieu Magnaudeix attended Macron's latest gathering but came away little the wiser.
Like many of leading French politicians, François Fillon has his own 'micro' party which is used to develop policy ideas and raise funds. But Mediapart can reveal that the micro party run by Fillon, whose candidacy for the French presidency has been rocked by the so-called "fake jobs" scandal involving his wife Penelope, is discreetly banking donations from members of the public supporting his official electoral campaign. "It's madness!" says one senior figure on the Right. Mathilde Mathieu reports.
Facebook has become one of the foremost media in Tunisia, an alternative to controlled official information; it played an important a role in the 2010 uprising that led to the Arab Spring. But while it remains a tool for mobilising people, it is also now used for the more mundane and trivial, including trolling, rumours and rants. More disturbingly, Facebook has also been be turned against human rights activists, who are sometimes treated by the authorities in the same way as apologists for terrorism. Lilia Blaise reports.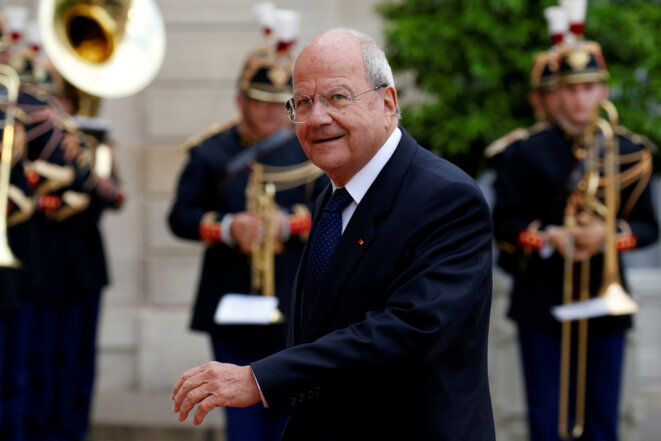 Friend of François Fillon: billionaire Marc Ladreit de Lacharrière at the Élysée on July 11th, 2016. © Reuters
Right-wing François Fillon's presidential campaign has been thrown into turmoil after claims that his wife Penelope was paid €500,000  as his parliamentary assistant despite doubts she ever performed that role. It is also claimed that Penelope Fillon received €100,000 from a magazine owned by a billionaire ally of former prime minister Fillon, even though she appears to have done little work for it. The couple have been questioned by investigators, while new claims emerge that the family may have pocketed close to a million euros in all. Now Mediapart can reveal that a key advisor on Fillon's election campaign was given a job at a charitable foundation run by the same billionaire, Marc Ladreit de Lacharrière, at the time she began working for the presidential candidate. Yet there is no public trace of the advisor's work at the foundation. Antton Rouget investigates a case that will raise yet more questions surrounding the finances of the frontrunner to be the next French president.
The list of victims of the recent presidential primary elections held by the Left and Right in France is remarkable. Two presidents, two prime ministers and a number of senior former ministers have been rejected after rebellious voters gave their verdicts. The primary process - which ended on Sunday with the unlikely election of Benoît Hamon as the official socialist candidate for the presidential contest – has proved something of an earthquake for the French political establishment, writes Hubert Huertas.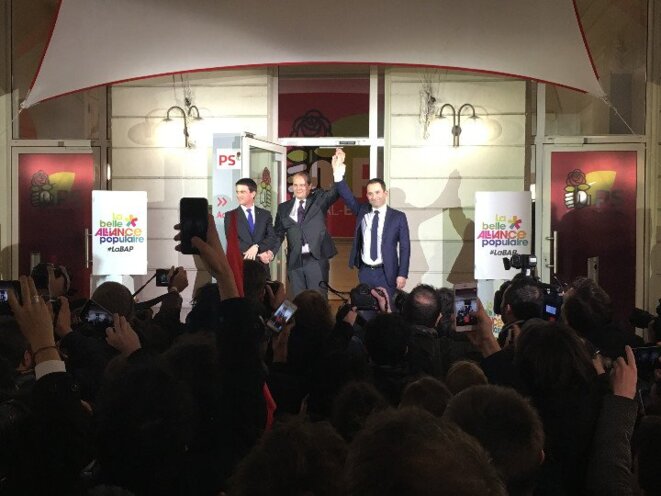 Benoît Hamon (right) with Socialist Party leader Jean-Christophe Cambadélis (centre) and Manuel Valls. © Christophe Gueugneau
Benoît Hamon, the leftist candidate bidding for the Socialist Party's nomination to run in France's presidential elections this spring, has won a resounding victory over his rival, the former prime minister Manuel Valls, in the final round of the primary contest on Sunday. Hamon, 49, who represents a clear break with the policies of the current socialist government and President François Hollande, will run on a manifesto that eats into that of the radical-left, with significant consequences for the spread of the vote in the presidential election, and also on the future cohesion of France's beleaguered Socialist Party. Follow the results and reactions as they happened throughout the evening in this live report.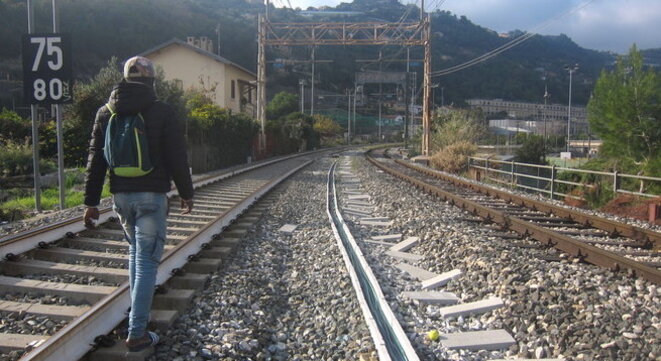 A migrant heading to France from Italy along railway tracks out of Ventimiglia. © LF
The Riviera coastal area in south-east France surrounding the border with Italy has become a major crossing point for migrants from Africa and the Middle East trying to reach northern Europe.  Despite a crackdown on the clandestine crossings by French and Italian police, many migrants continue to attempt the journey, either by by train or the perilous route of railway tracks, despite a series of fatal and serious accidents. French rail employees are increasingly under pressure from both their company and the police to help with the hunt for the migrants. Louise Fessard met with railwaymen who refuse to collaborate with operations that one described as resembling scenes from the WWII German occupation.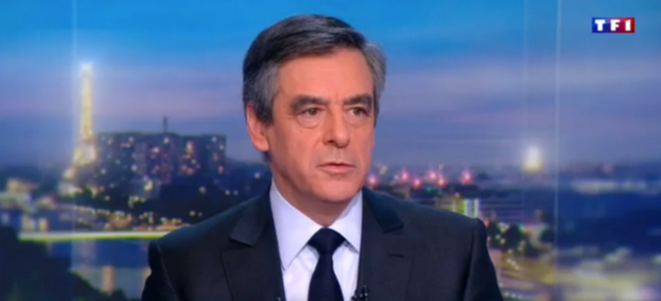 François Fillon.
François Fillon, the presidential election candidate for the French conservative party Les Républicains, appeared on French television on Thursday evening in an attempt to contain the scandal caused by press revelations this week that his wife was paid 500,000 euros from MPs' funds to act as his parliamentary assistant, a role which, it is alleged, she did not fulfil. Fillon, who was just one month ago regarded as the presidential election frontrunner, denounced the "abject nature of these accusations" but failed to provide clear evidence that his wife Penelope carried out the job she was paid for, while he also admitted to having employed two of his children when he was a senator. Ellen Salvi reports.
A report published this week by the Greens-EFA group in the European Parliament presented the conclusions of a study of tens of thousands of documents provided by the Offshore Leaks platform of the International Consortium of Investigative Journalists, and which identified the principal intermediaries behind tax evasion. The report demonstrates that many of them are well-known names among banks and financial institutions, operating in countries across Europe as the vehicle for the transfer of huge sum to tax havens. Dan Israel reports.

François Fillon.
Former French prime minister François Fillon, presidential candidate of the conservative Les Républicains party and widely tipped as the frontrunner in the elections, was this week fighting for his political survival following press revelations that his British-born wife Penelope was paid a total of 500,000 euros out of MPs' funds to act as his parliamentary assistant, and which cast doubt about whether she actually fulfilled the role. It also emerges that she was paid about 100,000 euros between 2012 and 2013 by a magazine owned by a wealthy Fillon ally. The public prosecutor's office has now opened an investigation into suspected "misappropriation of public funds" and "misuse of company assets". Mathilde Mathieu reports on the background to a scandal that not only threatens Fillon's future, but which could also radically affect the outcome of the presidential elections.  

Manuel Valls (left) and Benoît Hamon. © Reuters
The first round of the French Socialist Party's primaries to choose its candidate for this spring's presidential  elections saw leftist former education minister Benoît Hamon arrive in the lead, followed in second place by Manuel Valls, on the party's Right and who last month resigned as prime minister to take part in the race. Hamon now has a significant chance of winning the second and final round between the two men to be held next Sunday. But whatever the result, the deeply divided Socialist Party faces implosion. Mathieu Magnaudeix and Christophe Gueugneau followed the two camps as the results unfolded during Sunday evening. 
The Paris public prosecutor's office has recommended that three complaints for forgery and use of falsified documents, for obtaining a ruling under false pretences and for subornation of a witness lodged by former trader Jérôme Kerviel against the Société Générale bank be dismissed. Kerviel, whose high-risk trading was revealed in January 2008 to have cost the bank almost 5 billion euros, has fought a long-running legal battle for the recognition of the responsibility of the Société Générale in his reckless trades, already partly established in court. A senior police officer who twice led investigations into the case and who denounced the bank's manipulation of investigators, Commander Nathalie Le Roy, has told Mediapart that the decision to throw out Kerviel's remaining legal action comes as no surprise. Ostracised by her hierarchy, she tells Mediapart that she has no regrets for blowing the whistle on what increasingly appears to be a cover up. Martine Orange reports.
The issue of immigration control sits high on the agenda of campaigning by candidates in France's presidential elections to be held this spring, a subject that is increasingly manipulated for political gain. The latest annual immigration statistics released this week by the French interior ministry sober a sometimes hysterical debate. They show that a total of 227,500 non-EU foreign nationals were granted residence in France in 2016, a year-on-year increase of 4.6%, while the number of migrants refused entry at border crossings rose by 302% compared to 2015. Just more than 25,000 people were last year granted refugee status. Carine Fouteau reports.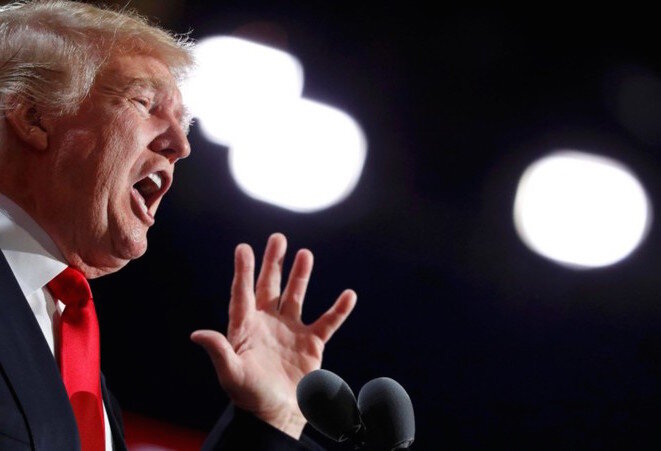 US President-elect Donald Trump will be sworn into office on Friday, as much of the world holds its breath for the start of what is arguably the most controversial presidency in American history. In this interview with Mediapart, US thinker and academic Judith Butler analyses the true political nature of the 70-year-old businessman and reality-show star who is to lead the world's most powerful nation, and who is already at the centre of international tensions. She argues that behind Trump's electoral success is "a fascist phenomenon" and says that "many rejoice to see this awkward and not very intelligent person posturing as the centre of the world, and gaining power through that posturing".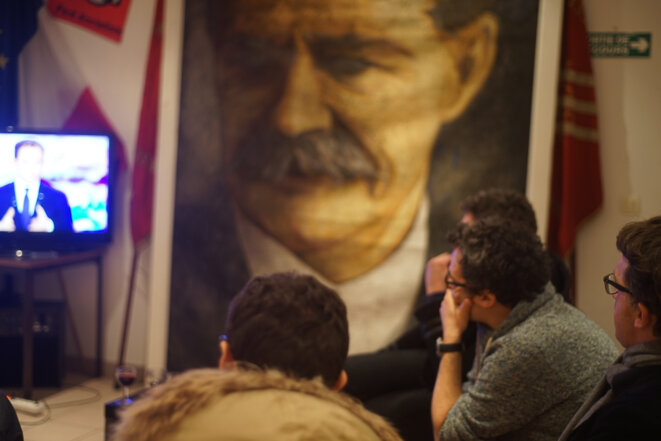 Local party members at Roubaix in northern France watch the first socialist primary debate on January 12th 2017. © Amélie Poinssot
Last Thursday the seven candidates in the Socialist Party's primary to choose a presidential candidate took part in the first of three televised debates. Mediapart joined a group of party members watching the first debate at Roubaix near Lille in northern France, which is historically one of the staunchest of socialist strongholds in France. As Amélie Poinssot discovered, many grassroots activists are still hopeful the party can be rebuilt despite the massive disappointment of François Hollande's presidency.