It is an increasingly embarrassing dossier that Christine Lagarde would doubtless rather forget. In July 2018, as managing director of the International Monetary Fund (IMF), Lagarde, who had been France's finance minister under Nicolas Sarkozy and who is now at the helm of the European Central Bank (ECB), approved a loan that would eventually total 56 billion dollars to Argentina. It was the biggest loan ever granted by the international financial institution.
Yet a few days ago, on February 19th 2020, five months after Lagarde's departure, the IMF was forced to admit that Argentina's levels of debt were "unsustainable". The financial body also said its staff "emphasized the importance of continuing a collaborative process of engagement with private creditors to maximize their participation in the debt operation".
The new government of Alberto Fernández, who took up office as president of the South American country in December 2019, had been impatiently waiting for such an assessment. The president has inherited from his predecessor, the economic liberal Mauricio Macri, an economic situation that is simply untenable; the country is in recession, inflation hit 53.8% in 2019 – one of the highest levels in the world – and the country's debt levels are unsustainable.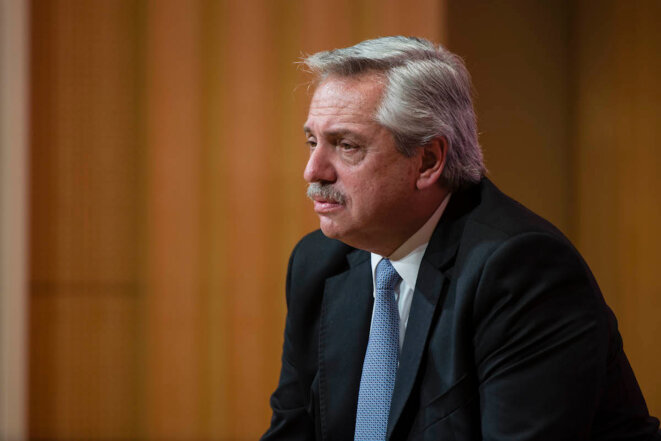 New Argentine president Alberto Fernández during his visit to France on February 5th 2020. © Hugo Passarello Luna /AFP
Even before he was elected, Alberto Fernández was open about his view that Argentina's debt would have to be restructured. This is an ominous prospect for the creditors of a country that has already defaulted eight times since the start of the 20th century.
But rather than seeking to negotiate and put forward a plan judged 'credible' by the financial world, the new Argentine president has allowed doubts to creep in about his real intentions and about the government's future economic policies.
In the middle of February the Argentine finance minister Martín Guzmán simply issued some broad principles the government would follow. It would, he said, refuse to reduce its fiscal deficit in 2020 and warned that the country may not see a budget surplus of 1% before 2026.
For anyone who knows the IMF handbook these declarations amount to a virtual declaration of war. All the broad principles set out in the context of the so-called Washington Consensus on liberal economics are being defied.
And yet the IMF now seems to agree with the finance minister. "... Argentina's debt [is] unsustainable... [T]he primary surplus that would be needed to reduce public debt and gross financing needs to levels consistent with manageable rollover risk and satisfactory potential growth is not economically nor politically feasible," it said in its statement on February 19th 2020, after its team had spend several days in Buenos Aires reviewing Argentina's financial situation.
During its earlier review in July 2019 the IMF had stated that the country's debt was "sustainable, but not with high probability". But at the time Mauricio Macri, who was liked in financial circles for applying neoliberal economic precepts to the letter, was still president. And no one imagined he might not be re-elected, despite the economic and social drama the country was experiencing.
At the time, too, Christine Lagarde, who had given Mauricio Macri financial support that was unprecedented in the IMF's history, was still the institution's managing director.
To justify its change of mind, the IMF explained in its February statement that everything had changed in Argentina in the intervening six months. The country's currency, the peso, had depreciated by more than 40%, the rate of interest on Argentina's debt had increased by 11%, currency reserves had fallen by two thirds and the GDP had fallen by more than anticipated, it said.
The IMF then added: "As a result, gross public debt rose to nearly 90 percent of GDP at end-2019, 13 percentage points higher than the projection at the time of the Fourth Review. In addition, with the realization of the identified financing risks, since August 2019 the authorities have introduced capital flow management measures, imposed maturity extensions on certain debts, and resorted to central bank financing of the fiscal deficit."
It is not the first time that the IMF has erred in its forecasts for a country. Indeed, it has even become something of a habit. One glaring example of this is Greece, whose economy was supposed to recover after an 18-month austerity cure. Eight long years later and Athens has still not managed to claw back the fall of more than 20% in its GDP.
But the rewriting of history in Argentina's case is even more blatant. The country's economy, which is hugely dependent on its agricultural exports, in particular to China, started to slow down in 2018. It is struggling to get over a deep recession that began in 2016 after a programme of deep structural reforms implemented by the Macri administration after it came to power in 2015.
This economic slowdown was made worse by the fact that the Argentine government was wrong-footed over its monetary and financial policy. In order to 'give confidence back' to international creditors, who were still 'traumatised' by Argentina's default in December 2001 and then President Néstor Kirchner's default to the IMF in 2003, Mauricio Macri decided to sign a compromise deal with creditors as soon as he came to power. These creditors included many vulture or hedge funds which had refused the debt restructuring imposed by Buenos Aires in the 2000s. This agreement with the Macri administration was seen as a victory by the IMF and financial circles around the world. Argentina once again had access to international capital markets.
Mauricio Macri made full use of this and increased the country's indebtedness at top speed. Public debt which stood at barely 33% of GDP in 2014 leapt to more than 50% in under two years. Moreover, these new loans were in dollars. As long as the monetary policy of the United States' Federal Reserve was accommodating this was fine; international financiers, awash with cash, bought Argentine debt in dollars which gave them a much higher return than American debt. In 2017 the Argentine government even succeeded in selling a 100-year bondon the markets with a return of 7.1%. This was a sure-fire success in a world where interest rates were at 0%.
But everything started going off the rails when the Federal Reserve began to tighten its monetary policy and put up its rates. Financiers no longer saw any point in investing in a risky country such as Argentina when they could benefit from the same or nearly the same rates by buying US Treasury bonds which are considered to be the safest investment of their type in the world. The value of the peso plummeted as Argentina had to continue to service its debts in dollars.