Judges investigating the document published by Mediapart which shows that the Libyan authorities agreed to bankroll Nicolas Sarkozy's 2007 election campaign have begun to piece together how the saga began. Several witness have given evidence about Sarkozy's first official visit to the North African country in October 2005, when he was France's interior minister. According to arms dealer Ziad Takieddine, who was in Tripoli at the time, it was during a one-to-one meeting with Libyan leader Colonel Muammar Gaddafi during that trip that Sarkozy asked outright for financial support for his planned election campaign in 2007.
Both Takieddine and the former French ambassador to Libya Jean-Luc Sibiude have talked to the judges about this meeting in 2005, which took place with no officials present. Takieddine says that shortly after that encounter he was approached by Libya's security chief Abdullah Senussi and asked to work out the amount of financial help to give Sarkozy, following the latter's recent demand for help from Gaddafi. Once Takieddine had returned to Paris he met Sarkozy's right-hand man Claude Guéant to discuss the cost of financing a presidential campaign.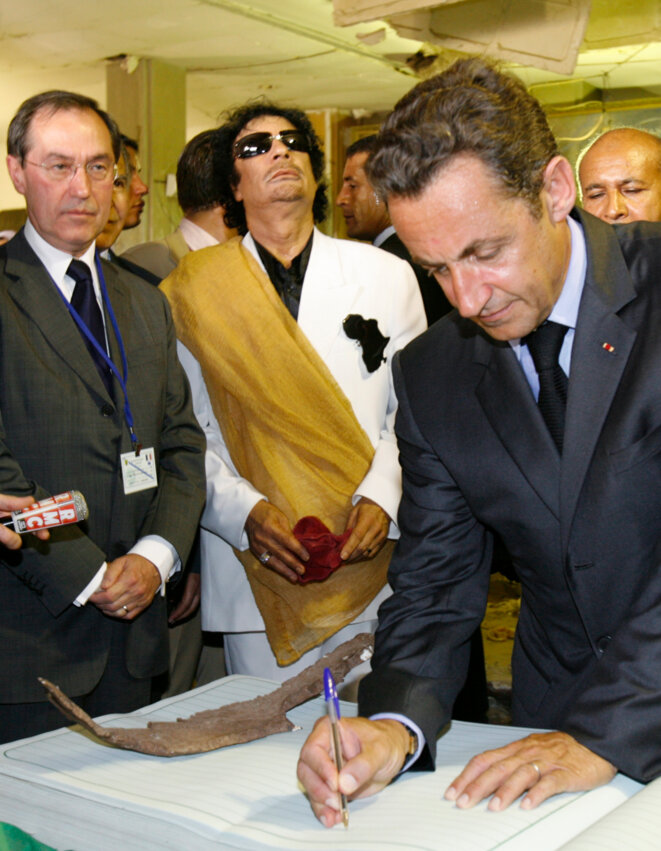 Claude Guéant, Mouammar Kadhafi et Nicolas Sarkozy au temps de la lune de miel franco-libyenne. © Reuters
During the course of the investigation the judges have also discovered that another close ally of Nicolas Sarkozy,
Brice Hortefeux
, went to Tripoli just three months after the interior minister's visit, and secretly met with Abdullah Senussi, seen by many as a central figure in corrupt dealings between France and Libya. Hortefeux, who was France's local government minister at the time, did not inform the French diplomatic authorities about that meeting. It took place in the company of Takieddine who,
having been involved in the covert financing
of right-winger
Édouard Balladur's
presidential campaign in 1995, was now working as a kind of special envoy on behalf of the Sarkozy camp in several Arab countries.
Nicolas Sarkozy's official visit as interior minister to Libya on October 6th, 2005, has puzzled observers for some time. Though officially he went to discuss how to curb the waves of migrants coming into Europe via North Africa, the minister of the interior's stay did not even last 24 hours. His lightning trip had been preceded four days earlier by the visit of Guéant, then his chief of staff at the ministry.
A preliminary note written by Takieddine for Guéant's visit certainly raises suspicions. The note points out that the visit was "unusual" and had to be of a "secret character". Takieddine's note added: "For this reason it will be preferable for CG [editor's note, Claude Guéant] to go alone and that the trip is carried out 'without fanfare'." As for the aim of the visit, this was to make it "easier to discuss the other important issue, in the most direct manner..." According to travel receipts obtained by investigators, Ziad Takieddine did indeed go to Tripoli for Sarkozy's first visit there.
When he was questioned by judges on February 26th, 2014, about the first meeting between Sarkozy and Gaddafi, former ambassador Jean-Luc Sibiude said that after initial "broad" discussions– in other words, in the presence of several diplomats – Nicolas Sarkozy and Muammar Gaddafi had a lengthy one-to-one meeting. This was "perhaps double [the length] of the broad discussion" said the diplomat. "If I have indicated that the private discussion lasted a long time, it's because at the end of the discussion I said to the interpretor: 'They must have said quite a few things'. She had simply replied that she was bound by professional secrecy."

The former ambassador also talked about Claude Guéant's visit a few days earlier, on October 1st, 2005, and his meeting with the Libyan interior minister on that occasion. "I know that he [editor's note, Claude Guéant] had other contacts which I didn't take part in; they must have taken place at the Corinthia Hotel where he was staying...The Corinthia Hotel is the only international class hotel in Tripoli, it's also the hotel where Monsieur Sarkozy stayed during his visit as interior minister in 2005 and as president in July 2007," said Jean-Luc Sibiude.
Another member of the embassy staff, Jean-Guy Pérès, who was questioned by detectives from the gendarmerie on June 30th, 2014, also confirmed details of the Sarkozy-Gaddafi meeting. "Indeed, it's coming back to me, there could have been a moment at the end of the discussion when we were asked to leave the tent and when the two principal personages could have been alone together or with other people," said Pérès, a retired police superintendent who was the security attaché at the French Embassy in Tripoli from 2005 to 2008.

Ziad Takieddine spoke about the secrets of this first and mysterious conversation between the two men when he was questioned on March 13th this year. The coordinator of Franco-Libyan rapprochement since the spring of 2005, Takieddine organised all the visits made by Sarkozy's entourage to Libya. The arms dealer first of all noted that on October 6th, 2005, Nicolas Sarkozy had insisted on visiting Gaddafi's house that had been destroyed by American air strikes in 1986. The interior minister had wanted to send a "strong signal to the Libyan leader" and "Gaddafi had much appreciated [it]," said Takieddine, who noted that a one-to-one meeting had been organised between the two men that day. "The visit then continued at the presidential palace where, at the end of the meeting, Messieurs Sarkozy and Gaddafi had a face-to-face discussion without an interpretor."
Takieddine continued: "The same evening, at the hotel, I came to greet Monsieur Sarkozy before his departure, I was accompanied by Monsieur Senussi. We went up to Monsieur Sarkozy's suite and we sat in the lounge. Monsieur Guéant was also present. The object of this discussion was, in particular, Monsieur Senussi's [court] sentence in absentia. Monsieur Guéant made assurances on this issue on several occasions." In 1999 Senussi, who is also Gaddafi's brother-in-law, was convicted by a French court for his role in the 1989 bombing of a DC-10 passenger plane, Union de Transports Aériens (UTA) flight 772, flying over Niger that resulted in the deaths of 170 people, 54 of them French. He was given a life sentence.