As far as the French justice system is concerned, Arnaud Mimran is one of the "organisers" of what has been dubbed the hold-up of the century: the massive carbon trading fraud that cost French taxpayers around 1.6 billion euros in 2008 and 2009. The French businessman is suspected, too, of being behind the kidnapping of a Swiss financier in 2015 in a bid to extort 2.2 million dollars. The 44-year-old poker player's name has also been cited in connection with several unsolved murders, including that of his former father-in-law.
Yet Arnaud Mimran, who denies any wrongdoing, is also a man who likes to surround himself with well-known figures and personalities. Mediapart has discovered that the businessman's network of friends and acquaintances over the last 15 years has included Israeli Prime Minister Benjamin Netanyahu, French boxing champion turned actor and comedian Farid Khider, the well-known French singer and actor Patrick Bruel, prominent businessman Pierre Botton, the French Member of Parliament Meyer Habib and many others.
Mimran, then, has carved out his own niche in the corridors of the French justice system and in some of the more shady areas of Paris, as well as having a high-profile network of friends. Any notoriety, however, is unlikely to upset a man who, according to friends, adores Al Pacino's portrayal of the megalomaniac Tony Montana character in the film Scarface. Here Mediapart throws the spotlight on the world of Arnaud Mimran.
THE CARBON TRADING FRAUD ALLEGATIONS
The European Union's emissions trading system (ETS) was introduced in 2005 using the 'cap and trade' principle to reduce carbon dioxide emissions. But in the early years the system was exploited by criminals who made billions of euros from VAT fraud. Criminals registered to be able to trade carbon permits in the ETS and then started buying carbon permits in one EU country from another, free of VAT, before selling them on with the VAT added. But instead of passing that VAT on to the relevant tax authority, they vanished without trace – taking the VAT money with them.

Arnaud Mimran is said by the French judicial authorities to be one of the "organisers" of such fraud in France and is due to stand trial in Paris in May 2016, along with other defendants, accused of defrauding a total of 283 million euros. He denies the charges. In all, carbon trading frauds are said to have cost French taxpayers some 1.6 billion euros in unrecovered VAT. The total loss to European taxpayers of the various carbon trading frauds committed by different gangs around the continent is said to be five billion euros.

Mimran has also been placed under formal investigation – one step short of being charged – for his alleged involvement in the kidnapping of a wealthy Swiss financier in 2015 and of trying to extort 2.2 million dollars from him. He also denies these claims.
Amar 'blue eyes' Azzoug, Samy Souied, Claude Dray and Albert Taieb have two things in common: they were all murdered, and all had links either with the money from or the alleged instigators of, the massive carbon trading fraud mentioned earlier. Azzoug was shot at a brasserie in a Parisian suburb on April 30th, 2010, Samy Souied was shot six times and killed in Paris on September 14th, 2010, billionaire property owner Claude Dray was found shot dead at his home in the well-heeled Neuilly-sur-Seine suburb of Paris on October 25th, 2011, while Albert 'Bébert' Taieb was stabbed to death in a Parisian block of flats on April 8th, 2014. The first two men had links with the carbon trading fraud, while Claude Dray was Arnaud Mimran's father-in-law. Taieb was killed while in the company of a man called Cyril Mouly, a first cousin of Mardoché 'Marco' Mouly who will be one of Mimran's fellow defendants in the carbon trading fraud trial in May.
When he was being questioned in November 2011, after the third of the murders, Arnaud Mimran was told by one detective: "There's starting to be a lot of people shot dead around you. What do you think about that?" Mimran, who strongly denies involvement in any of the murders, replied: "What do you want me to say? For Samy, it can be explained by his lifestyle and by the company he kept. Concerning my father-in-law, I don't know, I don't understand. I've nothing to do with that, if that's what you want to know."
Meanwhile, to this day, none of these four murders have been solved. No one has been placed under formal investigation in connection with them. Indeed, no one who carried out any of the attacks or who ordered them has ever been officially identified. For some, these murders represent the face of a new form of French criminality. "You are, here, at the heart of French criminality's nuclear reactor," one senior police officer told Mediapart.
THE PATRIARCH, JACQUES MIMRAN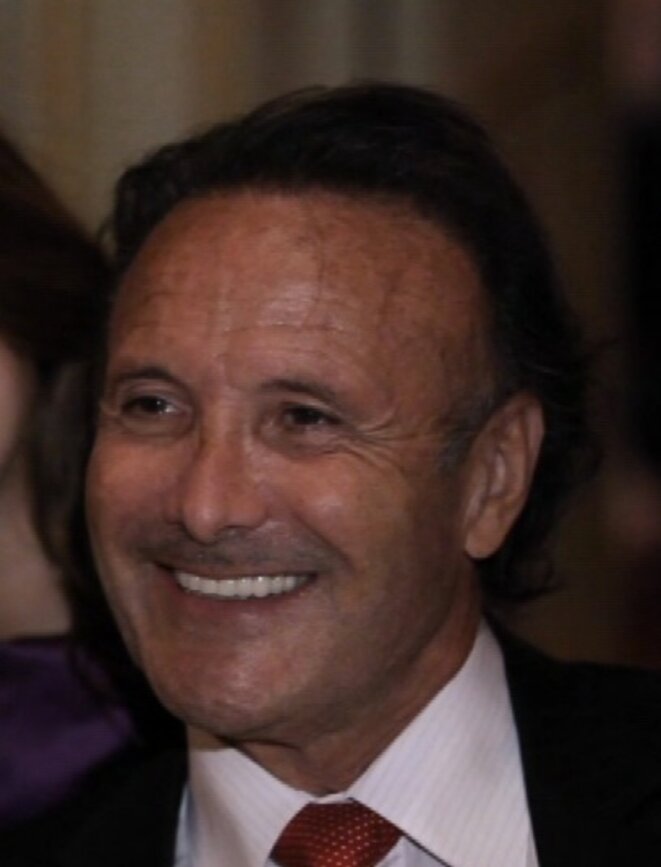 Jacques Mimran, Arnaud Mimran's father. © Mediapart
The Mimrans are perhaps more of a clan that just a family. Apart from Arnaud there is his brother Benjamin, a prosperous businessman, sister Sophie who is often associated with her brothers, and at the top of the pyramid Jacques, the father. He is regularly portrayed in the gossip sheets as a resectable and very wealthy big player in the world of property. This is quite true: he was deputy director general at the giant Vinci construction group.
But Jacques Mimran's career has not always been so tranquil. In 2002 he was convicted at a court in Créteil, south-east of Paris, in a major corruption case known in France as the '
TGV Nord affair
'. This involved bribes and false billing surrounding the building of the high-speed TGV railway linking Paris to the Belgium border. Of the 20 people tried, Jacques Mimran received the heaviest sentence, a three-year suspended jail term and a 200,000 euro fine. The prosecutor, who spoke about the "moral abuse" highlighted by the case, had in fact recommended that Mimran be sent to prison. At the time Mimran was boss of a firm called Deschiron, later taken over by Vinci.
Astonishingly, this conviction did not prevent Jacques Mimran from being awarded the Légion d'honneur in July 2006. It was given to him in person by the then-budget minister Jean-François Copé, a member of the right-wing government of President Jacques Chirac. According to the authorities who oversee the awarding of this honour, the Grande Chancellerie de la Légion d'honneur, Mimran's conviction did not appear in the file used to determine his eligibility. It only came to light later, leading to a disciplinary procedure and a decree on May 19th, 2009, formally stripping Jacques Mimran of the honour. A spokesman for Jean-François Copé, who is now seeking to be the Right's presidential candidate in 2017, the former minister "did not know anything of Jacques Mimran's judicial situation at the time he gave him the Légion d'honneur". The spokesman added: "After all, he was someone he'd only met two or three times in his life."
THE PRIME MINISTER, BENJAMIN NETANYAHU
The Mimrans know the importance of maintaining contacts in high places. Photographs obtained by Mediapart show that the family's influence extends well beyond France's borders, and in particular to the current Israeli prime minister Benjamin Netanyahu. According to several witnesses the Mimran family has helped the Likud party – Netanyahu's party - and at the beginning of the 2000s lent the family's flat on avenue Victor-Hugo in Paris's 16th arrondissement to 'Bibi' as he is known in Israel. Arnaud Mimran, seen here in this photo (see below) in the summer of 2003 with a relaxed, open-shirted 'Bibi' by the sea in Monaco, has always shown a willingness to maintain this closeness.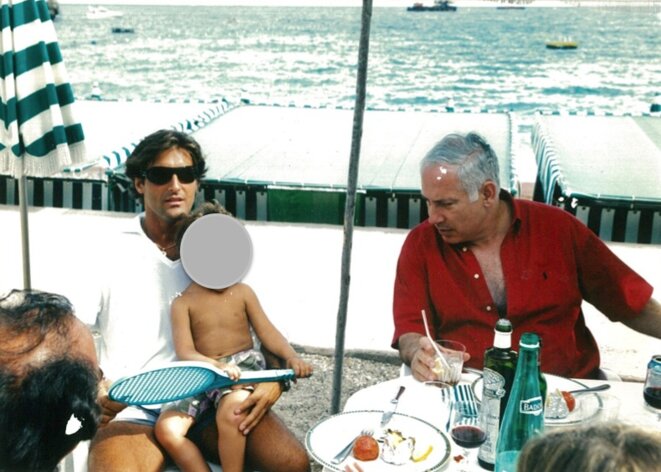 Arnaud Mimran with Benjamin Netanyahu, the current Israeli prime minister, at Monaco in August 2003. © Mediapart

At the time Netanyahu occupied the posts of foreign minister and later finance minister, having already been prime minister from 1996 to 1999. Apart from ideological closeness, were there any other benefits from this relationship? Arnaud Mimran's lawyer Jean-Marc Fedida did not reply to Mediapart's questions on the issue. However, it is worth noting that the carbon trading fraud, which is probably the biggest of its type seen in France, was carried out mostly by Franco-Israeli wheeler-dealers. Some of them chose to be domiciled in Israel, a country which is not known for its compliance when it comes to judicial cooperation. This was the case with Samy Souied, who was connected with Mimran, and who was murdered in Paris in 2010.