The financial crime branch of the French public prosecutor's office, the PNF, announced on Monday it had opened an investigation into allegations of corruption by President Emmanuel Macron's chief of staff Alexis Kohler, centred on suspicions of influence peddling and conflicts of interest when he was a senior civil servant at France's economy and finance ministry.
Kohler, 45, has been secretary general of the French presidential office, the Elysée Palace, since Macron came to power in May 2017, and earlier served as head of Macon's ministerial cabinet when the latter was economy minister between 2014 and 2016 under then-president François Hollande.
The case follows revelations published by Mediapart last month and which served as the basis for an official complaint filed by French anti-corruption NGO Anticor on June 1st.
Following that complaint, the PNF said in a statement on Monday that it had launched an investigation into the "conditions and circumstances in which Mr Alexis Kohler exercised his public functions at the Agency for State Holdings and within the cabinet of the Ministry of the Economy and Finance when he would have been able to manage affairs of interest to the Mediterranean Shipping Company (MSC) before obtaining a post within the latter as financial director".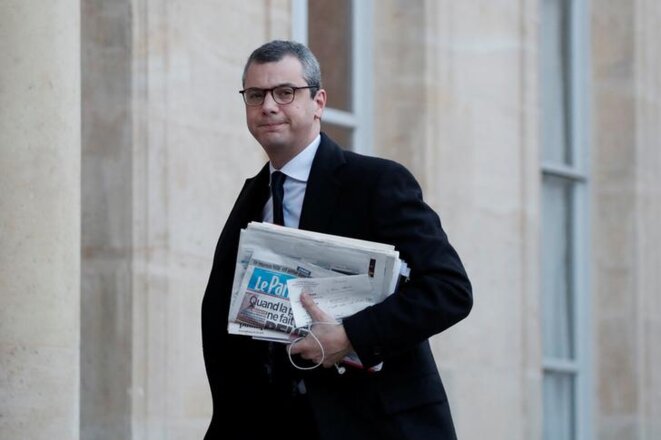 Alexis Kohler arriving at the Elysée Palace on January 3rd 2018 for the first weekly cabinet meeting of the year. © Reuters
Kohler has close family links with the Italian founders and majority shareholders of MSC, one of the world's largest maritime transport companies, through his mother, who is a first cousin of Rafaela Aponte, wife of MSC chairman Gianluigi Aponte. The Aponte couple founded MSC together in 1970.
Following the announcement of the investigation on Monday, the French presidency stood by Kohler, denouncing a "totally unfounded suspicion" and insisted that he has never hidden his links with MSC nor breached the law and regulations governing the conduct of civil servants.
Kohler is a senior civil servant educated in the true tradition of those who occupy key posts in France's administration: a graduate of the Paris political sciences school Sciences-Po, as well as the top business school ESSEC, he was also one of the elite to graduate from the École nationale d'administration, the ENA, in 2000.
In 2010, after serving the French treasury and on a detachment post with the International Monetary Fund (IMF), Kohler became a senior civil servant with the APE, the agency that manages the interests of French state holdings in more than 70 companies, which include energy group EDF, national carrier Air France, telecommunications group Orange and aerospace giant Airbus Group.
Kohler was soon attached to the APE department overseeing companies in the transport sector, and in 2010 was appointed as the French state's representative on the board of the France's last major shipbuilding companies, STX France, a strategic industrial business in which the French state holds a 33% stake and which has faced years of financial uncertainty.
The shipyard, first created in 1861 and which is one of the biggest in the world, is also known by its historical name of Les Chantiers de l'Atlantique.
At the same time as Kohler's appointment to the board, MSC, run by a branch of Kohler's family, was the principal client of STX France, and has latterly commissioned the shipyard to build four cruise ships worth a total of about 4 billion euros.
"Mr Alexis Kohler had no hesitation in managing the affairs of the chantiers de l'Atlantique/STX France when he was in his post […], notably for mobilising funds, credit exports or state guarantees to help MSC," stated Anticor in its complaint filed on Friday. "Meanwhile, his interest in MSC was as much a family affair as a professional one, since he had wished on at least two occasions to obtain a post within the MSC company."
Crucially, MSC and US cruise ship company Royal Caribbean, another major client of the French shipyards, would later propose taking a financial stake in STX France to effectively block its takeover by an Italian shipbuilding company after STX's South Korean owners went bankrupt, a project in which Kohler acted as lobbyist.
Securing the future of the troubled French shipyards, which had changed ownership several times over recent decades, was one of the priorities of successive French governments, and notably in the wake of the shipbuilding slump following the eruption of the financial crisis of 2008. The situation became acute under the 2012-2017 socialist government, when STX's then South Korean owners announced in 2014 they were to sell of their European subsidiaries.
After the socialists came to power in France in 2012, two years after he began representing the state on the board of STX France, Alexis Kohler was appointed deputy director of the inner cabinet of the new economy and finance minister, Pierre Moscovici. In November 2014, Moscovici was made European Commissioner for economic and financial affairs, taxation and customs, a post he still occupies today, and his immediate successor at the French economics and finance ministry was Emmanuel Macron, who promoted Kohler to the post of his inner cabinet chief.
When Macron resigned from government to launch his stand-alone presidential election bid at the end of August 2016, Kohler took leave of his employment as a French civil servant to work as financial director of MSC, based at the Swiss-Italian company's headquarters in Geneva, while also engaging in an active role within Macron's presidential campaign.
As Mediapart has previously revealed, it was Kohler's second attempt to take leave of the ministry to join MSC. Under French law, senior civil servants are allowed to move to the private sector on a temporary period of leave, which can be one of several years, if agreed by the administration's ethics committee, a so-called 'revolving doors' system.
In Kohler's case, he first applied to take leave to join MSC in 2014 when the committee refused the move, before it later agreed to his second application, in questionable circumstances, in 2016. One of the commission's members told Mediapart that he and his colleagues had been unaware of Kohler's family links with the owners of MSC.
After taking up his post as MSC's financial director, Kohler was also simultaneously active in helping to organise Emmanuel Macron's presidential campaign. In an interview with French weekly L'Express, he said his role was "to recruit and train the team, putting in place the foundations of the movement, then the programme, ensuring the coordination of the teams". Immediately after Macron's election victory in May last year, Kohler was appointed as secretary general of the presidential office, the Elysée Palace, effectively the new president's chief of staff, described by French daily Le Monde as "the most powerful senior civil servant in France".
In March 2017, while serving as MSC's financial director, Kohler visited the economy and finance ministry in Paris, his former employer, to lobby for a proposal by MSC to buy into the STX France shipyards along with Florida-based cruise operator Royal Caribbean, which had also commissioned the building of cruise ships at the yards (including the world's largest, the Symphony of the Seas).
The two companies were keen to block a move by Italian state-owned shipbuilder Fincantieri to take over STX France, which was up for sale following the bankruptcy of its South Korean owners in early 2016. The move by Fincantieri, the only credible bidder for the French yards, was opposed by many STX France staff who feared that their skills and business would be cannibalised by the Italian company.
But for some observers the concern of MSC and Royal Caribbean was less to protect the continuation of STX France than to ensure continued competition between the two shipbuilding firms which allowed for keen pricing in construction orders. "If the shipyards [editor's note: STX France] should fall into the hands only of their competitor Fincantieri, that would create a monopoly if not a problematical position of dominance," said MSC co-founder and chairman Gianluigi Aponte in an interview with Le Monde in June 2017. Aponte, who by his wife is a relation of Kohler's, told the paper that he had lobbied the French government to abort the deal with Fincantieri.
Mediterranean Shipping Company (MSC) chairman and co-founder Gianluigi Aponte (right) with French President Emmanuel Macron ion May 31st 2017. © Stéphane Mahé/Reuters
Aponte said the STX France shipyards were "an excellent partner" for his company. "We have built there all our cruise liners […] the team at Saint-Nazaire helps us to create ships that are particular, innovating, thanks to an exceptional design department," he continued. "We don't want to become majority [shareholders], but to take part in the balance of the shareholdings."
"If we are shareholders," he added, "the same as the other major client, Royal Caribbean, we will do everything so that Fincantieri cannot plunder Saint-Nazaire, transfer its technology abroad, nor favour its own construction sites to the detriment of the French site."
At the time of Kohler's visit to the economy ministry, the socialist government was approaching the end of its five-year term. The then-junior minister for industry, Christophe Sirugue, whose department was attached to the economy ministry, told Mediapart of his surprise at learning of Kohler's involvement as MSC's representative in a delegation for the two shipping companies that was to visit the ministry. "I admit we were all very surprised to discover the name of Alexis Kohler among the shipowners' delegation," he said, "to such a degree that my services asked for the opinion of the ethics committee to verify that he could take part, whether there was any incompatibility. Officially, nothing prevented his presence."
Soon after Macron's election in May 2017, his government opposed Fincantieri's move to take a 55% stake, along with an Italian partner, in STX France, a deal that was given the green light by the outgoing socialist government. Macron even brandished the threat of nationalising the French shipyard. The dispute caused a diplomatic rift between Paris and Rome, and was finally settled with an agreement by which Fincantieri was allowed a 50% stake in STX France, and was "leant" a 1% extra stake by the French government, conditional upon commitments to job safeguards, governance practices and protection of intellectual property rights.
Contacted by Mediapart, the French presidential office issued the following statement: "Alexis Kohler has always respected and continues to respect the legal and reglementary rules that surround the exercise of activities and responsibilities by civil servants. He has notably always informed his hierarchy of situations in which he could have found himself in a conflict of interest, has always avoided such situations and has always respected the opinions of the ethics committee."
Underlining the suspicion of corruption, the NGO said that, "It would be a minimal requirement to check in which manner Alexis Kohler informed his successive hierarchical officials as well as the measures that were subsequently taken by them".
"He did not hesitate in intervening in the dossier concerning the takeover of the chantiers de l'Atlantique/STX as a representative of MSC, a few months after being in charge of the same dossier as deputy director, and then director, of the cabinet of the Minister of the Economy and Finance," added Anticor.
"Otherwise put, a few days after his nephew and ephemeral financial director, Alexis Kohler, was appointed as secretary general of the Elysée [Palace], Mr Gianluigi Aponte declared he had influenced the president of the [French] republic, Emmanuel Macron, to nullify an agreement which was supposedly harmful to his company," concluded Anticor. "As such, these events could constitute an offence of influence peddling and of passive corruption."
-------------------------
If you have information of public interest you would like to pass on to Mediapart for investigation you can contact us at this email address: enquete@mediapart.fr. If you wish to send us documents for our scrutiny via our highly secure platform please go to https://www.frenchleaks.fr/ which is presented in both English and French.
-------------------------
This article with additional reporting is based on a report originally published in French which can be found here.
English version by Graham Tearse
Si vous avez des informations à nous communiquer, vous pouvez nous contacter à l'adresse enquete@mediapart.fr. Si vous souhaitez adresser des documents en passant par une plateforme hautement sécurisée, vous pouvez vous connecter au site frenchleaks.fr.