In an exclusive interview with Mediapart, a former chauffeur to L'Oréal heiress Liliane Bettencourt and her late husband André has added to allegations concerning the financing of Nicolas Sarkozy's 2007 presidential election campaign.
In July this year, former Bettencourt accountant Claire Thibout told Mediapart how, in 2007, she had been asked by Bettencourt's wealth manager, Patrice de Maistre, to prepare 150,000 euros in cash which he intended to give, illicitly, to M. Sarkozy's campaign fund manager and current labour minister Eric Woerth. The presidential elections were held in May, 2007.
Thibout, employed by the Bettencourts between 1995 and 2008, also spoke of "regular" visits by M. Sarkozy to their mansion home in Neuilly-sur-Seine, a suburb close to Paris where the current president served as mayor between 1983 and 2002. "Everyone in the household knew that Sarkozy also came to see the Bettencourts to receive money," she told Mediapart.
That interview had the effect of a political bombshell. The former Bettencourt accountant's lawyer, Antoine Gillot, denounced a subsequent campaign to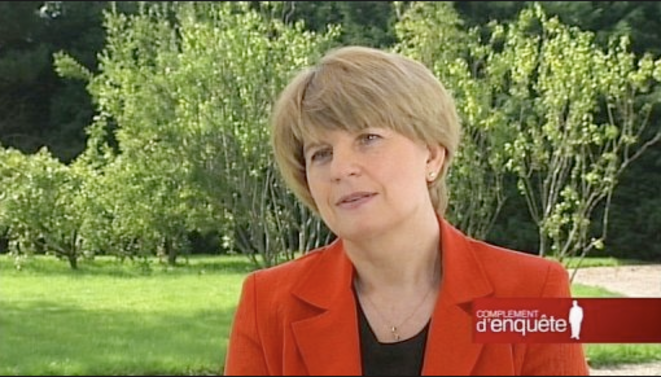 Claire Thibout interviewed by French TV channel France 2. © France 2
"dirty" and "discredit" his client who he said was
"targeted" by a series of intensive police interrogations following the publication of the interview
. Those interrogations were ordered by public prosecutor Philippe Courroye, a political appointee whose hierarchical superior is ultimately the justice minister.
Thibout's disclosures, (which she repeated during an interview on French television current affairs programme, 'Complément d'Enquête', screened on public channel France 2, September 20th), have been partially backed-up by other evidence in police possession, and notably the secret diaries of François-Marie Banier, the socialite and celebrity photographer whose relationship with Liliane Bettencourt, during which he received almost one billion euros in gifts, sparked the scandal.
In his diaries dated during the spring of 2007, Banier noted a conversation in which he reported the L'Oréal billionaire as saying: "De Maistre tells me that Sarkozy is asking for more money."