The French businessman and intermediary Alexandre Djouhri faces extradition to France later this year to face questioning by examining magistrates investigating claims that Muammar Gaddafi's Libyan regime helped fund Nicolas Sarkozy's successful 2007 presidential election campaign. Djouhri is now on bail in London having been arrested by British police on Sunday January 7th under a European arrest warrant.
That arrest warrant was issued on December 22nd after the Swiss courts finally agreed to send to the French judges some documents seized at Djouhri's house in Geneva nearly three years ago. Mediapart understands that these documents include a bank paying in slip relating to Claude Guéant who in 2008 received 500,000 euros in his bank account which he used to buy a flat in Paris. The transfer of the money was handled from beginning to end by Alexandre Djouhri.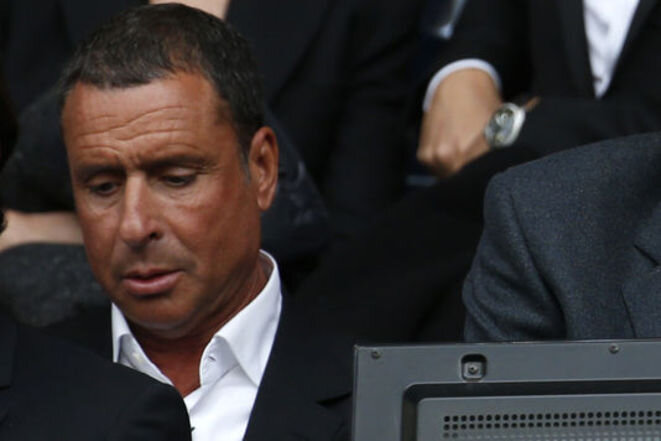 Facing extradition: Franco-Algerian businessman Alexandre Djouhri photographed here on April 23rd, 2014, at the Parc des Princes football stadium in Paris. © Reuters
Djouhri, who is fighting extradition, was arrested at Heathrow Airport on Sunday and appeared at Westminster Magistrates Court on Wednesday January 10th, where the court rejected a request from the prosecution authorities that Djouhri be remanded in custody. However, though he was granted bail of one million pounds the businessman with dual French and Algerian nationality was ordered to surrender his passports, wear an electronic bracelet, reside at his daughter's home in London and report to a local police station every day. The extradition hearing itself has been set for April 17th.
His lawyer, Mark Summers, said Djouhri - described in court as a director of a company involved with sanitation, water treatment and solar energy - would oppose extradition and claimed that there was an "overtly political" background to the allegations against his client.
The court was also told that Alexandre Djouhri's knowledge of and connections in North Africa, including Libya, had led to him being consulted by French governments since the 1990s, under President Jacques Chirac and his successor President Nicolas Sarkozy.
The former right-hand men of those two presidents, Chirac's former prime minister Dominique de Villepin and Sarkozy's former chief of staff and interior minister Claude Guéant, are implicated in the Libyan affair allegations, though both deny any wrongdoing. Both men received money from the Gaddafi regime's investment fund the Libyan Africa Investment Portfolio (LAP) via an account from a Panamanian company used by Alexandre Djouhri (see stories here and here).
The French judges investigating the affair have demonstrated that the sale of a villa at Mougins in south-east France by Djouhri served as cover for a Libyan payment to him of 10.1 million euros in September 2009. In the previous year the presidential 'advisor' had already banked 4.8 million euros from the same Libyan fund, which was run by Gaddafi's former chief of staff and chief money man Bashir Saleh.
With the help of his wealth manager, who is still on the run, Djouhri moved these funds into the Geneva-based accounts of the wealthy Bugshan family from Saudi Arabia. One of its members, Khaled Bugshan, denies he was aware of any of this. But it was indeed his account that was used to send the half a million euros to Claude Guéant in March 2008.
When, in March 2015, former interior minister Guéant was placed under formal investigation over the affair he claimed the money came from the sale of two Flemish paintings to a Malaysian lawyer. But searches carried out by the Swiss authorities have now demolished those claims. The initials "A.D." - for Alexandre Djouhri - were found on bank documents relating to the transaction, and they were also on receipts for some large withdrawals of cash.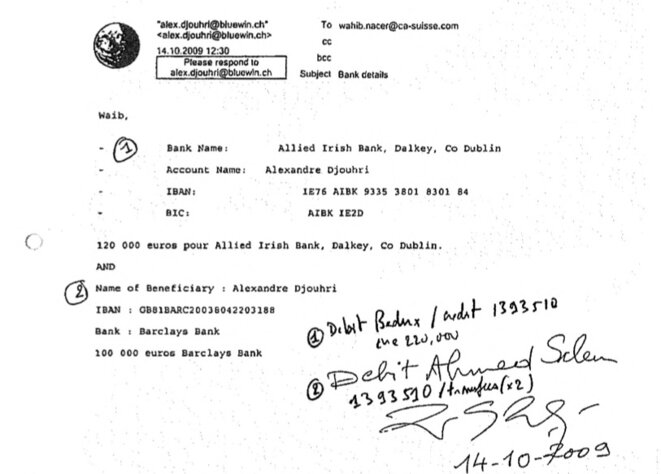 In addition to the paying-in slip relating to Claude Guéant, the Swiss authorities found evidence of several other bank accounts held by Alexandre Djouhri. © DR
The discoveries made during separate searches carried out at Alexandre Djouhri's home and offices in Switzerland in March 2015 have been just as compromising. Until October 2017 Djouhri had hoped to stop the documents that were seized there from being sent to the French investigating judges. But on the 23rd of that month Switzerland's federal criminal court ruled that they could indeed be sent to the judicial authorities in France. Among these documents is a paying in slip relating to Claude Guéant and his wife's account at the BNP Parisbas bank, which was credited with 500,000 euros – the exact sum was 499,983 euros – on March 20th, 2008. This money was used by Sarkozy's right-hand man to buy a flat at rue Weber in Paris.
But another of the documents in the file is the evaluation of a painting – La Suite de Trois Berbères – written 20 years ago by a Paris expert. It turns out this is one of the experts who drew up a document produced by Claude Guéant to prove he had owned his Flemish paintings.
The discovery of this old report shows Djouhri's connection with the expert and seems to confirm that, rather than just sending the money, the middleman may have been at the origin of the attempts by Guéant to use the sale of the Flemish paintings to explain the large sum of money cash he received. No one had seen these works at Guéant's home, not even his cleaner. Guéant says he bought them at the beginning of the 1990s and is unable to remember from whom he bought them, where he bought them and the precise sum he paid for them, and he failed to produce any photographs of them.
In reality the two paintings by Andries Van Eertvelt - Navires par mer agitée and Vaisseaux de haut bord par mer agitée – had been bought at auctioneers Christie's in Amsterdam at the start of the 1990s by a small Swiss company. According to the auction house "because of their modest dimensions" the value of these paintings in 2008 was somewhere between 20,000 and 30,000 euros, far removed from the 500,000 euros claimed by Guéant, who at that time was President Sarkozy's chief of staff at the Elysée.
Contacted by Mediapart, Claude Guéant said he had "nothing to say" on the matter.
--------------------------------------------------------------------------------
The French version of this article can be found here.
English version by Michael Streeter
Si vous avez des informations à nous communiquer, vous pouvez nous contacter à l'adresse enquete@mediapart.fr. Si vous souhaitez adresser des documents en passant par une plateforme hautement sécurisée, vous pouvez vous connecter au site frenchleaks.fr.