On July 25th 2020 the anti-terrorism prosecution authorities in France opened a preliminary investigation for "crimes against humanity" into Rwandan colonel Aloys Ntiwiragabo after Mediapart revealed that he was living quietly in Orléans, south-west of Paris.
Now Mediapart can reveal that the former head of Rwandan military intelligence, who is suspected of playing an important role in the genocide of the Tutsis in 1994, and who founded the armed criminal group the Democratic Forces for the Liberation of Rwanda (FDLR) in central Africa, has been living in France for at least 14 years. In the nondescript suburb of Orléans where Ntiwiragabo lives with his wife Catherine Nikuze the couple have managed to blend into the background, and are described by neighbours as "discreet, respectful and polite". Locals say they have seen the colonel around for about ten years.
Yet it was only in February 2020 that Aloys Ntiwiragabo received formal acknowledgement of his application for political asylum in France. This raises important questions about under what status Aloys Ntiwiragabo had been living in France before his asylum request, and whether he has been given any discreet assistance.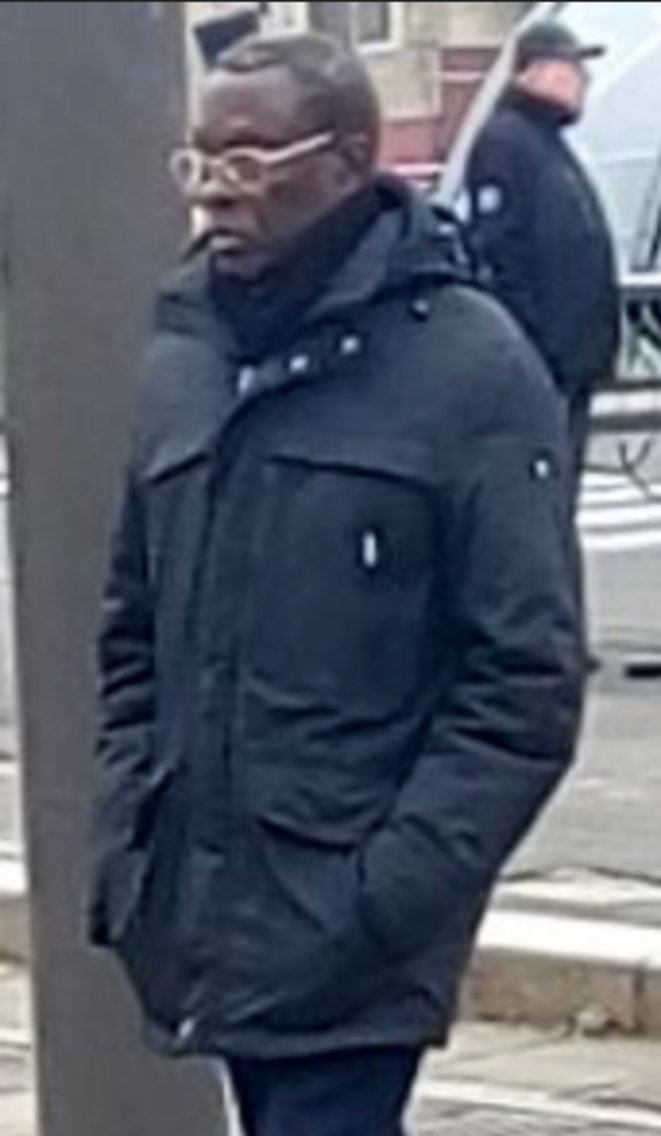 Aloys Ntiwiragabo, heading for church, in February 2020. © TE
The colonel's wife Catherine was granted political asylum in France on September 22nd 1999 and in 2005 she became a French citizen and took the surname Tibot. But Aloys Ntiwiragabo was not able to get a visa to join his wife, despite determined attempts.
His first request for a visa was at the French consulate in Khartoum in Sudan in 2001, when the Rwandan colonel claimed to have "lost his identity documents". That same year he made a new request at the consulate at Niamey in Niger where he used a passport from Guinea which had been made "by the Sudanese authorities", according to his own later statement to French administrative courts when appealing against the rejection of his visa application.
Yet as Mediapart has reported, on July 10th 2020 Aloys Ntiwiragabo signed for a registered letter, a procedure which requires a person to prove their identity.
"Aloys Ntiwiragabo does not have a residence permit," the state prefect's office for the Centre-Val de Loire region told Mediapart. "This gentleman has made a request for asylum and he has a certificate [editor's note, provided as proof of his request] which was delivered to him on February 7th 2020. Before that he had no documents. Not here, in any case."
The prefect's office said it understood that Aloys Ntiwiragabo had been interviewed by officials from the Office Français de Protection des Réfugiés et Apatrides (OFPRA), the French government organisation which processes applications for refugee or statelessness status, over his request, and that a decision on his case was pending.
Under Article 1F of the Geneva Convention on Refugees, OFPRA can exclude a person if there are "serious reasons" for thinking that they have committed a "crime against humanity". Since 2015 OFPRA has also been obliged to inform the French prosecution service when invoking this article in a case.
Six months after receiving the case, OFPRA's officials have apparently not been able to to check out Aloys Ntiwiragabo's story and decide on his status. Yet the French administrative system should be very familar with his case. After the Rwandan was refused a visa following his 2001 application he appealed, and French administrative courts made three rulings during the lengthy process. These rulings and the accompanying paperwork set out his background and the suspicions that hang over him. In addition, a great deal has been written about the genocide in Rwanda as well as the crimes committed by the FDLR.
When speaking to French public radio station RFI, Aloys Ntiwiragabo's lawyer Benjamin Chouai said that his client had "never hidden himself" and that he had pursued "various administrative steps with the French authorities". The lawyer seemed to want to use the asylum request to create an alternative narrative and contradict the facts revealed by Mediapart in the public interest.
Yet according to the witness accounts and documents obtained by Mediapart the Rwandan colonel did not just arrive in France at the start of this year, as his asylum application might suggest. Several sources in the neighbourhood and his landlords have confirmed to Mediapart that he has lived in the Orléans apartment since 2006 – some fourteen years before his asylum request.
An undated photo of Aloys Ntiwiragabo from a report by NGO African Rights.
It appears that Aloys Ntiwiragabo took advantage of his wife's naturalisation to move in with her. In order to justify his own presence in the flat he used a marriage certificate that had been drawn up by the registration services at France's Ministry of Foreign Affairs.
However, a marriage certificate does not entitle someone to live and move around in the country. So did the colonel have a residence permit? The prefecture has said he did not, while the Ministry of the Interior did not respond when asked whether any documents had been sent to Aloys Ntiwiragabo before his asylum request.
Other information also undermines his lawyer's version of events. It took France's Ministry of Foreign Affairs ten years to refuse the Rwandan's visa requests and by that point – 2011 – he had already been living in France for some time. And he then appealed against that refusal, starting an administrative court procedure that lasted until 2015.
Why would he have fought so hard to overturn the refusal if he was able to live in France lawfully anyway? Why did Aloys Ntiwiragabo use his lawyer's address for his legal action if he was not hiding? The truth is that the Rwandan colonel had a good reason to hide his presence in France from the French justice system.
For under a law passed in France on May 22nd 1996, anyone "suspected of being responsible for acts of genocide or of other serious violations of international humanitarian law" in Rwanda or neighbouring countries in 1994 "can be prosecuted and tried by French courts under French law, if they are found in France".
Lack of action by France's Ministry of Foreign Affairs
The crucial events of this saga appear to stretch back 19 years. On May 23rd 2001 Aloys Ntiwiragabo went to a French consulate in Africa to apply for a French visa. A few weeks later, on July 9th 2001, the Rwandan was questioned by the French anti-terrorism judge Jean-Louis Bruguière as part of a probe into the deadly attack on the plane carrying Rwanadan dictator Juvénal Habyarimana on April 6th 1994, the act which triggered the genocide against the Tutsis. In September 2001 Ntiwiragabo's wife Catherine set up an association in Orléans to look after Rwandan exiles.
At the time Aloys Ntiwiragabo was questioned by the judge he was theoretically on the run. His name was high up on the list of people suspected of having organised the genocide against the Tutsis and he was being actively sought internationally. Serge Brammertz, a prosecutor at the International Criminal Tribunal for Rwanda (ICTR), confirmed: "Investigations into Aloys's case ended in 2004."
The fact that the Rwandan was on the run in 2001 did not seem to have concerned France's foreign minister at the time, Hubert Védrine. Though Article 28-1 of the ICTR's statutes declares that "States shall cooperate ... in the investigation and prosecution of persons accused of committing serious violations of international humanitarian law", this was not the case with Aloys Ntiwiragabo.
Védrine knew the background to events in Rwanda well, as he had been chief of staff at the Élysée in 1994, before going on to become France's foreign minister in 1997. While he was minister the Ministry of Foreign Affairs in Paris gave a 'special card' – a form of residence permit – to Augustin Ngirabatware, who was Rwanda's minister for planning at the time of the genocide. This was three years before Aloys Ntiwiragabo applied for a residence visa. Did the ministry simply decide to help out a former ally on the run, even if it was someone suspected by an international criminal court of involvement in genocide?
Hubert Védrine declined to comment. "I have nothing to say," he told Mediapart. "I don't know anything at all about this issue. What is it you think I might know about it? Why would you think I'd trust press organisations who have only ever given one side of the issue? That doesn't inspire confidence."
Did Aloys Ntiwiragabo get a 'special' French residency card like his fellow countryman Augustin Ngirabatware? The Ministry of Foreign Affairs in Paris simply said: "We don't comment on matters which are subject to legal proceedings."
Aloys Ntiwiragabo's lawyer Benjamin Chouai, who did not respond to our questions, appears to want to dismiss Mediapart's original story in its entirety. He told RFI that "everything that Mediapart said is a pack of lies".
According to Serge Brammertz at the ICTR, the decision to stop investigating Aloys Ntiwiragabo was taken "following the implementation of the ICTR's winding down strategy of 2003". In reality the timetable was more about complying with a 2003 United Nations resolution about the eventual winding up of the ICTR and its work - all investigations were due to be completed by the end of 2004 – than about establishing Ntiwiragabo's guilt.

In 2003 the prosecutors' office at the ICTR, which was still investigating 26 people, was already worried that "some of them … may not be found". By the following year just 16 investigations were still being pursued. Running out of time, the prosecution team could only charge half of the suspects and they abandoned the case against Aloys Ntiwiragabo.
Yet Belgian journalist Colette Braeckman, an acknowledged specialist on central Africa who was called as a prosecution witness by the ICTR, wrote in the daily Le Soir newspaper: "Aloys Ntiwiragabo was one of the criminals said to be in the highest category, the genocide's architects and planners."
-------------------------
If you have information of public interest you would like to pass on to Mediapart for investigation you can contact us at this email address: enquete@mediapart.fr. If you wish to send us documents for our scrutiny via our highly secure platform please go to https://www.frenchleaks.fr/ which is presented in both English and French.
-------------------------
The French version of this article can be found here.
English version by Michael Streeter
Si vous avez des informations à nous communiquer, vous pouvez nous contacter à l'adresse enquete@mediapart.fr. Si vous souhaitez adresser des documents en passant par une plateforme hautement sécurisée, vous pouvez vous connecter au site frenchleaks.fr.