Magistrates in charge of a lengthy investigation into a series of suspected corruption scams surrounding L'Oréal heiress Liliane Bettencourt have uncovered further evidence, described by one source close to the case as "solid", suggesting that part of the billionaire's fortune was used to illegally fund outgoing French President Nicolas Sarkozy's 2007 election campaign.
Sarkozy, who will hand over office to newly-elected François Hollande on Tuesday, when he will lose immunity from prosecution, faces mounting suspicion that his successful 2007 campaign was also illegally financed by the late Libyan dictator Muammar Gaddafi.
In February, Sarkozy's 2007 election campaign treasurer, Eric Woerth, 56, was placed under formal investigation in the Bettencourt case for "handling" illegal funding of Sarkozy's campaign and for "influence peddling". Woerth, 56, a former budget and labour minister, was also treasurer of Sarkozy's UMP party between 2002 and 2010. Woerth, a Member of Parliament and mayor of the town of Chantilly, north of Paris, has denied any role in illegal funding of the campaign.
As Mediapart reported in March, Bordeaux-based investigating judge Jean-Michel Gentil has already established that two, separate 400,000-euro cash withdrawals were made from Bettencourt's Swiss bank accounts in February and April 2007, when Sarkozy was running for the presidency. The timing of the withdrawals matches other evidence in the case suggesting the money was destined to help fund Sarkozy's bid.
René Merckt, a Geneva-based lawyer who for some 30 years managed the secret, tax-dodging accounts in Switzerland belonging to Bettencourt and her late husband André, has told the investigation that the L'Oréal matriarch's former wealth manager, Patrice de Maistre, personally ordered the withdrawals.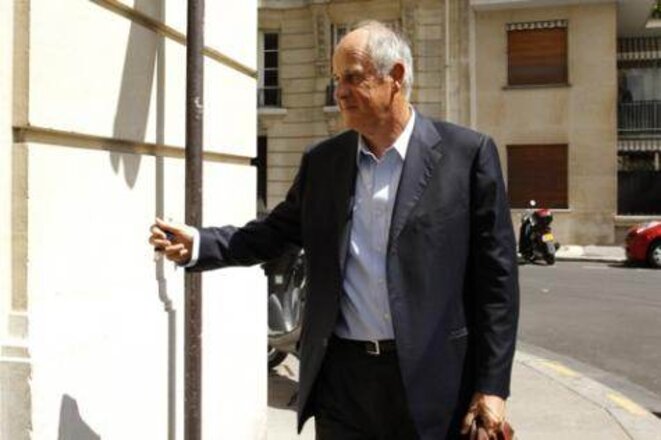 P. de Maistre
These were made via a complex 'compensatory' financial route, by which the sums were issued in banknotes in Paris from the offices of a securities firm which had previously been credited with the same amount in Switzerland.
Merckt, who was questioned earlier this month for the third time by the Swiss authorities acting in cooperation with the Bordeaux judge, testified that no such withdrawals had been made from accounts belonging to Bettencourt and her husband prior to February 2007.
It has been established that Maistre and Woerth met together in Paris on February 7th 2007, two days after the first 400,000-euro cash withdrawal was made. The two men have confirmed their meeting, which they have described as a social occasion.
Maistre, 63, has been held in preventive detention in a jail near Bordeaux since March 23rd. He was last year placed under investigation – one step short of being charged – for suspected corruption and for "abuse" of the mental frailty of Liliane Bettencourt, 89, who, a medical report has established, suffers from a progressive state of dementia that had already begun in 2007. She is also partially deaf.
The majority shareholder of L'Oréal, the world's largest cosmetics company which was founded by her father, Eugène Schueller, Bettencourt has a personal fortune estimated by Forbes in 2011 to total 17 billion euros, making her one of the wealthiest individuals in France and the wealthiest woman in Europe.
Among the evidence held by Gentil is a diary belonging to François-Marie Banier, a Parisian socialite once close to the widowed Bettencourt and who is under investigation in a parallel enquiry by the Bordeaux magistrates for defrauding the billionaire of almost 1 billion euros. It contains an entry written on the same day as the second 400,000-euro cash withdrawal, on April 26th 2007, which read: "De Maistre tells me that Sarkozy is again asking for money".
On March 22nd this year, the day before Maistre was jailed, the judge wrote a formal summary of the evidence against Bettencourt's former wealth manager, in which he noted that "witnesses have given testimony of a visit to the Bettencourt household by [then] Minister of the Interior Nicolas Sarkozy during the 2007 electoral campaign" and advised that further investigations into the allegations of cash donations to Sarkozy's campaign "are therefore necessary".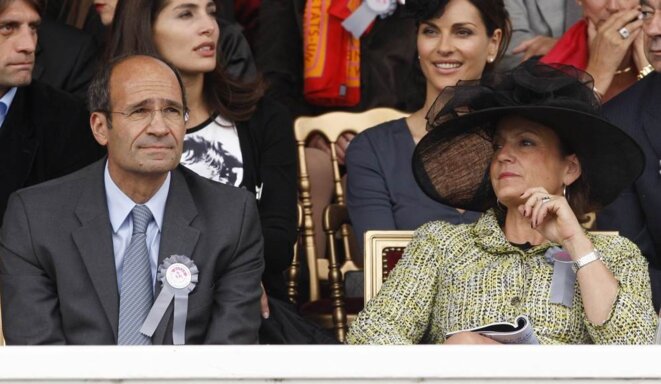 Eric et Florence Woerth
Sarkozy began his bid for the presidential office while he served as then-President Jacques Chirac's interior minister, with Woerth appointed as his campaign treasurer. After Sarkozy's election in May 2007, Woerth was appointed budget minister, when he is also suspected to have abused his position to convince Patrice de Maistre to employ his wife, Florence Woerth, as an investment advisor for Bettencourt; two months after she was hired in November 2007 on a yearly salary of 200,000 euros, Woerth decorated Maistre with the Légion d'honneur, France's highest award for civil merit.
A source close to the investigation, who asked not to be named, told Mediapart: "Judge Gentil has worked hard on the political financing lead. Solid elements indicate that funds were handed to Eric Woerth, but for the moment there is no proof concerning Nicolas Sarkozy. Unless one entertains the thought, like some malicious [people], that the candidate went to thank the Bettencourts."
Weekly news magazine L'Express last month revealed that a 2007 agenda belonging to Liliane Bettencourt, also seized as evidence in the case, contained a note made out for her attention against the date of February 24th 2007 that read: "At midday for Monsieur Nicolas S. For [your] information."
The note apparently indicated that Nicolas Sarkozy was due to meet at midday with Liliane's husband André, commonly addressed by his household staff as "Monsieur".
Mediapart has now learnt from sources close to the case that Judge Gentil has gained further evidence suggesting that Sarkozy also visited the Bettencourt home during the two weeks between the first and second rounds of the elections, held on April 22nd and May 6th, when the second 400,000-euro cash withdrawal was made from the Bettencourt couple's Swiss accounts.