A woman who formerly worked as a casting director for French filmmaker Luc Besson has been questioned by Paris police as part of their investigations into formal complaints lodged against Besson for rape and sexual assault, Mediapart can reveal.
She wrote to the French public prosecution services on July 6th accusing Besson of assault, following a formal complaint of rape filed against Besson by Belgian-Dutch actress Sand Van Roy on May 18th, who said he assaulted in a Paris hotel the previous night. "I've nothing to gain in this saga but I swore I'd speak out the day a woman spoke out first," said Amandine – whose real name is withheld on her request – in an interview with Mediapart first published in July.
In her official complaint, Amandine cited several incidents between 2000 and 2005 in which she claimed Besson – who enjoys international fame as a producer and director of cinema blockbusters that include Subway, Nikita, The Fifth Element, The Big Blue and Lucy – groped her, rubbed himself against her and forcibly kissed her.
According to sources close to the case, Amandine was finally questioned last Thursday by officers from the police judiciaire (judicial police) in Paris who were handed the preliminary investigation into Sand Van Roy's complaint by the Paris prosecutor's office.
Besson has strongly denied the rape claims by Van Roy and all other allegations of sexual assault. Mediapart attempted to contacted Besson in July through the intermediary of his lawyer, Thierry Marembert, but the filmmaker declined to be interviewed about the claims of Van Roy, and also those of Amandine and other women interviewed by Mediapart (see the detailed investigation here). At the time, Marembert told Mediapart: "The subjects you mention are the object of an ongoing investigation […] You will therefore understand that Mr Besson is keeping his answers for the investigators for who he has put himself at disposition in order for his innocence to be proven."
Besson has not yet been questioned by police.
Marembert did not respond to Mediapart's renewed request for an interview before publication of this report.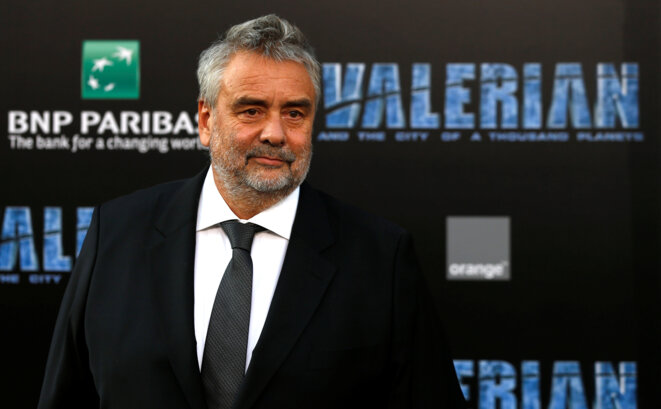 Luc Besson at the presentation in Los Angeles of his film 'Valerian and the City of a Thousand Planets', starring Sand Van Roy, on July 17th 2017. © Reuters
Amandine has also declined to comment since she was questioned by police last week over her detailed July complaint against Besson, which Mediapart has seen. In it, she said her working relationship with Besson as his as casting manager was tainted by a "very sexualised climate" and inappropriate actions that she considered to be "sexual aggression".
Amandine worked for Besson for the first time in 2000, on the Jet Li film he produced called Kiss of the Dragon. In her letter to the prosecution services she said Besson "quickly" became "oppressive". He would "come close to my back frequently when I was coaching actors and kissed me on the neck. Other times he forced me to sit on his knee. He established an ever-greater physical closeness which made me very ill at ease".
She said that one day at a rehearsal, "Luc Besson again slid up behind me and openly in front of everyone grabbed me by my breasts. I then violently pushed him back with my elbows".
At the end of 2000 Amandine was treated for depression, and in her July 6th letter to prosecutors she said, "I understood that I'd been the victim of permanent mental and sexual harassment". She stopped working for Besson but, she recounted, four years later she met him by chance in a luxurious Parisian hotel when he suggested that she come back to work for him, to which she agreed. "I put it out of my mind in order to pay my rent," she explained.
She was then hired by Dog Production, a subsidiary of Besson's film production studios EuropaCorp specialised in producing commercials. Her job involved casting models. "Luc Besson gave me an enormous number of magazines, of cassettes of girls that he had filmed in his hotel room during his trips, books from all the model agencies... he put a Post-it note on the profiles of the girls that I or he had to meet."
Amandine claimed that she once again experienced the same atmosphere at work as before her depression. "Luc Besson frequently asked me, in the presence of a technician, to give him fellatio, which I refused without fail," she detailed in her complaint. "Once he accompanied this demand with putting pressure on my head, making the gesture of pushing it towards his penis. He took me on his knee quite often […] Each time we took the lift together he forcibly kissed me, putting his tongue in my mouth, and although I pushed him back he'd take me in his arms and touch my breasts and bottom."
Amandine also directed some casting in the projection room in the basement of EuropaCorp's former headquarters on the rue du Faubourg Saint-Honoré in central Paris. In her July 6th complaint she detailed an incident in 2004 that she said particularly marked her. "Luc Besson pressed me against the soundproofed wall," she said. "I realised that no one could hear me if I ended up shouting. Luc Besson rubbed himself against me, touched my breasts and put his tongue in my mouth. To get out of that situation I told him that a model was waiting at reception."
"This behaviour affected me a lot," added Amandine.
Meanwhile, Luc Besson is the subject of two formal complaints for rape filed separately in May and July by the 28-year-old actress Sand Van Roy who has now been questioned several times by French police.
She has told them that over the period between March 2016 and May 2018 Besson subjected her to sexual relations unwanted by her and which she described as "violent", occasionally "to the point of drawing blood". The actress, who has starred in Besson's films Valerian and the City of a Thousand Planets (released in 2017), Taxi 5 (2018) and who was due to feature in his next film Anna, planned for release in 2019, claimed that she was afraid of being "blacklisted" or "cut during editing" by the filmmaker.
Van Roy said that when she got to Le Bristol, which lies close to the French presidential office, the Elysée Palace, she had a glass of vodka at the bar and then went to the filmmaker's room. It was there, according to her formal complaint, that Besson raped her. The formal report of the allegation says Sand Van Roy fell in the hotel room bathroom after feeling an impact "in the back", unaware of what caused it. The next day her body bore several marks, in particular a bruise to her left eye and three marks on her back. The marks are visible in photographs handed over to the judicial authorities and seen by Mediapart.
Speaking on RTL radio on May 20th, Besson's lawyer Thierry Marembert described what he said were "accusations" by Sand Van Roy as being "off the wall" and said that Besson "fell of his chair" when he learnt of them. Luc Besson, said the lawyer, "categorically denies any inappropriate and reprehensible behaviour of any kind". He added that Besson knew "this young woman just as he knows almost the entire world within cinema circles", and that Besson "has never raped either her or anyone else".
Since the end of May, the current police investigation has interviewed a number of people, notably from Van Roy's close entourage and others who have worked with Besson.
-------------------------
The French version of this article can be found here.
English version by Graham Tearse