"When I saw the complaint from Sand Van Roy, my legs trembled." It was on May 19th 2018 that Amandine – not her real name – discovered in the press that the actress Sand Van Roy had made a formal complaint of rape against the celebrated 59-year-old French film director and producer Luc Besson. On several occasions between 2000 and 2005 Amandine, who is now 49, worked in casting for the filmmaker. "I said to myself 'At last, someone's speaking. Right, I'll do so too'." On Friday July 6th 2018, Amandine wrote to the public prosecutor in Paris claiming that she was the victim of "sexual assault".
Mediapart has also seen the formal rape complaint made against Luc Besson by Sand Van Roy on May 18th in relation to acts she says she was subjected to the day before at the plush Le Bristol hotel in central Paris. The Belgian-Dutch actress has been interviewed by French police twice, in May and June. On July 6th 2018, she made a new formal complaint in relation to other acts mentioned in her previous interviews.
The actress has told police that between March 2016 and May 2018 she endured unwanted and "violent" sexual relations, which sometimes went as far as "drawing blood", in order to avoid, she says, being "blacklisted" or "cut during editing" from the Frenchman's films. Sand Van Roy appeared in Besson's 2017 film Valerian and the City of a Thousand Planets, in Taxi 5 produced by him in 2018 and was due to have a major role in his forthcoming film Anna.
After months of investigation Mediapart can reveal the stories of several women and men who have worked over the years with Luc Besson and who testify to inappropriate physical and verbal behaviour towards women on the part of the director and producer. Today, four women have told Mediapart that they were the object of his inappropriate sexual behaviour.
Besson, best known for his films Leon, Nikita, The Fifth Element and most recently the sci-fi thriller Lucy, vehemently denies the rape claims and all the other allegations of inappropriate behaviour.
Luc Besson did not reply to Mediapart's request for an interview. Instead, his lawyer, Thierry Marembert, who was submitted with the questions we wanted to ask the director, told Mediapart that, "The subjects you mention are the object of an ongoing investigation", adding: "You will therefore understand that Mr Besson is keeping his answers for the investigators for who he has put himself at their disposition in order for his innocence to be proven."

Speaking on RTL radio on May 20th, Thierry Marembert described what he said were "accusations" by Sand Van Roy as being "off the wall" and said that Besson "fell of his chair" when he learnt of them. Luc Besson, said the lawyer, "categorically denies any inappropriate and reprehensible behaviour of any kind". He added that the director knew "this young woman just as he knows almost the entire world within cinema circles", and that Besson "has never raped either her or anyone else".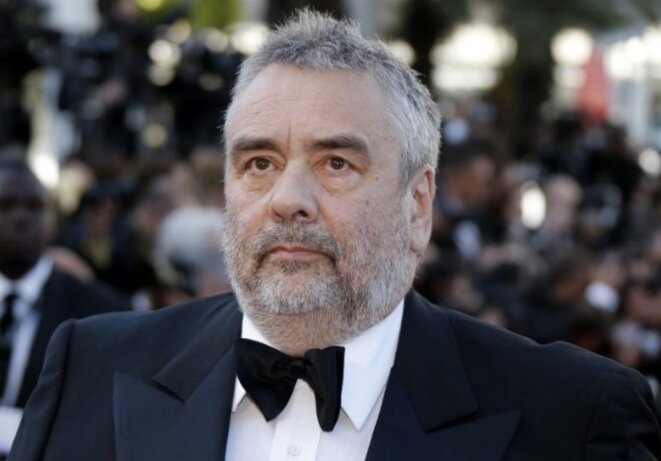 Luc Besson. © Reuters
When Mediapart met her for the first time on May 30th 2018 in a restaurant in Paris, Sand Van Roy was under pressure. She said she was no longer sleeping and that she felt lost, even disoriented. She was unsettled by press leaks. Nonetheless, the young actress says she has decided to make herself heard and, supported by those close to her, is telling her story. A story that recounts two years of control, of fear, of inconsistencies and abrupt turnarounds, which led to the night of May 17th 2018 at Le Bristol hotel in Paris.
At the time the Cannes Film Festival in the south of France was in full swing and Sand Van Roy had spent the week there with several friends. She left them on May 17th to go and meet Luc Besson in Paris. For the previous two years they had had an occasional "relationship". Explaining to police officers why she had gone there, the actress said: "I don't want Luc [editor's note, Besson] to cut me out at the editing" of the film Anna. She says that when she got to the hotel she had a glass of vodka at the bar and then went to the filmmaker's room.
It was there, according to the formal complaint, that Luc Besson raped her. The formal report of the allegation says Sand Van Roy fell in the hotel room bathroom after feeling an impact "in the back", unaware of what caused it. The next day her body bore several marks, in particular a bruise to her left eye and three marks on her back. The marks are visible in photographs handed over to the judicial authorities and seen by Mediapart.
Investigators are to examine these unexplained injuries on the basis of a report provided by forensic specialists. Sand Van Roy told police officers that she passed out twice in the hotel room. Toxicology reports found this was not the result of any drugs ingested by the actress.
According to her testimony, the actress left the hotel during the night, with Luc Besson having given her some money – 140 dollars and 20 euros - to pay for a taxi. Around 2.30am on May 18th she called her mother Henriette van der Pas, who is a doctor in Belgium. The following morning they spoke on online video phone linkup FaceTime.
"Sand was in shock," Henriette van der Pas told Mediapart. "It was a tsunami: she was shouting, she was trembling, she was crying, she was sweating, it was awful. I said 'It's over. Sand, the next time it's death.'" He mother persuaded the actress to call the police.
People close to her have described how over the course of several months they saw the actress "change" and fall under the "control" of the producer. Her mother described to Mediapart how she felt she was in a spiral of "control", "manipulation" and "lies". The actress's best friend Wilfried Capet, who is also an actor and producer, has told Mediapart that he felt she was "in the hold" of someone.
During the course of a little over two years the director is alleged to have insisted on her having unprotected sex with him on several occasions, and he had also indulged in practices which "disgusted" her. "During sexual acts he likes to hurt," she told the police. Twice, in July and September 2016, he had also sexually penetrated her while she slept, she told them."I didn't want to spend the night with him" because "I was afraid", she told Mediapart.
"I often told him that I didn't want to but he wanted to have a relationship with me anyway," the actress told the police, while making it clear that when she decided to leave he "didn't use violence" and let her go. According to her evidence, he put in place a system of coercion that was much more insidious, switching between incentive and "punishment". She is convinced that her behaviour influenced the roles that Besson offered her; she has only appeared in films produced or directed by the Frenchman.
Over the months Sand Van Roy began to puzzle those close to her. On the one hand they saw a "docile" side of her, with the actress calling Luc Besson "my sweetheart, my love". On the other they heard her say she was suffering and could not take it anymore.
On May 17th 2018, just a few hours before she went to Le Bristol, she left her friend Wilfried Capet the following voice message: "If I don't go, he's gonna be so mad, and I'm gonna have to pay for it, and I'm gonna regret it … He has conditioned me to behave in a certain way." On WhatsAp she wrote in English: "I don't know how I'm gonna have sex with him if I don't drink myself to the point where I no longer feel pain," A few hours earlier she had messaged Besson with a heart symbol.
"He called every day, sent hearts by SMS, while inflicting violence and humiliation. I was living in a state of confusion. I said to him what he wanted to hear, out of fear of reprisals," the actress explained. Sand Van Roy thinks that she became the producer's "puppet". She said: "He transformed me into what he wanted me to be. He made me a blonde, made me speak in this voice [editor's note, a child's voice], put on dresses, lose weight."
On several occasion over the years Henriette van der Pas asked her daughter to inform doctors and the police. She says Sand Van Roy replied: "But what is one going to say? 'That I'm going to make a complaint against Luc Besson?' You can't. You say nothing. It's not possible." Wilfried Capet, to whom the actress described in detail in March 2017 the "sexual abuse" that she is now officially reporting, was not able to convince her either. According to the testimony of those close to her, the actress kept repeating that she could not, that she was afraid.
Those close to her were particularly shocked by the video clip that the director sent the actress on November 29th 2017, a video that the actress has since sent to investigators and which Mediapart has also seen. It shows Luc Besson filming himself for 15 seconds with a smartphone while moving around an office. The film-maker says: "We're in the offices of the CIA and there's a surprise." He moves towards a square white cardboard box. He opens it saying: "Hey Sand...". At the bottom of the box is Sand Van Roy's bloody head, which had been replicated for one of his films.
The video made the actress panic. Her sports trainer, who was with her on that day, has told Mediapart: "For other people the video could have been taken as a joke. But for her, she was in stress, in tears." The trainer, who described a young woman "under pressure", said: "I think that for her to have taken it like that, there must have been something else behind it." But he said he did not know what it was.
Sand Van Roy herself was in no doubt that this video was a response to the threats she had made a few weeks earlier to go to the police.
The actress told Mediapart that in October Luc Besson asked to have sex with her. "Luc tried to have sex. I refused. He forced me. But … I told him that I might go to the police, that I couldn't put up with what he was doing any longer...that I was going to talk," she said.
At the time of that incident it was the middle of the Harvey Weinstein affair, with the claims of sexual abuse committed by the top American film producer sparking the worldwide #MeToo movement.
"I felt a mixture of admiration and envy towards those actresses who had the right to speak while in France you had to carry on keeping quiet," Sand Van Roy told Mediapart. "They were getting through it while I felt like I was in prison. I didn't want to be the only one to report him." Her friend Wilfried Capet confirms: "The [Weinstein] affair encouraged her to think 'OK perhaps there's a possibility of getting out of it.' But she said that by speaking out alone, in France, she'd be blacklisted and that no one would believe her."
Convinced that she was "not the only one", she tried at the time to contact several other women whom she presumed to be "victims" of Luc Besson. So on October 9th 2017, she used the pretext of professional reasons to write to 'Sofia' – not her real name - a young actress who had filmed with Besson. It was only on April 12th this year that the two finally spoke at length, after the sending of that message, which has been seen by Mediapart. It read: "I know that we don't know each other but I believe we've gone through the same hell." Together they tried to collect proof and contacted several women. "I promise he will pay for that," Sand Van Roy wrote on WhatsApp on May 5th, in response to what had been described to her.
"We wanted to do like the Weinstein affair, and encourage a lot of people," the actress told Mediapart. "I wanted to speak but I couldn't. [The film] Taxi was coming out on April 11th. I hadn't planned on sticking my neck out before 'Sofia', it's cowardly but I wasn't ready and I was risking too much."
In the end it was she who was the first to make a complaint. On the morning of May 18th, the day after her meeting at Le Bristol hotel, she called Sofia in tears and wrote to her: "I can't take the abuse any longer."
The actress's lawyer, Carine Durrieu-Diebolt, told Mediapart: "In many cases of sexual violence the complaint made by the victim allows others to speak out. On their own they fear that they won't be believed, when there are several of them they feel reassured about their move. The fact that there may be several victims of the same aggressor shows a modus operandi."
But several days after Sand Van Roy made her official complaint, Sofia broke off all contact with her. She did not respond to Mediapart's requests for comment.