Stéphane Hessel, son of the writer and translator Franz Hessel and fashion journalist and writer Helen Grund, was born in Berlin on October 20th 1917. He arrived in France at the age of seven, became a naturalised French citizen in 1939, and after the outbreak of World War II joined the Resistance movement. He was arrested by the Gestapo and sent to the Buchenwald concentration camp from where he escaped during transfer to Bergen-Belsen.
After the war, he helped draft the United Nations' Universal Declaration of Human Rights, and became an honorary 'Ambassador of France,' appointed to special government missions abroad.
Hessel made resistance to injustice his lifelong mission, arguing that "to create is to resist, to resist is to create". A political activist with a long association with the French Socialist Party, he was well-known in France as an outspoken campaigner on numerous issues, from granting immigrants the right to vote to support for an independent Palestinian state.
He hit worldwide celebrity (see here and here) with the extraordinary success of his book 'Indignez-vous', first published in 2010, which was a public appeal for a movement of indignation and action against the injustices of modern society. The manifesto was translated into several languages, published as 'Time for Outrage' in English, selling 4.5 million copies in all and was credited with at least partly inspiring recent social protest movements such as Occupy in the US and the Indignados in Spain.
The runaway success of the book, which captured French public imagination like no other political essay in recent history, was also down to the extraordinary popularity of Hessel, an erudite, sharp-witted, gentle and sprightly man who was, right up to his death, a regular public debater.
In 1997 he published an autobiography entitled 'Danse avec le siècle' (Dance with the century), when he was interviewed by Sylvain Bourmeau for the French cultural magazine Les Inrockuptibles and which Mediapart re-publishes here below.
Hessel details the events that profoundly marked his life, about his parents, (whose love triangle with the writer Henri-Pierre Roché was the subject of the novel Jules et Jim, and François Truffaut's film by the same title), and charts his political engagement and cultural influences.
But he began by explaining how his escape from execution in Germany in 1944 left him with the sense of a purpose he must fulfil.
-------------------------
Stéphane Hessel: From my earliest childhood, I've had the feeling of being blessed by the gods. I often quote these verses from Goethe, one of the great heroes of my youth, 'The gods bestow all the joys on their favourites, but also all the sorrows.' As a small boy I was very influenced by my mother, an ambitious, cultured woman, a big personality. I was the person who was going to prove that they were lucky. That could have made me someone very conceited or very lazy. On the contrary, it galvanised me each time, even when I encountered problems. I had a brush with death on several occasions, just like, and I insist on this, almost everyone of my generation.
I went to war and I seized this existential luck, in a way, to find myself in front of serious challenges, both personal and collective. Of course, the strongest moment was when my life was saved rather miraculously in Buchenwald. When I arrived I didn't know I was condemned to death, I thought on the contrary that the war was as good as finished. And then suddenly we realised that we were condemned men awaiting the execution order from Berlin. After negotiation, three of us were able to swap identities with three people who'd died of typhus. But they still had to die! Once this operation had succeeded, all this suspense and this tension gave me a great sense of responsibilities. You say to yourself, I am the survivor, so my life must have some purpose. It's a bit moralistic, but when you're young, and I was barely 27, you feel as if you are carrying something. Afterwards, I always had the impression that my life was something that had been saved, therefore it had to be invested in something.
Question: What did you invest yourself in?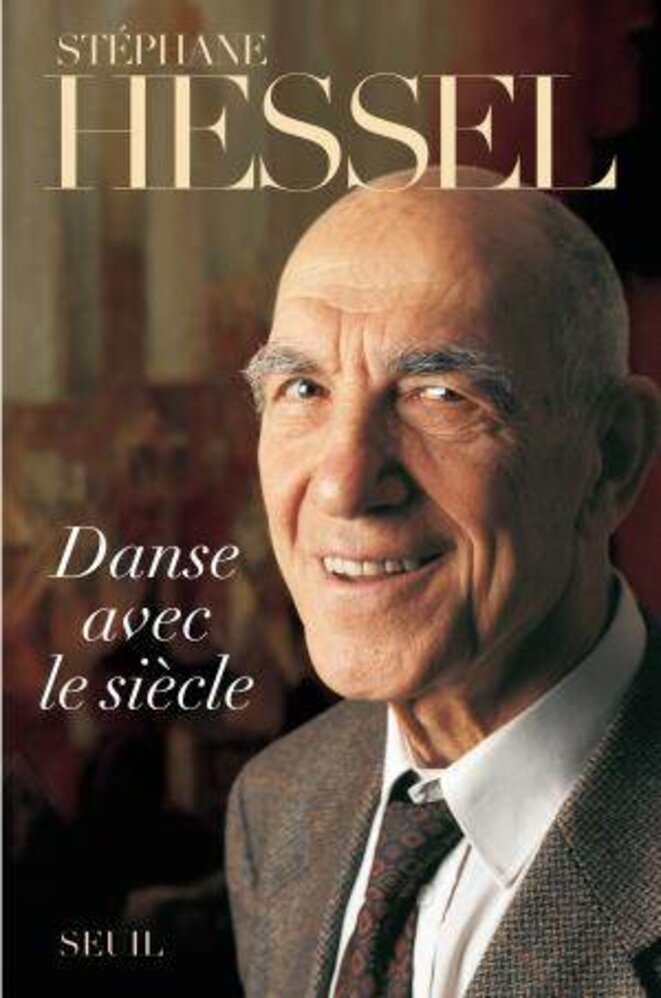 S.H.: Well, essentially in the opposite of what almost killed me, [which was] Fascism, Nazism, totalitarianism. So, naturally, I headed for human rights. I abandoned philosophy and more general ideas for diplomacy. In 1945, I passed the Quai d'Orsay [French foreign affairs ministry] exam and went to work for the United Nations. The construction of a united and organised world was what we dreamed of when we were in the camps. Luckily, I found myself in the department of social issues, charged with drawing up the Universal Declaration of Human Rights. And this investment in human rights has lasted all my life, since in 1993, even at the advanced age of 76, I was given the presidency of the French delegation to the World Conference on Human Rights in Vienna. There I was reacquainted with my Universal Declaration, written more than 50 years earlier.
From this point of view, my book [1] would like to bring a message of confidence in History. Because even in the moments where the history of the world, of France or of Europe, appears the most perilous or the most depressing, like with the Serbs in Yugoslavia, between the lines there is always the unifying thread of a history that has meaning and that gives more and more responsibility and liberty to individuals. Only they are not always aware of it, and depression can only be fought with a vision that is slightly retrospective. To come out of it, I believe you must say what my generation was able to tell itself: Listen, it's going badly today, but remember what a horrible situation we were in 50 years ago. And we came out of it. And then you can regain a slightly positive vision of history.
The Second World War gave birth to two monsters, let's call them Auschwitz and Hiroshima. Humans, in their madness, are capable of carrying out a genocide and, in another form of madness, of making weapons of absolute destruction. In the immediate post-War years we lived with the almost obsessive idea that a new atomic bomb was going to fall. Today, without it being seen as foolish optimism, we can say that there will probably not be an atomic war, that people have realised that this was not a possible solution. Another phenomenon: all my generation, and in particular those who were in the Resistance in France, were torn between communism and anti-communism, and many were fascinated by what was generous, what was grandiose about communism. Some, like many of my friends, experienced the end of communism as a rather sad thing. On the contrary, for me, who from the beginning never considered communism as the solution - because of my philosophical training perhaps, or for reasons of democracy, it doesn't matter - the fact that Stalinism was fought and conquered by its dissidents was a major triumph. I could give other examples, such as apartheid.
That said, I would not like my book [1] to be seen as a kind of hymn to the constant success of the human species - there is much to be said to the contrary - but I think that in reflecting on this, inthinking of my experiences, one notices that by dint of inequalities, history is liable to produce greater equalities. In the end it's because of these notions of imbalance and equilibrium that I called my book Danse avec le siècle [Dance with the Century]. That may seem rather pretentious, rather frivolous too, but I don't like to appear pontificating or serious, things that I am not. My character is after all the legacy of a family that was rather on the margins of society, particularly in terms of morality.
--------------------
1: Stéphane Hessel is referring here to his book Danse avec le siècle (Dance with the Century), first published in 1997 by Éditions du Seuil.