It is a curious coincidence of parallel meetings. At a time when the current French president Emmanuel Macron has been increasing his political and personal ties with former president Nicolas Sarkozy, two of their former aides have also been meeting. Alexandre Benalla, Macron's former security advisor, and Alexandre Djouhri, a businessman and intermediary who was close to Sarkozy, each of them facing judicial investigations in France, have met each other on several occasions in recent weeks.
Benalla, who worked in the president's office at the Élysée, and who has been placed under formal investigation after being filmed being involved in violence against protestors on May 1st this year, eventually admitted his meetings with Alexandre Djouhri during an interview with Mediapart on December 16th. Having initially denied the reports, he stated: "Yes, I have met Alexandre Djouhri, several times, and I'm very happy to have done so."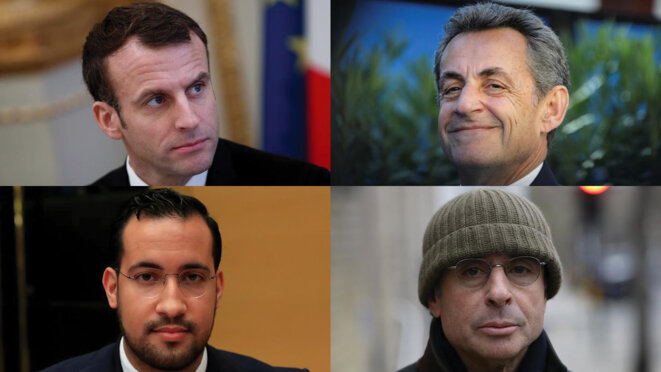 Clockwise from top left: Emmanuel Macron, Nicolas Sarkozy, Alexandre Djouhri and Alexandre Benalla. © Reuters
The two Alexandres have been meeting in London since the beginning of the autumn. Djouhri has been obliged to remain in the British capital for several months pending possible extradition – technically in this case it is what is called a "
surrender
" – by the French authorities over his involvement in the
Libyan funding
of Sarkozy's 2007 election campaign which is being probed by judges. The former president himself has already been
placed under formal investigation
for "illicit funding of an electoral campaign", "receiving and embezzling public funds" and "passive corruption" in relation to the probe.
Alexandre Djouhri is a key figure in the Libyan affair. The investigating judges' suspicions relate both to his potential involvement in hidden financial set-ups that benefited Sarkozy's former minister and right-hand man Claude Guéant (himself also under formal investigation) and his role in helping a central figure in the Libyan case, Colonel Muammar Gaddafi's former chief of staff Bashir Saleh, flee from France.
In a report on Alexandre Djouhri written by France's financial prosecutions unit in February 2018, and revealed by L'Express magazine, prosecutors said that the judicial investigation "shows his central involvement in an organised network of corruption, having taken action both in France and abroad".
In a telephone interview with Mediapart on November 16th 2018 Alexandre Djouhri categorically denied these claims, using his own colourful turn of phrase. "With Tournaire [editor's note, Serge Tournaire, the principal investigating judge in the Libyan affair], it's the suspicion of a suspicion that my grandmother has balls," he declared. He also insisted that Mediapart was "part of the plot" that he claimed was being mounted against him and Nicolas Sarkozy. Djouhri concluded: "I will never yield with a gun or a pen held to the side of my head. For that you'd have to kill me."
On October 2nd 2018 the daily newspaper Libération was the first publication to reveal the existence of a relationship between Alexandre Benalla and his namesake. Alexandre Benalla initially denied the story, including to Mediapart during an interview at an hotel bar in the 8th arrondissement or district of central Paris a few days after the article was published.
The story, however, turned out to be true. And when confronted with the evidence gathered by Mediapart in recent weeks, Macron's former security advisor finally admitted it. Alexandre Djouhri, meanwhile, did not deny the story to Mediapart, though he did not formally confirm it either. He simply said: "I'm a polite man, I meet people who want to meet, that's all."
The two men certainly have acquaintances in common. But according to Mediapart's information it is Benalla who has a real fascination with Djouhri, with both men having come from working class backgrounds and both having gone on to mix with the elite in society. And it was Benalla who boldly went off to meet Sarkozy's middleman in a well-known Japanese restaurant in the wealthy Knightsbridge area of London.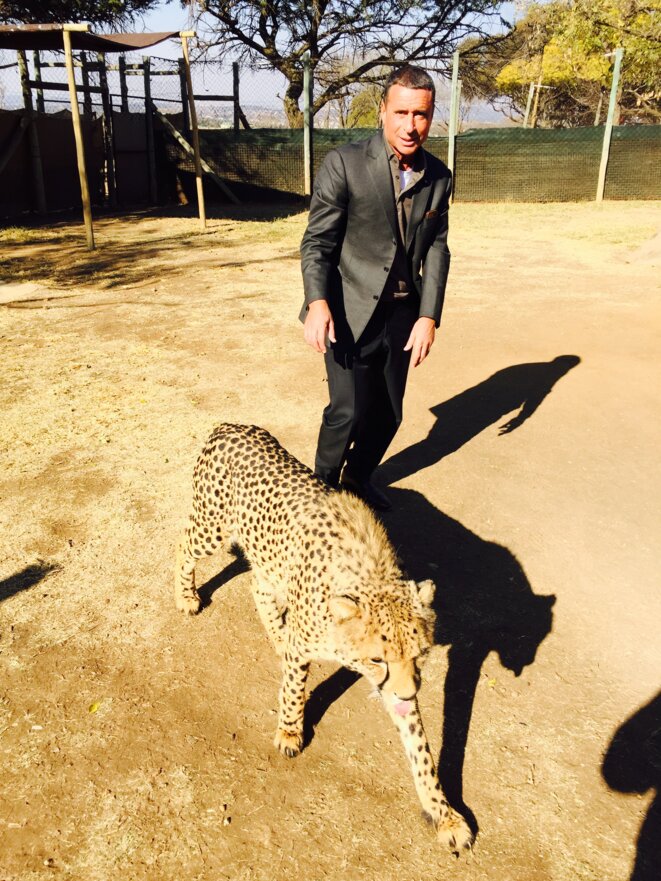 Alexandre Djouhri, the businessman and middleman close to Nicolas Sarkozy. © DR/Mediapart
"As
Libération
had written that I had met Djouhri at a date when that was false, I indeed did so, so that there was a dash of reality in that article," Alexandre Benalla now says in a rather convoluted manner. Since then the men have met several times, at a restaurant, in a private bar and in the rooms of a smart hotel where Djouhri is based.
In comments to Mediapart Alexandre Benalla has said he is convinced by Alexandre Djouhri's explanations about his supposed lack of involvement in the Libyan funding affair.
While those two men were meeting, their former "bosses", Emmanuel Macron and Nicolas Sarkozy, have been causing something of a political stir over their political rapprochement. A recent example of their closer links was the fact that on Sunday December 16th Nicolas Sarkozy was President Macron's official representative at the investiture of Salome Zurabishvili, Georgia's new president, as initially reported by Le Parisien newspaper. The Élysée later confirmed the report.
Since becoming president in 2017 Emmanuel Macron has enjoyed very friendly relations with Nicolas Sarkozy, who was president from 2007 to 2012. And in recent months those relations have taken on a political turn despite the many legal battles that Sarkozy is facing. As well as being under investigation in the Libyan funding affair, the former president has been sent for trial over two other cases: the so-called Bismuth affair involving allegations that he sought to use a senior judge to find out information about the progress of a case, and the so-called Bygmalion affair involving claims that Sarkozy "knowingly" allowed his 2012 election campaign to overspend.
Press reports have also revealed that Nicolas Sarkozy and Emmanuel Macron lunched together 48 hours before the latter went on television to announce a series of measures to calm the crisis involving the 'gilets jaunes' or 'Yellow Vest' protestors. Some of the measures that President Macron announced were directly inspired by Nicolas Sarkozy.
Alexandre Benalla is not Alexandre Djouhri's only point of contact inside Macron circles. The middleman is also very close to the current secretary general at the Ministry of Foreign Affairs, Maurice Gourdault-Montagne, who got him invited to an official reception held in December 2017 at the French embassy in Algiers in honour of Emmanuel Macron, who was visiting Algeria.
When questioned by anti-corruption detectives based at Nanterre, west of Paris, who are investigating the Libyan funding affair, France's ambassador to Algeria Xavier Driencourt confirmed that it was Gourdault-Montagne who had insisted that Djouhri should be invited to the reception held for President Macron.
----------------------------------------------------------------------------
The French version of this article can be found here.

English version by Michael Streeter
------------------------------------------------------------------------------
If you have information of public interest you would like to pass on to Mediapart for investigation you can contact us at this email address: enquete@mediapart.fr. If you wish to send us documents for our scrutiny via our highly secure platform please go to https://www.frenchleaks.fr/ which is presented in both English and French.
Si vous avez des informations à nous communiquer, vous pouvez nous contacter à l'adresse enquete@mediapart.fr. Si vous souhaitez adresser des documents en passant par une plateforme hautement sécurisée, vous pouvez vous connecter au site frenchleaks.fr.