What has become known as the Bettencourt affair, a far-reaching story of corruption surrounding the finances of L'Oréal heiress Liliane Bettencourt, is one of the most damaging scandals for France's political and social elite to have emerged in recent years.
Beginning in 2007 as a high-society squabble between Bettencourt, Europe's wealthiest woman, and her daughter, it became an affair of state in 2010 after Mediapart and French weekly news magazine Le Point revealed secretly-taped conversations between Bettencourt and her close advisors, exposing evidence of tax evasion, illegal political funding, influence peddling on high and tampering with justice procedures.
As of 7 p.m. on Monday July 22nd, Mediapart has been forced to remove from its site the contents of the recordings, made by Bettencourt's butler between May 2009 and May 2010, after a ruling by the Versailles appeals court found their publication breached personal privacy laws. Without the publication of the extracts of the tapes, which were meticulously selected on the basis of their public interest - all otherwise strictly private matters were not disclosed - the independent judicial investigations outlined below would undoubtedly never have been opened.
At the time of the recordings, Liliane, now aged 90, and her daughter and only child, Françoise Bettencourt-Meyers, 60, were locked in a bitter feud centred on Liliane's relationship with François-Marie Banier, a one-time author, celebrity photographer and high-society socialite. Beginning in December 2007, Bettencourt-Meyers launched legal action against Banier for taking advantage of her mother's frail mental state to receive from her which a police investigation has estimated to be almost 1 billion euros of gifts, including life insurance policies and artworks.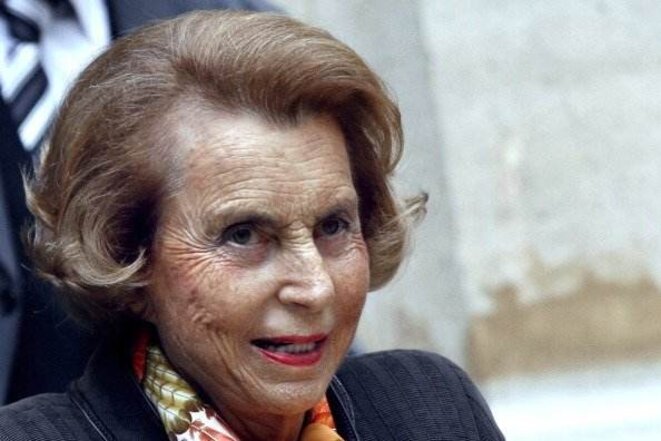 Liliane Bettencourt
A medical examination ordered by magistrates in June 2011 found that Bettencourt was suffering from "mixed dementia" and said that the "slow degenerative cerebral process" she is afflicted with began in 2006.
Bettencourt-Meyers' lawsuit led to the opening of a preliminary investigation into the conduct of Banier, while Liliane Bettencourt insisted she had willingly handed him the vast fortune. But the unseemly and very public battle between the richest woman in Europe and her daughter would finally become a far graver affair with the publication in June 2010 of the 'butler tapes'.
The evidence they provided exposed the dissimulation of part of Bettencourt's fortune (estimated in March this year at more than 20 billion euros by Forbes magazine), and the shady links between politicians and the world of business and finance. They triggered testimony from other Bettencourt employees, notably her bookkeeper Claire Thibout, suggesting that large sums of cash withdrawn from billionaire's bank accounts may have been used to finance former president Nicolas Sarkozy's 2007 election campaign.
The subsequent attempts to stifle the affair, led conjointly by the French presidential office under Sarkozy, by Liliane Bettencourt's senior advisors and by former public prosecutor Philippe Courroye , were all in vain.
Today, the predators and courtesans who took advantage of the generosity and vulnerability of the L'Oréal heiress, have, one by one, been evinced. The billionaire regained ownership of her private island in the Seychelles, d'Arros, which she had hitherto rented the use of in a perverse financial scheme mounted by her advisors. That meant it was, after years of secrecy, finally declared to the tax authorities, and has since been sold.
As for François-Marie Banier, 66, whose controversial relationship with Bettencourt sparked the original family dispute, a part of his considerable assets gained through gifts from the confused widow has now been seized. The justice authorities have frozen the sums ahead of a decision on whether or not to send him for trial, and the outcome of the eventual case.
Meanwhile, the largest-ever tax adjustment ever made in France, a back payment made by Bettencourt for an estimated 100 million euros stashed in secret foreign bank accounts, the existence of which was first revealed in the transcriptions of the 'butler tapes', brought in tens of millions of euros to the state treasury.
Regarding prosecutor Courroye, he was subsequently publicly rebuked for his behaviour in the case, and was eventually transferred to a less prominent post by the higher council of the magistrature, the CSM.
The multiple revelations of the Bettencourt affair also publicly stripped bare the cosy back-scratching behind the tax breaks accorded to the super-rich under the Sarkozy administration's so-called 'fiscal shield' (le bouclier fiscal). As it did also the covert interference in the justice system by the French presidency, and the arrangements and mutual gratifications of the elite donors' club to Sarkozy's conservative UMP party, the Premier cercle.
But the result of the affair in terms of issues of public morality and the proper conduct of institutions is perhaps the most far-reaching. Former French president Nicolas Sarkozy is currently placed under investigation, a legal status one step short of being charged, while awaiting a final decision by magistrates as to whether he should be sent for trial (like Banier) for "abusing the frailty" of France's wealthiest woman.
Sarkozy's former presidential election campaign treasurer, who later served as his budget minister and labour minister, Eric Woerth, has been sent for trial for "active influence peddling", accused of obtaining France's highest award for civil merit, the Légion d'honneur, for Bettencourt's wealth manager Patrice de Maistre in exchange for Maistre's hiring of Woerth's wife Florence as an investment advisor for Bettencourt.