A book published this month in France - L'Espion du Président ('The President's Spy') - accuses Bernard Squarcini, head of the DCRI, the country's domestic intelligence services, of mounting illegal surveillance operations against the media, and notably this website. In this exclusive interview with Mediapart, Yves Bertrand, the former head of the now-disbanded French police intelligence organisation, the Renseignements Généraux, reveals how for years the French presidential and prime-ministerial offices have carried out illegal surveillance operations against the media and political opponents, but now taken to even more sinister levels. "President Sarkozy is wary of everyone," he says. "And as for journalists, don't even mention them. That's the most prized of prey. Those who carry out investigations are permanently covered." Report and interview by Fabrice Arfiand Karl Laske.
-------------------------

Lawyers for Bernard Squarcini, head of the Direction centrale du renseignement intérieur (DCRI), the French domestic intelligence agency, last week announced they were launching a libel action against the authors of L'Espion du Président ('The President's Spy'), a book detailing how the DCRI has been regulalrly used for illegal spying missions on the French media. Squarcini's lawyers are also taking libel action against Mediapart, following an article on the book by its editor-in-chief Edwy Plenel.
Last October, Squarcini was placed under formal investigation – one step short of charges being brought – for his suspected role in the illegal surveillance of mobile phone records of Gérard Davet, an investigative journalist with French daily Le Monde, during reporting of the L'Oréal-Bettencourt affair.
In 'The President's Spy', authors Olivia Recasens and Christophe Labbé from French news weekly Le Point, and Didier Hassoux, from investigative weekly Le Canard enchaîné, detail how the DCRI has become, under Squarcini, a tool for the French presidency for the surveillance of journalists They describe how a unit called 'R1' is in charge of sound-bugging, while another, named 'R2', is dedicated to breaking into computers and which, they write, can "unlock security systems that prevent access to the contents of a PC or a Mac". One DCRI officer interviewed in the book explains that "in a few minutes they are able to siphon off the whole of a hard disc".
One notable interviewee is Joël Bouchité, a former security advisor for President Nicolas Sarkozy and once head of the now-disbanded Renseignements généraux (RG), the French national police force's intelligence service. "[Squarcini] has also created by his side a small press unit," Bouchité says. "These are guys in charge of picking up information tips about what's happening in newspapers, the affairs about to be exposed, the personalities of journalists. For that, like with other things, they use perfectly illegal methods.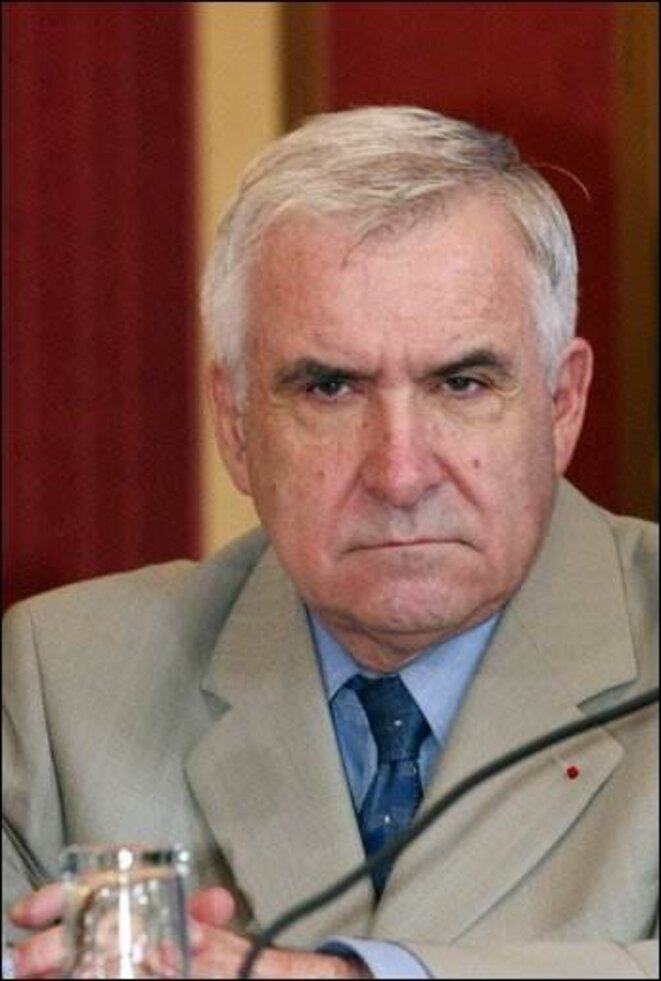 Yves Bertrand

Yves Bertrand was Bouchité's predecessor as head of the RG, running the service between 1992 and 2004. It was disbanded in 2008, when it merged with the former domestic intelligence service, the Direction de la surveillance du territoire (DST) to create the DCRI. In an exclusive interview with Mediapart, published below, Bertrand backs up Bouchité's comments, and adds further detail about an illegal surveillance system that he says has long existed, but which has now become more powerful under Squarcini's DCRI.
Mediapart: According to the book The President's Spy, Bernard Squarcini has become President Sarkozy's key police agent, notably responsible for underhand operations. What is your opinion of his career path?
Yves Bertrand: He's someone who was for a longtime my deputy. I took him straight from school, that's how well I know him. He was appointed to [the Brittany town of] Brest, then to the Pyrénées-Atlantiques [region near the Spanish border] to look after the ETA military wing. After that, he was brought to headquarters. He is an excellent servitor, but he's not a conceiver. He didn't know how to lead properly. You can see that today, he defends himself very badly.
At a certain time, Nicolas Sarkozy became besotted with him. I was in position then. [Nicolas Sarkozy's then-wife] Cécilia Sarkozy didn't like me, she called me 'grumpy', and she pushed her husband into putting Squarcini in my place. But I kept it until the end. He was a very good collaborator.
Squarcini's strong points are easy to see. He has fought anti-terrorism his whole life, all the same limited to the Corsican FLNC [independence group] and the Basque country. He doesn't know Islamic terrorism very well. The arrest of [convicted Corsican independence militant] Yvan Collona, which he's often been credited with, is in fact due to a former agent, François Casanova, who worked a lot in the prisons.