Two days after a French police raid on the premises of France's far-right Front National party on Monday, when a number of items including computer hard discs were seized, investigators from the police anti-corruption and financial crime agency, OCLCIFF, on Wednesday questioned the chief of staff and senior bodyguard of the party's leader Marine Le Pen as part of a judicial investigation into suspected fraudulent payments made to them by Le Pen out of European Parliament funds.
Following the questioning, Le Pen's chief of staff, Catherine Griset, was placed under formal investigation in the case while her bodyguard, Thierry Légier, was released free of any immediate legal proceedings.
Le Pen, a Member of the European Parliament (MEP), has been summoned by the institution to reimburse a total of 339,946 euros it claims was unduly paid to Griset and her principal bodyguard, Thierry Légier. Parliament officials say the pair received the sums – 298,392 euros for Griset and 41,554 euros for Légier – for work as Le Pen's parliamentary assistants which they in fact never carried out.
The payments in question cover the period between 2010 and 2016 concerning Griset, and a period in 2011 for Légier.
The parliament claims that neither Griset nor Légier were based and resident, as required, at one of the parliament's sites in Brussels or Strasbourg but were instead working with the Front National headquarters in the Paris suburb of Nanterre.
Le Pen, 48, who has been an MEP since 2004, and who heads the European Parliament's far-right cross-national political alliance "Europe of Nations and Freedom", has repeatedly denied the fraud claims, and has described the latest developments of the case in France as politically motivated.
"There is obviously absolutely nothing fictitious, nor fictitious employment, nor anything of the sort in this case," she said last week in a French radio interview after Mediapart and weekly magazine Marianne revealed extracts from a report by the European Union anti-fraud office OLAF in which it is claimed that she recognised before the agency that Légier had been paid for parliamentary work in 2011 that was never carried out, but that it was billed in order to settle previous unpaid salaries and related expenditures.
Le Pen said that OLAF was "not an independent" body. "It's an organ of the European Commission," she said. "So you can imagine very well that I'm not in the European Commission's good books."
Last month she filed a complaint in Belgium against OLAF, whose investigation first led to the moves against her, for fraud. Also cited in the suit, in which Le Pen's lawyers argue she is the victim of "intent to cause prejudice for political ends", is European Parliament Secretary General Klaus Welle.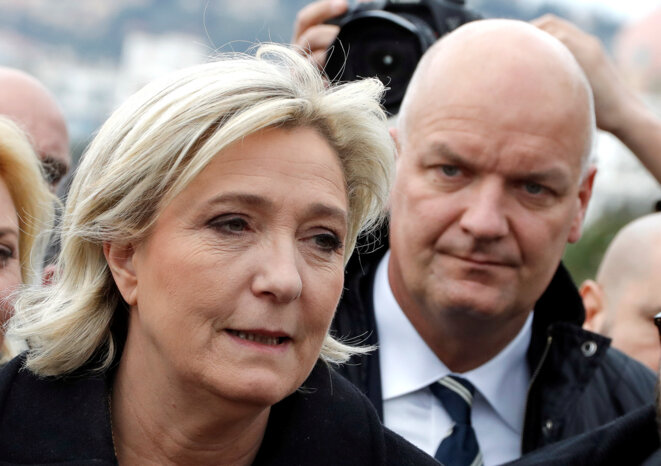 Marine Le Pen with her bodyguard Thierry Légier during a visit to Nice on February 13th 2017. © Reuters
Speaking on Wednesday after Griset and Legier were taken into custody, Le Pen told reporters: "The French people know exactly how to make the difference between real scandals and political conspiracy, they know that full well."
Her comments were a thinly-veiled reference to the scandal that has engulfed conservative candidate François Fillon, who paid his wife and two of his children as assistants to him when he was an MP and senator out of French parliament funds, allegedly for work that was never, or only partly, carried out, and which is now the subject of an investigation by the public prosecutor's office.
Le Pen's comments on Wednesday were made during a visit to a prison on the outskirts of Paris as part of her campaigning in the presidential elections, in which she is tipped by opinion polls to reach the final round of voting on May 7th, which is a playoff between the two candidates who garner the highest scores in the April 23rd first round. An opinion poll survey of voting intentions published on Monday placed Le Pen in the lead for the first round, with 27% of the vote, although it found she would at present lose in the second round against her closest rivals, François Fillon or maverick centrist Emmanuel Macron.
Le Pen is standing on a fiercely nationalist, anti-European Union, anti-immigration and protectionist manifesto, and her continued strong showing in opinion surveys is to the backdrop of repeated upsets in the most unpredictable presidential election campaign in recent French history.
The European Parliament's demand for repayment by Le Pen of the almost 340,000 euros paid to Griset and Légier followed the conclusions of the investigation by OLAF, which was launched after an anonymous tip-off in January 2014 that Le Pen was misusing the funds intended for the payment of MEPs' assistants. The investigation was widened to include the circumstances of the employment of 20 assistants to Front national MEPs after it was discovered they were publicly listed by the party as members of its staff.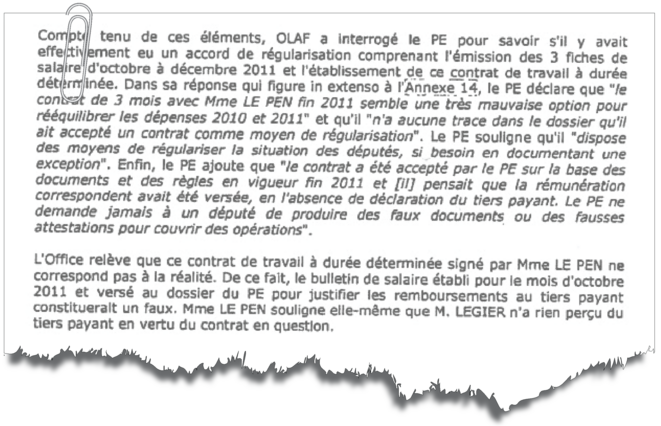 An extract from the OLAF report obtained by Mediapart and Marianne, in which the agency states that the short-term work contract for Thierry Légier, signed by Marine Le Pen "does not correspond with reality" and as such "would constitute a falsification". © Document Mediapart et Marianne
OLAF, which is an administrative body that does not have the power to launch criminal proceedings, passed on its findings to the parliament and also to the French judicial authorities, who launched a preliminary investigation by the public prosecutor's office in March 2015.
As a result, a wider and more powerful judicial investigation, led by independent magistrates, was opened last December into suspected "breach of trust", "receiving the proceeds of breach of trust", "organised fraud", "fraud and use of fraud", and "undeclared labour".
Related articles
Marine Le Pen, meanwhile, has refused to pay the European Parliament the sums demanded of her, which were due by February 1st. As a result, the parliament is to dock part of her pay and indemnities as an MEP. Three other Front National MEPs, including Marine Le Pen's estranged father Jean-Marie Le Pen, founder of the far-right party, have also been ordered to pay back to the parliament a total of more than 600,000 euros for allegedly misusing funds for assistants.
It is under the authority of the French judicial probe that Griset and Légier were brough into custody for questioning on Wednesday. During the day, questioning of Légier was briefly interrupted when he was accompanied by police officers for a search of his home.
Légier has been employed as a bodyguard for the Le Pen family since 1992, beginning as a minder to Jean-Marie Le Pen, who passed the leadership of the Front National to his daughter in 2011.
-------------------------
English version by Graham Tearse