The three-day trial in Bordeaux of Eric Woerth and Patrice de Maistre on charges of influence peddling is the second court case to be heard in the vast, so-called 'Bettencourt Affair', a story of corruption, fraud and money-laundering involving the entourage of Liliane Bettencourt, the 92-year-old billionaire and heiress of the French cosmetics giant L'Oréal, first revealed by Mediapart in 2010.
Woerth, 59, and Maistre, 66, were already among the defendants in a five-week trial that ended in February of ten people, including lawyers, solicitors, high-society dandies and nurses, accused of financial profiteering from the mentally frail Bettencourt, who suffers from a degenerative form of dementia. The verdicts in that case are expected to be announced in May.
Liliane Bettencourt is ranked by Forbes as the richest woman in Europe, and the tenth-richest individual worldwide, with a wealth estimated at just under 35.5 billion euros (42 billion US dollars).
Woerth is the conservative UMP party Member of Parliament for the town of Chantilly, of which he is also mayor, and served under Nicolas Sarkozy's 2007-2012 presidency as budget minister, then labour minister. Crucial to the case heard this week, Woerth also served as treasurer of the UMP from 2003 to 2010, and as the treasurer of Sarkozy's 2007 presidential election campaign.
The charges of influence peddling against Woerth and Maistre centre upon the recruitment in early 2007, allegedly at Woerth's behest, of Woerth's wife Florence as a financial advisor for Clymène, the company that manages Liliane Bettencourt's wealth from the dividends she receives as principal shareholder of L'Oréal, and which was headed by Maistre. Woerth, who had only known Maistre personally for a matter of months, subsequently lobbied for the latter to be awarded the Légion d'honneur, France's highest award for civil merit. During the ceremony on July 14th 2007, it was Woerth, who had just been appointed budget minister under newly-elected president Nicolas Sarkozy, who personally presented Maistre with the honour.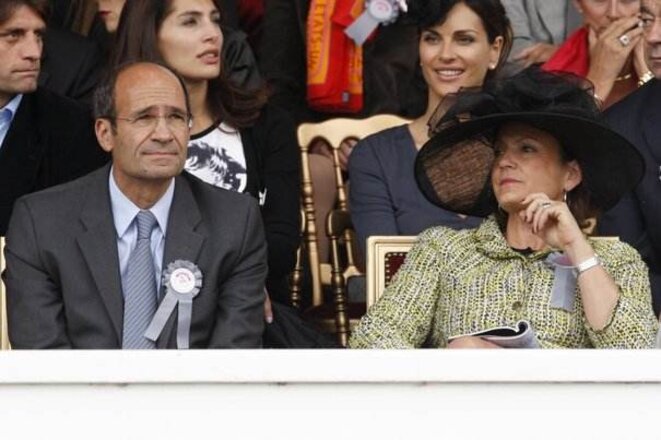 Eric et Florence Woerth
While Woerth, unlike Maistre, appears likely to escape sentencing in the first trial in February, the evidence stacked up against him in this week's trial, which opened on Monday and closes on Wednesday, will provide a far more testing job for his lawyer Jean-Yves Le Borgne. Mediapart has gained access to the 66-page document prepared by the three magistrates who led the investigations into all the cases relative to the Bettencourt Affair, in which they detail why they sent Woerth and Maistre for trial. The detailed document dresses a damning account of illicit favours exchanged between the two men.
Under French law, investigating magistrates send their findings and conclusions at the end of a case for study by the public prosecutor's office, which then offers its advice on whether to press charges. However, the investigating magistrates have the final word, and in the case of Woerth and Maistre, the judges - Jean-Michel Gentil, Cécile Ramonatxo and Valérie Noël – decided to send the pair for trial against the recommendations of the public prosecutor's office.
"It seems perfectly established that, as of January 19th 2007, Eric Woerth asked Patrice de Maistre to meet his wife who wanted to give a new direction to her career, that contacts were made to that end, as of March 15th 2007, with a view to her being hired by the company Clymène, and that this recruitment occurred on November 12th 2007," the judges write in their conclusions.
At the time in question, Patrice de Maistre had sought to recruit a young financial manager for Clymène, and had mandated Paris-based headhunting company Proway to find candidates. The salary for the new recruit was to be between 130,000-140,000 euros per year. In the event, the candidates who were presented to him were refused the job in favour of Florence Woerth, and who was granted an annual salary of 180,000 euros.
"Reciprocally, it is also established that Patrice de Maistre directly proposed to Eric Woerth, who had told him that his wife Florence Woerth sought a reorientation of her career, that he would meet her for that purpose," the judges continued. "Patrice de Maistre subsequently allowed for Florence Woerth to be recruited outside of the procedure that had been put in place by the company Clymène through the intermediary of the company Proway, whereas Florence Woerth did not match the desired profile and that she was hired with a much larger remuneration than that initially planned. Such conditions constitute a real advantage in favour of Florence Woerth, wife of Eric Woerth."
"It is also established that Eric Woerth had indeed, on March 12th 2007, been at the origin of obtaining the Légion d'honneur for Patrice de Maistre who had solicited him to that end. He had, however, only known him for a few months, and had only met him during brief moments. Eric Woerth proposed and transmitted the dossier for the obtainment of the Légion d'honneur while knowing that he had solicited Patrice de Maistre for advice for his wife Florence Woerth [who was] looking for a new job."
The three judges concluded: "The link of cause with effect between the engagement made by Patrice de Maistre towards Eric Woerth to meet his wife to talk about her career, then her hiring and finally her recruitment within the company Clymène, and the benefit obtained or expected by him, namely the obtainment of the Légion d'honneur, is perfectly established by the chronology of events revealed [and] their happening, this despite the multiple denials of those concerned. Consequently, Patrice de Maistre and Eric Woerth will be sent for trial before court on these charges of influence peddling."