Two weeks after the Paris terror attacks of November 13th, the face of France's Fifth Republic has radically changed. It has now taken on the hideous visage of fear, a clamour for war, of a government out of control. This is a long way from the "spirit of January 11th" celebrated in the mass marches that took place following the attack on Charlie Hebdo magazine and the anti-Semitic attack on a Jewish supermarket in east Paris.
On that day, Sunday January 11th, 2015, French society rose up in mass in one of the biggest demonstrations ever seen since World War II. At Mediapart we called on people to take part, not to celebrate some notion of 'sacred unity', whose political history in France teaches us that it leads to ruin, but rather to pay tribute, first and foremost, to the victims and to be part of that immense citizen awakening which then swamped mere political speeches.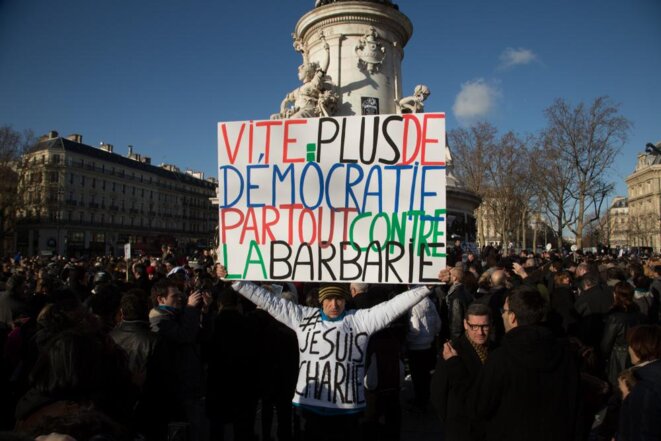 The 'spirit of January 11th'; people gather at the Place de la République, Paris, after the Charlie Hebdo massacre. © Thomas Haley
At the time the ambiguities, discords and contradictions of these gatherings were raised and debated. But at least society was present, in the front line, in all its strength and diversity, sending out a challenge to the entire political class to come up with new responses, ones that did not repeat the tragic errors of the past. For example those committed by the Bush administration in the wake of 9/11. Those were mistakes, moreover, that had been inspired by another political disaster, and a French one this time: namely the special powers granted to French prime minister Guy Mollet in 1956 and the way the Fourth Republic was engulfed by the Algerian War. It should be recalled that advisors to Donald Rumsfeld, George W. Bush's defence secretary at the time of the Iraq War, had closely studied the Battle of Algiers.
This current French government, which since November 13th seems to consist of just three men, President François Hollande, prime minister Manuel Valls and interior minister Bernard Cazeneuve, has thus learnt and absorbed nothing from past crises that pursue us to this day. The republican disaster in France after the Algerian War, the democratic disaster after 9/11: what more does it take for this government to understand that it is hurtling this country towards a danger zone, where on top of political crises one can add the risk of social explosions?
Just a few months ago, following the Paris attacks of January 7th, two men had set out the issues that were at stake and without doubt helped – along with many others – to curb the government's temptation to carry out a headlong rush on security issues. The first was former justice minister Robert Badinter, who warned at the time: "The terrorists have set us a trap. It's not through laws and emergency jurisdictions that you defend freedom against your enemies." The second was former prime minister Dominique de Villepin who said: "Let us resist the war mentality. War against terrorism can't be won, there is no exception. You need a political strategy and the ability to think beyond."
Were they to speak today these two former political leaders would at best be ignored, and at worst be accused of softness, naivety, treachery, irresponsibility...all expressions that when they are not being expressed directly by the government, are uttered by those organs of the media that have donned a uniform and draped themselves in the tricolore flag.
But whether Robert Badinter and Dominique de Villepin like it or not, here is France hurtling forward, involved in war and living under a state of emergency. It is the decision of a weak and worried government, which in this violent headlong rush is trying to save itself by barricading itself inside the state of emergency. The initially-decreed 12-day state of emergency – the limit imposed by the law dating from 1955 – might have been exclusively motivated by security requirements. Supplemented, reinforced and prolonged for three months (or even more some political leaders are already saying) it now has two other functions: to muzzle society by installing on a lasting basis this state of fear that paralyses society; and to ban or at least limit the vital questioning of political decisions made over the years.
Beyond involving the country in a war – a decision that has never been properly discussed and explained – the response to terrorism is thus to put our democracy on hold. After the rule of law comes rule outside the law. It is a decision for which the prime minister accepts responsibility. Doubtless feeling himself squeezed between François Hollande and Bernard Cazeneuve, Manuel Valls has loudly defended the installation of this emergency regime, in his customary role as the government figure who always has to go one step further.