"Not one Libyan I have spoken to believes he flung himself into the Danube, or suddenly clutched his heart in pain and slipped silently into the river." This comment is contained in an email written on June 7th, 2012, by Christopher Stevens, who had just been appointed United States ambassador to Libya, concerning the mysterious "drowning" of Shukri Ghanem in Vienna a month before.
Ghanem, who was 69 at his death, had been a key figure in the Libyan regime of Muammar Gaddafi, serving as prime minister from 2003 to 2006 then as oil minister from 2006 to 2011 before defecting as the regime was overthrown. His sudden death in late April 2012 thus caused a certain stir among the world's governments and secret services, few of whom believed that his death had occurred naturally.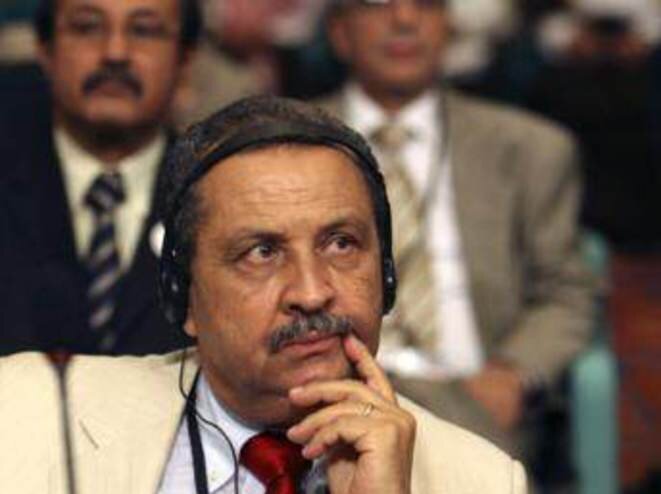 Doubts over his death: Shukri Ghanem.
Mediapart has unearthed several emails hacked from Hillary Clinton's email account which showed that the then-US Secretary of State and the American diplomatic service were raising questions about the nature and cause of Shukri Ghanem's death in 2012. These questions are even more legitimate today after the recent revelation by Mediapart that the Libyan oil minister had kept a notebook in which he recorded details of payments made by the Libyan regime to Nicolas Sarkozy's 2007 election campaign. Those claims of illegal funding are now the subject of an independent judicial investigation in France.
The emails, which can be found on Wikileaks here, include one sent by Clinton's unofficial advisor, Sidney Blumenthal, on June 6th, 2012, which was largely devoted to Shukri Ghanem's mysterious death. The Secretary of State then forwarded the mail onto another advisor, Jake Sullivan, with the comment: "Esp. if you like unsolved crimes."
Blumenthal's eight-point memo is based on information gathered from "sources with direct access to the Libyan National Transitional Council, as well as the highest levels of European Governments, and Western Intelligence and security services". In it we learn that Interpol and the Austrian police judged the drowning of the former Libyan minister to be "highly suspicious" and that they had briefed Libyan intelligence and security officials that "their discreet investigations will continue". The email adds: "According to a very sensitive source, until the investigation is complete, the Austrian authorities will continue to state publicly that they believe that it is most likely Ghanem committed suicide by throwing himself into the Danube River as a result of a prolonged, serious illness."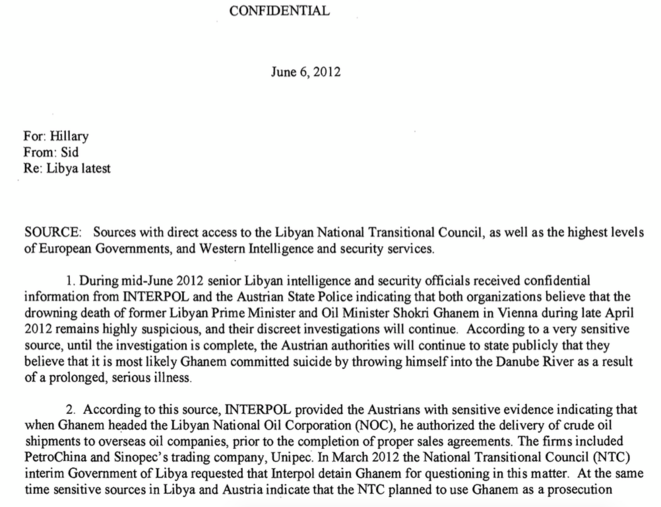 Extract from the confidential note received by Hillary Clinton on June 6th, 2012, just over a month after Shukri Ghanem's death. © Wikileaks
Blumenthal then runs through the different affairs in which Shukri Ghanem had been involved when he headed the National Libyan Oil Corporation (NOC). According to one source, between 2008 and 2010 Ghaem had "authorized the delivery of crude oil shipments to overseas oil companies, prior to the completion of proper sales agreements". The firms included Chinese energy firms PetroChina and Sinopec, the latter through its trading company Unipec. The memo also points out that Ghanem and Gaddafi's son Saif al-Islam, who had controlled oil affairs in the country, had widely backed the sale of Libyan crude oil at below market value. It was believed by some that "the difference may have been paid by the oil companies into bank accounts other than those controlled by the NOC".
In March 2012 Libya's National Transitional Council (NTC), which served as the country's provisional government after Gaddafi's fall in 2011, wanted to question Shukri Ghanem about this vast system of embezzling oil profits, which involved colossal sums. The Libyan authorities contacted Interpol to get the former minister arrested, and they wanted him to appear as a witness in Saif al-Islam's trial after the latter's arrest in November 2011.
The Blumenthal memo was later passed on to Christopher Stevens for his opinion. "The [paragraphs] regarding the late Shukri Ghanem ring true to me," the ambassador responded. "He was close to Saif and was reported to be involved in shady oil trades ... Most believe he was silenced by regime members or else by foreign mafia types," added Christopher Stevens, who was killed some months later on September 11th, 2012, during an attack on the US Consulate in Benghazi. Another American official consulted was Nathaniel Mason, commercial attaché in Libya, who said: "I would not be surprised if Russian, Eastern European, and Chinese oil companies were involved in kick-back deals."
Despite all these suspicions – to which one should now add the line of inquiry that Shukri Ghanem was involved in the suspected funding of Sarkozy's election campaign in 2007 – the Austrian investigation ended in February 2013, having concluded that Ghanem died naturally. This was despite the fact that a number of grey areas still surround the circumstances of his death.