It was at the end of October 2018 when Éliane Houlette, then head of the French public prosecution services' financial crimes branch, the PNF, was handed a legal statement filed by a well-established anti-corruption NGO alerting her office to a suspected and potentially far-reaching scam involving the French state and one of the country's industrial giants, Dassault Aviation.
The Paris-based NGO, an association called Sherpa, reported – notably citing media revelations – suspected corruption, including money laundering, influence peddling and favouritism, surrounding the sale by France to India of 36 Dassault Rafale multi-role fighter jets in a deal worth 7.8 billion euros.
The document filed by Sherpa – called a "signalement", which in France is a form of official alert to suspected criminal behaviour that can be filed by persons or entities who are not directly victims of the alleged crime – was politically highly sensitive, not only because it centred on a massive arms deal agreed between governments, but also because it threatened possible ramifications for French President Emmanuel Macron, his predecessor François Hollande, and Jean-Yves Le Drian, who served as Hollande's defence minister and who Macron subsequently appointed as foreign affairs minister – a post he still holds.
It was in January 2016 when then president François Hollande and India's Prime Minister Narendra Modi signed an inter-governmental agreement for the Rafale contract. Immediately before that contract was inked, Dassault Aviation's principal Indian industrial partner in the deal, the Reliance Group, with multiple activities in defence, construction, telecommunications and entertainment, pledged 1.6 million euros in funding for a feature film co-produced by Hollande's personal partner, the actress Julie Gayet.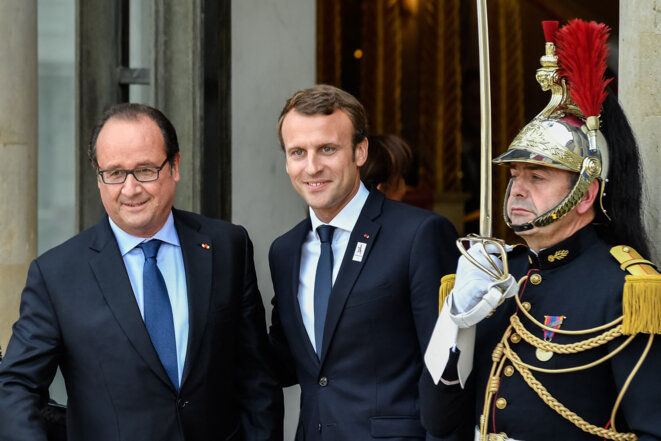 French President Emmanuel Macron and his predecessor François Hollande at the Élysée Palace in September 2017, four months after the latter left office. © Julien Mattia / NurPhoto via AFP
François Hollande, questioned by Mediapart in 2018, said he was at the time "not at all informed" of the investment in Gayet's film by Reliance. He also said that Reliance Group, and its chairman Anil Ambani, a friend of Modi's, had been imposed on Dassault as industrial partner in the Rafale deal by the Indian government (see more here and here). Both Dassault and then French defence minister Jean-Yves Le Drian have denied the suggestion.
Meanwhile, according to a report in April 2019 by French daily Le Monde, Emmanuel Macron, who served as Hollande's economy minister between 2014 and 2016, was allegedly involved in the granting by the French tax authorities of a generous tax adjustment to a French subsidiary of Reliance, reducing the subsidiary's tax debt from an initial total of 151 million euros to 7.6 million euros. The French presidential office, the Élysée Palace, told the daily that Macron's advisors from the time when he was economy minister could not recall an alleged meeting on the subject between him and Reliance Group chairman Anil Ambani.
Documents and first-hand accounts obtained by Mediapart show that, following the potentially explosive alert filed by Sherpa, PNF chief Éliane Houlette made no serious attempts to investigate the suspicions of corruption and favouritism surrounding the Rafale deal. She did however hold an informal meeting with a lawyer representing Dassault.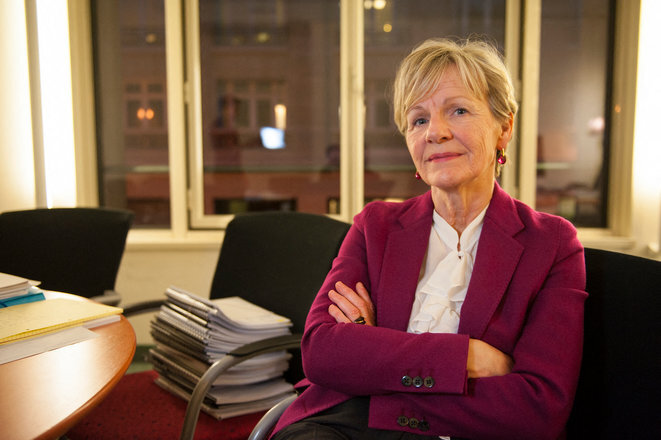 Éliane Houlette, pictured here in her Paris office in March 2014, shortly after taking up her post as head of the financial crime branch of the French public prosecution services. © Steven Wassenaar / Hans Lucas via AFP
In June 2019, shortly before leaving her post as head of the PNF, Houlette decided to close the preliminary investigation into Sherpa's complaint, citing the "absence" of any offence, in a move which went against the advice of the deputy prosecutor in charge of the case and who refused to write up the official notification of it being dropped.
Houlette's decision, however, was finally validated by two magistrates of the Paris public prosecution services and was enacted by Jean-François Bohnert, who succeeded her as head of the PNF.
"One can't, all the same, take aim at everything," said Houlette in an interview with Paris Match magazine published in July 2020. "It is necessary to weigh things up, to preserve the interests of France, the workings of institutions." The fact that Houlette, a high-profile figure of the fight against corruption in France, and who, from 2014 to 2019, had been the first head of the PNF following its creation, could justify closing a sensitive case on the basis of national interest prompted no public reaction.
Contacted by Mediapart, Éliane Houlette declined to be interviewed. "I am no longer financial [crime] prosecutor," she said. "Address yourself to Mr Bohnert, it's he who will reply to you. I don't intend to reply."
Dassault did not reply to questions submitted to it by Mediapart. The responses in full of others cited in this report can be found by clicking on the 'More' tab, top of page, or by clicking here.
The story of the events begins in 2012 when, following a public tender, Dassault Aviation was chosen to negotiate a contract for the supply to the Indian Air Force of 126 Rafale jets. Of these, 108 were to be assembled in India – in what is known as an "offset" agreement, for the benefit of the local economy – by the state-owned aerospace and defence corporation Hindustan Aeronautics Limited (HAL), which the Indian government had appointed as Dassault's principal industrial partner.
The sums involved attracted covetous interest; as part of the provisional deal, Dassault was to plough around 4 million euros – half of the value of the contract – back into Indian companies, such as through component purchases.
Negotiations to hammer out the detail of the definitive contract continued for three years before a sudden turnaround in April 2015. That was when Indian Prime Minister Narendra Modi, who came to office the previous year, announced that he wanted to overturn the terms of the original tender, and instead purchase just 36 Rafale jets, all of which would be manufactured in France.
HAL was sidelined from any further involvement, and the state-owned company was replaced as Dassault's local industrial partner by the private conglomerate Reliance Group, whose chairman and majority shareholder, Anil Ambani, enjoys close relations with Narendra Modi. At the time, the Reliance Group had no experience in aeronautics and was in poor financial shape. Furthermore, Ambani appeared to have known in advance that his group would be awarded the principal partnership with Dassault.
The decision to change the original Rafale contract into a new deal for the purchase of 36 of the fighter aircraft was announced by Modi on April 10th 2015 during a press conference in Paris after a meeting with then French president François Hollande. Less than three weeks before Modi's visit to Paris, Ambani also travelled to the French capital to hold a meeting, on March 23rd, with several top advisors to then French defence minister Jean-Yves Le Drian. In a confidential email revealed since by the Indian National Congress party, during the meeting, the Reliance chairman is reported to have raised the matter of a Memorandum of Understanding (MoU) "in preparation and the intention to sign during the PM visit" – an apparent reference to Prime Minister Modi's visit to France the following month.
Reacting to the leaked email, Reliance said the MoU referred to an agreement with Airbus and did not involve the Rafale contract. But on March 28th 2015, five days after his meeting in Paris with Le Drian's advisors, Ambani created a subsidiary called Reliance Defence, and in April 2015, when the new Rafale contract was announced, it reached an agreement to create a joint-venture association with Dassault – more than one year before the Rafale deal was definitively sealed.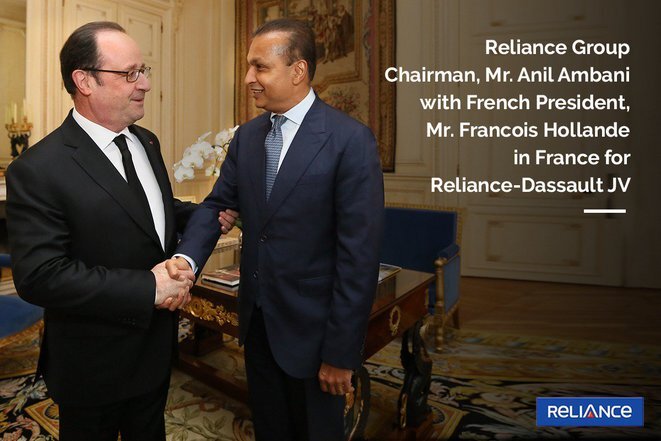 A Reliance Group PR photo of François Hollande (left) meeting with Anil Ambani at the French presidential office, the Élysée Palace, in February 2017. © Reliance
In a reply to questions submitted to him by Mediapart, Jean-Yves Le Drian commented that, "Mr Anil Ambani had had contacts within the French administration, as is normal for the leader of a large foreign industrial group". He gave no further detail on the subject.
The circumstances surrounding the Rafale contract erupted into a scandal in India during the summer of 2018, following local press revelations. Indian daily The Hindu published confidential documents pointing to "parallel negotiations" over the deal that were led by the Indian prime minister's office behind the backs of the defence ministry, and highlighted the vast rise in the unitary price of the jet fighters in the new contract in which Reliance was favoured.