When news does emerge from those held within Iranian prisons it is often miserable, as the family and friends of Fariba Adelkhah know only too well. The Paris-based anthropologist of French-Iranian dual nationality is being held in atrocious conditions in the notorious Evin prison in the outskirts of Tehran. Meanwhile, the detention conditions are even worse for Australian-British academic Kylie Moore-Gilbert, who was recently moved from Evin to Qarchak, regarded as the harshest women's prison in Iran, located in an area of desert south of the capital.
Moore-Gilbert was arrested September 2018 for alleged violation of Iran's national security, and Adelkhah was detained in June last year, along with her partner and fellow academic researcher Roland Marchal, over similar allegationss. Marchal was released earlier this year, when he returned to France.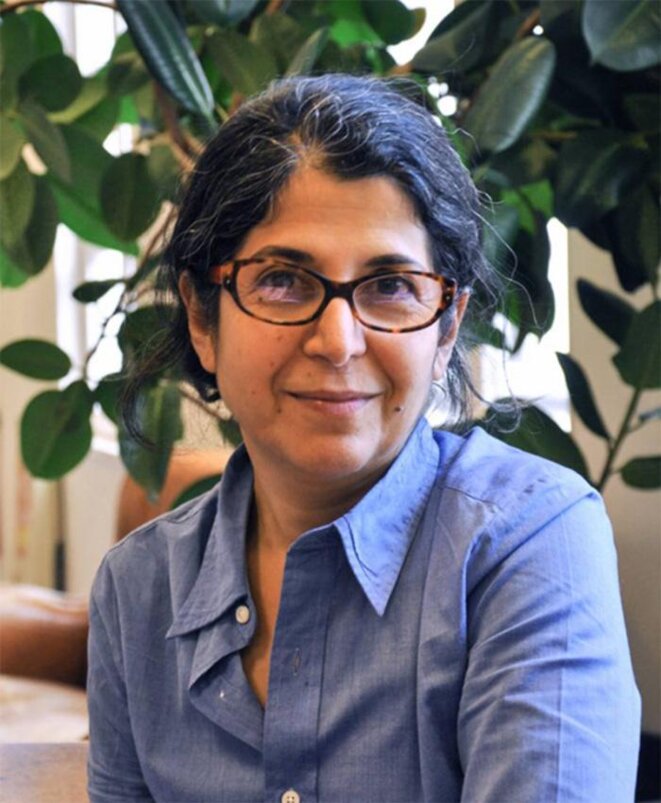 Paris-based anthropologist Fariba Adelkhah, serving a five-year jail term in Iran. © Sciences Po
Adelkhah, 61, an anthropologist and specialist on Iran, is a research director, like Marchal, at the Centre for International Studies at the prestigious Paris political sciences school Sciences Po. In June this year she lost her appeal against a five-year prison sentence pronounced one month earlier for allegedly "conspiring against national security". Following that, Adelkhah was removed from solitary confinement Evin prison in a section controlled by the Islamic Revolutionary Guards.
According to news received by members of her family, she is now kept among inmates accused of common crimes, and shares living space with around 40 other prisoners. Her family said that tensions run high in the cell, where she must avoid certain prisoners because of threats of violence, notably when food is served.
It is reported that among her co-prisoners in the cell is the human rights lawyer Nasrin Sotoudeh, 57, who has defended various opponents of the Islamic regime including women who refused to wear a headscarf, and who was last year convicted of seven charges that together carried a total of 38 years in prison, when she was ordered to receive 148 lashes. Also reportedly with her in the cell are environmentalist activists.
"Even if she was expecting to be convicted, Fariba Adelkhah was struck low when the verdict was pronounced and confirmed on appeal," said her friend and colleague Jean-François Bayart, a political sciences lecturer and researcher who co-presides the France-based committee of support for Adelkhah. "Fortunately, she can have a weekly visit from her family and phone contact with them."
Adelkhah is reportedly concerned that neither she nor her lawyer has received official notification of her conviction – both the initial sentence and again on appeal – which means it is impossible for her to mount any ultimate appeal.
"Fariba has the impression of fighting against an eiderdown, because all her requests come up against the incapacity of the justice system to reply," added Bayart. "Because everything depends upon the black box of the Revolutionary Guards, the judges being only the executive arm of that organisation which is itself divided."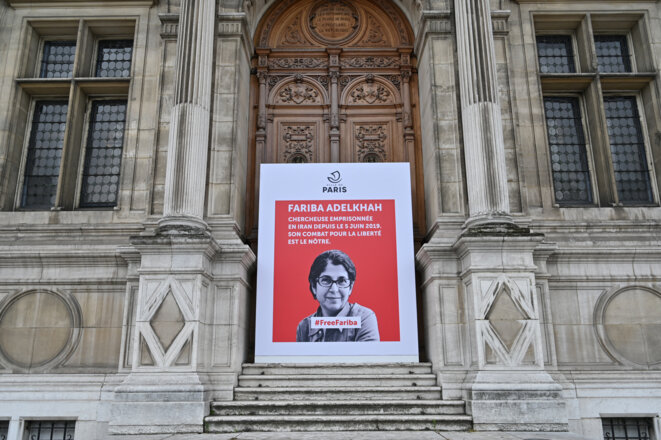 A poster placed in front of Paris City Hall in support of Fariba Adelkhah, June 2020. © BERTRAND GUAY / AFP
Political scientist Béatrice Hibou, who works at the Sciences Po school and is a research director with France's scientific research centre, the CNRS, is also a member of the committee of support for Adelkhah. She said French diplomatic efforts to help the French-Iranian researcher continue, even though the opportunities to do so were slim. "But it cannot provide any assistance in favour of a citizen considered to be exclusively Iranian by her jailors," she said. "The American and Iranian electoral agendas are hardly favourable [Editor's note, while presidential elections are due in the US in November, and in Iran in 2021], and the spectacular rapprochement between Tehran and Beijing further depreciates the negotiating position of Paris which, moreover, has more to fear than hope for regarding the actions of the United States in the region."
Meanwhile, detention conditions worsened significantly last month for Kylie Moore-Gilbert, a lecturer in Islamic studies at Melbourne University's Asia Institute, who was arrested in 2018 and given a ten-year sentence for spying offences, which she has strenuously and repeatedly denied. After two years in Evin prison's Ward 2A, run by the Revolutionary Guards, she was secretly transferred on July 25th to Qarchak. Even her lawyer was not informed of the move.
Qarchak, a prison holding mostly common criminals, is notorious for its overcrowded conditions and the isolation of its location. "The lack of medical care, dental care, and regular checkups, poor hygiene, and a great number of prisoners, has caused several issues," reported the Iranian Human Rights Activists News Agency (HARANA), an organisation opposed to the regime, in a report on the prison published in March this year. "The poor quality of food, drug use and easily accessible narcotics, not isolating prisoners with a contagious disease from others, rape, and negligence of the prison authorities are some of the issues of this prison […] The prison does not separate inmates according to the crimes committed and this leads to violence, thus worsening the situation as they are not offered medical services and are subjected to torture."
Citing information from what it said were sources inside the prison, and from prisoners after their release, HARANA's report added: "The prison's seven sections contain more than 1,400 prisoners with 120-300 prisoners held in each section, although the capacity of each section is 100 inmates. Some of these prisoners are incarcerated along with their children while the number of prisoners increases every year. Each ward has 10 cubicles where each has four triple bunk beds. Several prisoners have to sleep on the floor."