In our continuing investigations into the extraordinary espionage practices carried out by Swedish furniture retail giant Ikea targeting its employees, Mediapart has now obtained evidence that its management in France engaged in illegally obtaining personal information about customers who lodged minor complaints with its stores over faulty goods or delayed deliveries of their purchases.
The cases again include evidence that the company illegally sought personal data from French police files, and which could only be obtained by corrupting law enforcement officials with access to the information.
Earlier this month, Mediapart revealed how the managing director of Ikea France, Jean-Louis Baillot, along with the company's head of Human Resources, Claire Hery, and its risk management director, Jean-François Paris, led an illegal and highly intrusive investigation targeting the company's deputy director of communications and interior store planning, Virginie Paulin. The operation was mounted after they wrongly suspected that Paulin, who suffered from Hepatitis C, a debilitating liver disease, was fraudulently taking extended sick leave.
The case of Paulin was one of several involving spying on employees revealed by Mediapart and the French investigative weekly Le Canard Enchaîné. On March 1st, following a formal complaint launched by staff unions, the Versailles public prosecutor's office launched a preliminary judicial investigation into the covert activities.
Ikea has temporarily suspended Paris, and following Mediapart's revelations about the Paulin case, it last week suspended Baillot, head of the company's French operations from 1996 to 2009 and now Ikea's director for international commercial operations, and Hery, now manager of its store at Franconville. The company has also commissioned an internal investigation led by US law firm Skadden Arps.
The new evidence of how the furniture retailer set about gaining personal data of clients in dispute with its services department includes the case of a US-based Swedish couple who bought accessories for their newly-purchased holiday home in Brittany, western France. In November 2006, Hanna and Franck (whose names have been changed and last name withheld on their request) went to the Ikea branch at Evry, just south of Paris, to buy kitchen equipment and various accessories, including a bathroom basin and beds, paid and arranged for delivery on December 15th of that year.
The delivery finally arrived on February 8th, 2007, eight weeks after it was due. As a result Hanna and Franck had no other option but to live in Bed & Breakfast accommodation for the eight-week period and eat in restaurants. "All that cost us a lot of money," Hanna told Mediapart. "Our friends had bought air tickets. They lost them and were unable to get reimbursement."
Hanna wrote to Ikea to complain but was given no explanation. She persisted, calling a premium-rate number and complains of being passed from one person to another, having to explain her case to dozens of different people.
The couple wanted to obtain the reimbursement of their extra costs and apologies, both for themselves and their friends. "We have never been so badly treated by a business in all our lives," Hanna wrote in a formal letter she addressed to Ikea France.
The company's services department replied on March 14th, expressing regret and offering to repay the couple's costs, which Hanna calculated at 3,410 euros – 42 euros a night at the B&B and 20 euros a day in restaurants.
But the ensuing negotiations became bogged down. There were lengthy exchanges with services manager Youssra N'Gadi and also with Hakan Danielsson, deputy general manager in charge of finance, administration and security for Ikea France. It was only late in the summer of 2007 taht the couple eventually received a partial reimbursement of 1,619 euros.
The couple believed that was the sorry end to their story until Mediapart was able to inform her about an extraordinary investigation into their private mounted four years ago by Ikea France.
On June 6th, 2007 the Ikea France's risk management director, Jean-François Paris sent an email (see immediately below) to a private detective, Jean-Pierre Fourès, who, since 2003, had been regularly employed by the company to investigate the past personal history of a number of Ikea employees.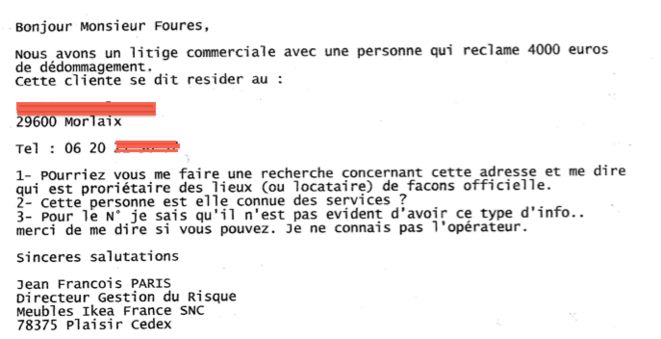 In the above email, Paris wrote to Fourès: "We have a business litigation with a person who is claiming 4,000 euros in compensation", and supplied the detective with Hanna's Brittany address and mobile phone number, but not her name.
Paris asked Fourès to do three things, listed as follows:
"1 - Could you do checks on this address and tell me who the official owner is or who rents it?
2- Is this person known to [law enforcement] agencies?
3- For the number, I know it isn't easy to get this kind of information… Thanks for letting me know if you can get it. I don't know the [telecommunications] operator."