International Monetary Fund (IMF) chief Dominique Strauss-Kahn is to remain in police custody in New York after a Manhattan court on Monday denied him $1 million bail on sex assault charges after the judge considered he could attempt to flee.
Strauss-Kahn, who until this weekend was tipped by opinion polls as the likely winner of next year's French presidential elections, has denied the charges of perpetrating a criminal sexual act, attempted rape and unlawful imprisonment of a chambermaid at a luxury New York hotel on Saturday (click here for full official text of complaints filed). He faces up to 25 years in jail if found guilty.
The 62 year-old IMF Managing Director will remain in detention at least until his next court appearance due on May 20th.
Prosecutors told judge Melissa C. Jackson they opposed the bail request on the grounds of the lack of an extradition treaty between France and the US, the resources at Strauss-Kahn's disposal and his character background (click here for video report of the hearing).
"This battle has just begun," Strauss-Kahn's defence lawyer Benjamin Brafman told the court.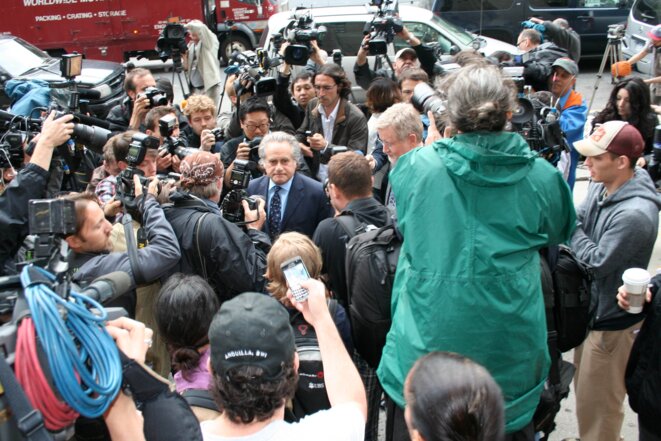 Benjamin Brafman, avocat de DSK, dimanche soir à New York. © Iris Derœux
The extraordinary chain of events that began Saturday now appear to make Strauss-Kahn's position as IMF Managing Director untenable, at least in any active role, and have undoubtedly destroyed his chances of standing in France's presidential elections next year, which until this weekend he was widely tipped to win.
He was as removed from a Paris-bound Air France plane by New York Port Authority agents minutes before it was due to take off from Kennedy International Airport on Saturday afternoon, after a chambermaid at the Sofitel hotel near Times Square had complained Strauss-Kahn had earlier that day assaulted her in his luxury suite (see Mediapart's report on the events here). She reportedly told detectives that she entered the $3,000 per night suite believing it to be unoccupied when Strauss-Kahn, she alleges, rushed at her naked from the bathroom, locking the entrance door that she had left open according to regular policy.
Strauss-Kahn was charged by New York Police Department (NYPD) detectives early Sunday morning. Later Sunday, the 32 year-old chambermaid formerly identified him out of a lineup as her attacker.
The New York Times on Monday reported that she is an African immigrant who has worked for the Sofitel for three years. Accor, which owns the Sofitel chain, on Sunday said she had never previously been involved in an incident with a client.
Throughout Monday, amid emerging details of the case and resurfacing allegations of previous incidents of sexual abuse committed by Strauss-Kahn in France (see page 4 of our previous report), the French political establishment was reeling. French foreign minister Alain Juppé on Monday described Strauss-Kahn's arrest as "a very far-reaching event for Dominique Strauss-Kahn and his family, then for the Socialist Party, and also for the image of France at the International Monetary Fund."
Supporters and critics of the former French finance minister spent Monday trading statements that depicted him variously villain or martyr.