Despite his high-profile involvement in international sports bodies, Prince Albert II of Monaco, a member of both the International Association of Athletics Federations (IAAF) and also of the International Olympic Committee (IOC), has remained untarnished by the catalogue of corruption scandals that have over recent years engulfed the world of sport.
But according to information from the Football Leaks project, obtained by German news magazine Der Spiegel and analysed by Mediapart and its partners in the EIC, a consortium of European media, individuals close to the prince attempted to use his influence within the IAAF and IOC in pursuit of business interests that were separate to Albert's mandated responsibilities within the two organisations.
Questioned by Mediapart, Prince Albert, whose has reigned over the tiny Riviera principality since April 2005, disassociated himself from such practices and insisted he had never committed any wrongdoing in his responsibilities with either organisation, notably regarding voting procedures for the attribution of games. "I gave no voting instructions […] I'm looking you straight in the eye; I never gave any instructions," he said in an interview at Monaco's embassy in Paris.
Separately, the prince's office issued a statement underlining his position: "The sovereign Prince has always adopted a rule of behaviour that conforms to the ethics strongly affirmed during his accession speech, and this in all circumstances."
By firmly distancing the prince from commitments made by individuals among his entourage, the statements draw a quarantine line between the palace and events that may yet prove more serious than boasts of access to influence. Above all in the case of the IAAF, whose decision to decision to award the 2021 World Athletics Championships to the US city of Eugene (Oregon), which is closely associated with sportswear giant Nike, is the subject of an ongoing investigation by the FBI.
Eugene, Nike's birthplace where the brand retains a strong presence, narrowly lost its bid to host the 2019 world athletics championships, which were handed to the Qatari capital Doha. The circumstances in which Doha was awarded those games is also the object of a US investigation after it was discovered that Qatari Sports Investments (QSI), the fund that owns French football club Paris Saint-Germain, paid 3.5 million dollars in 2011 to the son of the then IAAF president Lamine Diack, who was forced to step down from his post in 2015.
In April 2015, Eugene was to succeed with its bid for the 2021 world games in unusual circumstances when, for the first time in IAAF history, the host city for the international games was chosen directly and without any campaign or submission of candidatures.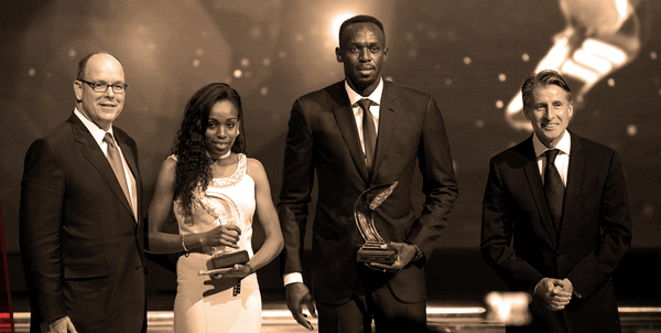 Prince Albert II (far left) with Ethiopian long-distance runner Almaz Ayana, Jamaican sprinter Usain Bolt and IAAF president Sebastian Coe at the 2016 awards in Monaco for IAAF male and female 'world athletes of the year'. © Reuters
Kory Tarpenning is a former Olympic pole vault medallist who has been a resident of Monaco for more than 20 years. According to Vadim Vasilyev, vice president of AS Monaco football club and right-hand man of its president, the Russian oligarch Dmitry Rybolovlev, Tarpenning is a "friend" of Prince Albert.
Tarpenning is co-founder of a company called Tar.Ca, which is involved in establishing retail outlets in the principality. The company entered into a partnership with Starbucks to set up its first branch in Monaco in December 2013, when Prince Albert's wife, Princess Charlene, cut the inaugural ribbon during the opening ceremony. With his other company, Sirius, he runs the Nike Monte Carlo franchise.
Nike became the official sportswear sponsor for football club AS Monaco in a contract signed on March 14th 2014, a deal which could bring the club revenue of 20 million euros over five years (remunerations that are conditional to the club's performance). It was a welcome coup for the club, which had until then met with difficulty in attracting sponsors, essentially due to the relatively small population of local supporters. It represented a potential rise of 1 million euros on its previous sponsorship contract with an Italian sportswear company (which brought in 3.1 million euros in the 2012-2013 season, and 2.96 million euros in the 2013-2014 season).
Five months after the signature of the contract with Nike, Tarpenning, who presented himself as a "personal friend" of Nike co-founder Phil Knight, and also of the company's chairman and CEO Mark Parker, approached AS Monaco in August 2014 to request the payment of a commission of 3 million euros for his role in the deal.
Initially the club was taken aback by Tarpenning's claim. "Kory Tarpenning has demanded a commission for the Nike contract, a commission that was never discussed with me before," Vasilyev wrote to his management colleagues. After checking back through the club's records, Henri Van der Aat, AS Monaco's experienced sales and marketing director, reported that while the club had signed a deal with Tarpenning's agency for the recruitment of sponsors in February 2014, it had nothing to do with relations with Nike.
AS Monaco's international sales director Bruce Bundrant confirmed Van der Att's analysis. Kory did not present us to Nike," he wrote.
But while that might have ben the end of the matter, Vasilyev in fact finally accepted to change position and pay Tarpenning a commission of 9% of the total value of the contract. A first payment of 648,000 euros was made in December 2014. The reason for the sudden turnaround was that Tarpenning had shown Vasilyev his email correspondence with the personal secretary to Nike co-founder Phil Knight.
The correspondence shows how Tarpenning did indeed play a role in the Nike deal, but without the knowledge of Dmitry Rybolovlev's team. "You can see from these emails and the copies of emails that I have left, that I am really at the origins of Nike's integration with ASM and the only person who convinced Nike to invest in ASM," Tarpenning wrote to Vasilyev, adding: "I have shared all these emails with Prince Albert, who replied saying that he was clear that I was the only person having made that possible."
That was something which until then AS Monaco had been unaware of, and it was even less aware of the discussions behind it. Tarpenning's email correspondence reveals that he attempted to link the deal with Nike with the influence wielded by Prince Albert within the IAAF.
In June 2012, Tarpenning accompanied Prince Albert to Eugene on the occasion of the US Olympic Trials, when, Tarpenning explained in an email the following month to Phil Knight's personal secretary, they were at one point joined by the Nike co-founder. The first subject of discussion, he said, was about the possibility of Nike becoming a sponsor of AS Monaco. "I tried this three years ago but failed to get any results from this as AS Monaco signed with another apparel manufacturer," wrote Tarpenning in the email dated July 13th, sent after his return to the principality. A new opportunity to seal a deal would eventually present itself in 2014 when the sponsorship contract with Italian sports apparel brand Macron came to an end.
At the end of his July 13th 2012 email to Knight's secretary, Tarpenning wrote that he had learnt that Eugene was bidding for the 2019 world athletics championships: "The IAAF is based here in Monaco so together with H.S.H. Prince Albert II, I feel that we may be able to [help] in this pursuit.
Questioned by Mediapart, Prince Albert said: "I never spoke of a possible support for a candidature by Eugene for championships, nor for the pursuit of sponsoring at AS Monaco. Yes, it was brought up during the conversation but I never said to Mr Knight 'listen, it should absolutely continue'."