On January 24th 2016, the Islamic State group's official media outlet Al-Hayet released a new video on the Paris terrorist attacks of November 13th 2015 perpetrated in its name and which claimed the lives of 130 people and left another 368 wounded. The video began with a message that contained the purported codename for the bombings and shootings, "Kill them wherever you can", along with the date and the sites that were targeted.
In a report on the video prepared by the French internal intelligence services, the DGSI, and which Mediapart has consulted, the images ended with what the DGSI wrote was "a clear threat against British interests", with images of then-British prime minister David Cameron, the House of Lords and areas of London popular with tourists.
The DGSI reported that the threat was "very credible" and that, "Along with France and Belgium, the United Kingdom featured among the priority targets of Abdelhamid Abaaoud during the summer of 2015".
On March 22nd 2017, British national Khalid Masood (who was born named Adrian Russell Ajao) drove a Hyundai Tucson vehicle into pedestrians crossing Westminster Bridge, four of whom died of their injuries, before fatally stabbing a police officer on duty at the entrance to the Houses of Parliament. The attack had been envisaged in the Islamic State (IS) video of January 2016.
Britain, which was attacked by IS rival al-Qaida in the series of London bombings on July 7th 2005 which claimed the lives of 52 people, represents an important target in the macabre imagination of Islamic terrorism. Not only because it is part of the international coalition that is fighting IS forces in Syria and Iraq, but also because numerous British jihadists make up the ranks of the IS. They include four who European hostages taken by the group between 2013 and 2014 nicknamed "the Beatles", one of whom was Kuwaiti-born British national Mohamed Emzawi, dubbed by the media as "Jihadi John" and who was killed in a drone strike in the Syrian town of Raqqa in November 2015.
In January 2016, a repentant jihadist who turned himself in to French police after refusing to take part in a terrorist attack, identified a 44-year-old Syrian former lawyer Ali Moussa al-Shawak, an IS emir of Raqqa province in Syria who goes by the alias Abou Loqman, as the mastermind. According to the informant, Abou Loqman, a powerful figure in the IS group, was "the head of cells designated to hit francophone and anglophone countries".
The cell of terrorists who carried out the November 13th 2015 attacks in Paris, and who after that hit Brussels on March 22nd 2016 with bombings of the Belgian capital's airport and a metro station, had at one point planned to target Britain. As Mediapart reported in June last year, that plan was discovered in a message found in the hard disk of a computer that was abandoned in a rubbish bin in the Brussles district of Schaerbeek, shortly after the March 2016 bombings.
The Belgian police technical report on the results of their examination of the computer was passed on to the French judicial investigation into the November 2015 attacks. In the message, recorded at some point between February 15th and March 15th 2016, the user of the computer – believed to most likely have been Najim Laachraoui, the bombmaker involved in both the Brussels and Paris attacks – writes to a certain "Abou Ahmed", believed to be Belgian national Oussama Atar, based in Syria and suspected of coordinating both IS attacks, and sets out the cell's projects, its available weapons and the names of the operatives.
The message briefly refers to Britain, without detailing the reasons: "And we spoke to you about England," the message read. "Yeah, that we forgot, you know? We must…yeah, we forget."
The French intelligence services concluded that the terrorists had become uncertain of being able to smuggle themselves into Britain with explosives, notably because of the tight security searches carried out at the time on cross-Channel ferries.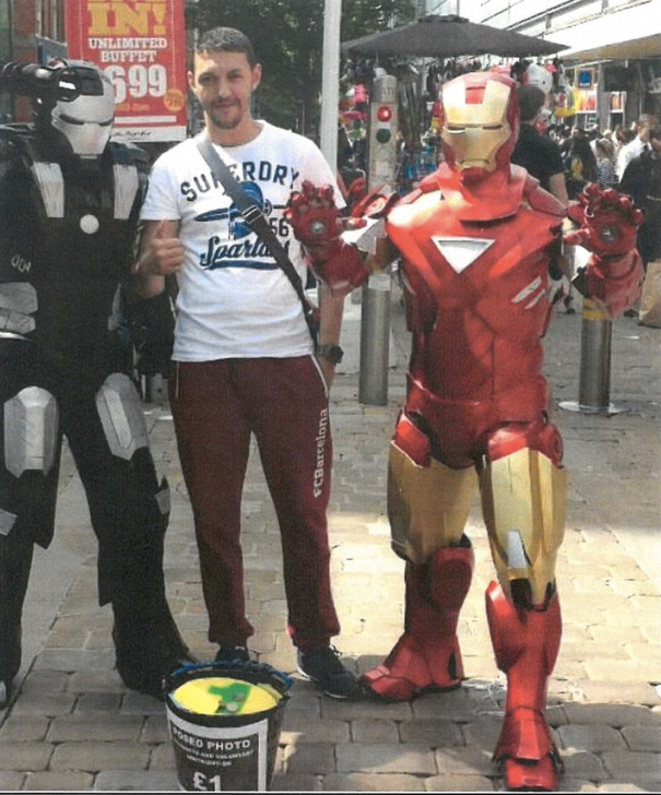 A photo of Mohamed Abrini believed to have been taken during his trip to Britain in July 2015.
The theory that the cell behind the November 2015 attacks in Paris and the March 2016 bombings in Brussels had planned to target Britain was leant further credence by a visit to the country made by one of them, Mohamed Abrini, in the summer of 2015. Abrini, a Belgian national of Moroccan descent, was recorded on CCTV footage pushing a luggage trolley containing a suitcase bomb at Brussels' Zaventem airport on March 22nd 2016, alongside two of the suicide bombers and half-hidden behind sunglasses and a hat. He also features on CCTV footage recorded on November 12th 2015 in the presence of the ten men who carried out the attacks in Paris the following day, as they drove south from Belgium in a convoy of three cars towards the French capital.
Abrini did not blow himself up at Brussels airport, where he was caught on CCTV leaving the terminal building, and was subsequently arrested in the Belgian capital in April 2016. Under questioning, he spoke of his role in the Brussels and Paris attacks, and also of his 2015 visit to Britain, for he had been identified by British intelligence services as having arrived at London's Heathrow airport on a flight from Istanbul on July 9th 2015.
Between July 10th and 13th, he was present in Birmingham where he scouted the casino belonging to the Grosvenor Casino chain in the city, and photographed different locations, notably the rear of Birmingham's busy New Street railway station. Then, between July 13th and 14th, he travelled to Manchester, where he interested himself in another of the Grosvenor Casino chain, and took several photos of Manchester United's Old Trafford stadium.
French and Belgian investigators found a photo on Abrini's WhatsApp application which appears to have been taken in Britain. He is pictured giving a thumbs-up beside two street entertainers who are disguised as Marvel comics hero Iron Man. In the photo is a collection bucket with a price marked up in pounds, and in the background is an advert in English. All of which suggest that the photo was taken in a British city. Abrini ended his trip there on July 16th 2015.
Abrini told Belgian investigators that while in Syria in June 2015 to visit the tomb of a brother killed in combat, he met Abdelhamid Abaaoud, suspected of being one of the principal planners of the November 2015 attacks in Paris (and who was killed by French police several days later). Abrini described Abaaoud, also a Belgian of Moroccan descent, as a childhood friend, who he claimed had asked him to travel to Britain before returning to Belgium in order to retrieve a sum of £3,000 owed to Abaaoud by two men in Birmingham.
That claim was placed in doubt given that Abaaoud gave Arbrini 2,000 US dollars to make the trip, which would have left little money from the supposedly owed £3,000, and the investigators concluded that his journey to Britain was in fact to carry out reconnaissance.
Questioned by the Belgian federal police on April 21st 2016, Abrini denied the suggestion. In his statement he said: "Neither in London, nor Birmingham nor Manchester did I carry out reconnaissance in connection with the preparing of terrorist attacks […] There is no plan aimed at England as a potential target of a terrorist act. From what I know, it's France that is the sworn enemy of the Islamic State. I think that England has secret services that are more developed, better in the practice of observation and so on. Therefore more difficult to hit. I haven't had contact either with English nationals in Syria."
Concerning his trip to Manchester, Abrini said in his statement to the Belgians: "I had nothing to do so I went by the [Manchester United] football stadium." He said an Algerian national who worked in a hookah bar spoke to him about "visits, activities that went on" at the Manchester United ground. "So I visited the stadium and took photos," he said, insisting: "I have played football all my life […] I was not carrying out reconnaissance."
In a separate statement to Belgian police, given just a few days earlier, Abrini had referred to the connection that could be made between his visit to Old Trafford and the Paris attacks in November 2015 when, along with the mass shootings at the Bataclan music hall and on Paris café terraces, suicide bombers also attacked the Stade de France sports stadium. "Even if you can make a link between the attacks in Paris – the stadium in Paris and the photos of the stadium in Manchester, I confirm that it [the visit to Old Trafford] did not involve reconnaissance," his statement read. "It was pure tourism."
The two radical Islamists who Abrini met in Birmingham and who he had claimed were supposed to repay a financial debt with Abaaoud, were subsequently arrested and detained by British police.
-------------------------
The French version of this article can be found here.
English version by Graham Tearse
Si vous avez des informations à nous communiquer, vous pouvez nous contacter à l'adresse enquete@mediapart.fr. Si vous souhaitez adresser des documents en passant par une plateforme hautement sécurisée, vous pouvez vous connecter au site frenchleaks.fr.