Despite years of opposition by France's public prosecutor's office, the country's highest Court of Appeal (1) has ruled that three African leaders and their entourage can now be investigated by a French magistrate for embezzlement and misuse of public funds.
Based on assets held in France by the leaders and by members of their entourage, the ruling, announced on November 9th, was the result of an embezzlement suit was brought by the French branch of NGO Transparency International. It hailed the court's decision as "historic".
The leaders under investigation are Denis Sassou Nguesso of the Republic of Congo (Congo-Brazzaville), Teodoro Obiang Nguema of Equatorial Guinea and the late Omar Bongo Ondimda of Gabon as well as his son and successor Ali Bongo. All are - or, in the case of Omar Bongo, were - considered stalwart allies of France. They are accused of using their countries' vast natural resources for their own personal enrichment. The leaders have denied any wrongdoing.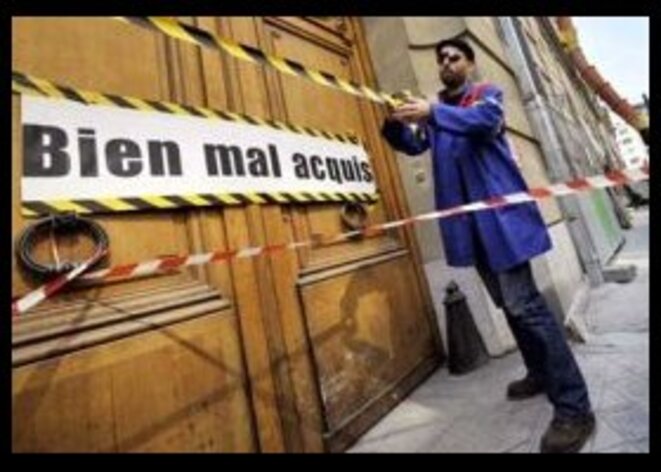 Protest outside Bongo family Paris town house. © Survie-France
Despite constant opposition from the prosecutor's office over the past three years, the court ruled that the NGO was competent to file a civil suit against the leaders thus opening the way for an independent magistrate to be appointed to investigate what are called the 'ill-gotten gains' (biens mal acquis) located in France belonging to the three heads of state and their families.
Until a change in the law, NGOs were barred from requesting an independent investigation and, for reasons of state, only the public prosecutor was considered competent in this matter. Unlike the independent magistrates, public prosecutors answer directly to the Justice Minister. Because of the sensitive nature of the 'ill-acquired assets' case, the prosecutor's office opposed a case that was seen as detrimental to France's most trusted allies in Africa, and to the French interests that exploit their rich natural resources.
Transparency and other NGOs wanted to know if the vast assets owned by Sassou Nguesso, Nguema, Bongo and their families including numerous real estate holdings, luxury cars and well-provided bank accounts stem from the "embezzlement of public funds" in their home countries.
Both Gabon and Equatorial Guinea are oil-rich, as is the Republic of Congo which also boasts diamond, base metal, gold, iron and phosphate deposits. French oil giant, Total, is present in all three countries. The French government has been accused for decades of turning a blind eye to the corrupt practices of leaders in its former colonies such as Gabon or Congo in order to maintain lucrative business interests, particularly those of Total (formerly Elf-Aquitaine). When he was elected in 2007, President Nicolas Sarkozy vowed to end this cosy relationship known as Françafric, a play on words mixing France, Afrique (Africa) and fric, a slang expression for money.
A first suit filed by the NGO Sherpa in 2007 revealed the extent of holdings in France of the three leaders and their clans. Asked to investigate that suit, the French Office for the Repression of Major Financial Fraud and the money-laundering unit, TRACFIN, found, according to police records, a number of unusual expenditures by the three leaders and their families.
--------------------------
1: La Cour de cassation, literally the Court of Cassation, the highest appeal court.