The United Arab Emirates airline Emirates announced last Friday it was banning all Tunisian women travelling to the Gulf state from boarding its planes, after what was described as an identified and specific terrorist threat involving women carrying Tunisian passports.
Emirates' sister airline Etihad also refused Tunisian women from boarding its flights.
The blanket ban, which was lifted hours later that same day, was met with outrage in Tunisia, including protests by women outside the UAE embassy in Tunis, resulting in a tit-for-tat ban by the Tunisian authorities on flights by both Emirates and Etihad from landing or leaving Tunis Carthage airport, which the Tunisian authorities said would last "until the company is capable of finding an adequate solution to operate its flights in conformity with international law and agreements".
Tunisian national Saoussen Ben Cheikh was travelling to Tunis from Washington at the weekend, when she found herself caught up in the escalating row. Her plane journey from the United States to Tunisia was via the UAE capital Abu Dhabi, where she arrived on December 24th, with a flight home to Tunis planned for the next morning. In her case, it was the Tunisian ban on Emirates flights that saw her stranded at Abu Dhabi airport on Sunday, along with about 100 other Tunisian women.
Ben Cheikh eventually found an alternative route back to Tunis, with a three-day journey via Cairo. "I'm a bit angry with the [Tunisian] authorities because by taking this decision they did not realize that they would handicap hundreds of Tunisian women trying to travel home with this company," she told Mediapart by phone.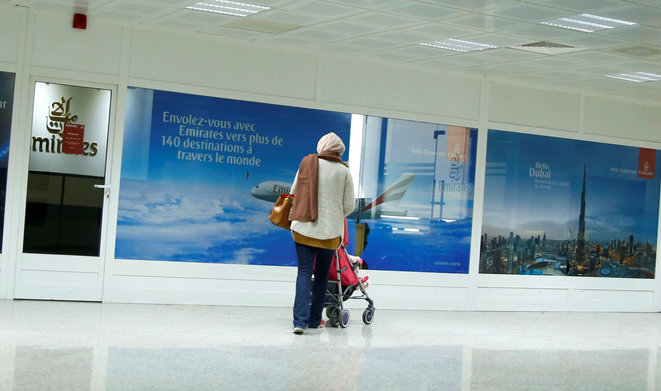 Grounded: a woman and infant pass an office of airline Emirates inside a Tunis-Carthage International Airport terminal on December 25th. © Reuters
The UAE ban, which also included girls travelling on Tunisian passports, was suddenly announced on Friday without any explanation. It was as angry protests began appearing on social media that the UAE foreign affairs minister finally announced via Twitter that the move was a security issue.
But despite the UAE's decision late Friday to end the ban, the chaos continued throughout the weekend. "On December 23rd I was travelling back to Dusseldorf from Bangkok with my husband, and just at the moment of boarding the flight to Abu Dhabi, Etihad Airways barred us without any explanation," said Alia Mohsen, a Tunisian architect who lives in Germany, whose journey back there transited through Abu Dhabi. "It was only after waiting eight hours and a video which my husband posted on Facebook that the Tunisian authorities reacted, but we still don't know the reason for the refusal."
Mohson was just one of hundreds of Tunisians around the world affected by the UAE ban, which in part explained the extent of the angry reactions that appeared on social media, some calling for a future boycott of the companies, while others managed to find a humorous note (see below), with a take on the Bob Marley and the Wailers' song No Woman, No Cry and a hashtag inspired by Mariah Carey's All I Want for Christmas Is You.
On Monday, Tunisian presidential spokeswoman Saïda Garrach, speaking on one of the country's radio stations, Shem FM, confirmed that the temporary ban by the airlines followed a security threat identified by the UAE as a Syria-linked plan for a terrorist attack on its soil and which involved Tunisian women. Tunisian nationals account for the largest number of foreign jihadists present in recent years in Syria and Libya, which according to official Tunisian estimates number up to 6,000.
But while Garrach, just like Tunisian foreign minister Khemaies Jhinaoui, dismissed suggestions that this weekend's events illustrated a diplomatic crisis between Tunis and Abu Dhabi, even insisting bilateral relations were amicable, a diplomatic conflict between the two countries has been bubbling behind the scenes since 2011which involves geo-political power play in the Arab world.
"Already, when I was foreign minister, we had lots of problems over obtaining visas for Tunisian nationals from the Emiratis," commented Taïeb Baccouche, who served as Tunisian foreign affairs minister from 2015 to 2016. "At several times there were sudden stoppages, with no explanation other than a 'provisional measure linked to security questions'."
Youssef Chérif, a Tunis-based political analyst with the Tunisian institute of Strategic Studies, and an associate of Columbia University, who is specialised in international relations and notably between Tunisia, the Gulf states and Libya, says tensions between Tunisia and the UAE have endured for years. "One mustn't forget that since 2011 there were several bad events of this kind," he said, referring to the row this weekend, "[such as] a sudden withdrawal of investors and even a recall of [the UAE] ambassador in 2013 following a disagreement over the situation in Egypt, when former [Tunisian] president Moncef Marzouki called for the freeing of [detained former Egyptian president] Mohamed Morsi."
The backdrop to the tensions centres on Tunisia's close relations with Qatar, which has invested more than 1.5 million dollars in the North African country since 2011, when it backed the successful bid of Muslim conservative party Ennahdha in elections to form a government, following the Arab Spring revolt that toppled the regime of Zine El Abidine Ben Ali.
During the weekend, Ennahdha leader Rached Ghannouchi took to Facebook to attack the UAE travel ban and congratulated the Tunisian government's riposte in suspending Emirates flights to and from Tunisia.
Since the beginning of the Middle East crisis in June, when nine countries led by Saudi Arabia, and including the UAE, imposed trade and diplomatic sanctions against Qatar, accusing it of supporting terrorist groups ranging from Shiite allies of Iran, the arch rival of the Saudis in the region, to Sunni jihadists such as the Islamic State group, Tunisia has refused to openly back one side or the other, leaving Tunisian foreign policy in a position of permanent compromise.
"Today, the explanations about security remain too vague regarding the move on Friday, so there was necessarily political pressure linked to the geo-political stakes over Qatar," said Youssef Chérif. "The Tunisian government remains fairly cautious, and has given only a 'technical' and not a diplomatic reason to justify the suspension of [UAE airline] flights."
Just two weeks ago, Qatari foreign affairs minister Sheikh Mohammed bin Abdulrahman Al-Thani visited Tunis when he met with Tunisian President Beji Caid Essebsi. The visit coincided with the arrest of four Emiratis in the Tataouine region in southern Tunisia for illegally hunting houbara bustards. The Tataouine is an increasingly popular destination for bustard hunting, which normally involves the use of trained eagles, by wealthy tourists from the Gulf states, to the point where it has become an endangered species in the region.
Following hot on the heels of the Qatari minister's sojourn, Turkish President Recep Erdoğan began a two-day official visit to Tunisia on Tuesday, accompanied by a large trade delegation, part of a three-nation African tour that includes Sudan and Chad. Turkey has sided with Qatar in the crisis opposing it with Saudi Arabia and its allies, who include the UAE, while cautiously proposing its services as a mediator. When the crisis erupted in June, Erdoğan said "we admire Qatar's constructive and cool-headed approach".
"There is clearly pressure from the Emirates, which feels that Tunisia is too close to Qatar," said Youssef Chérif. "The Emirates would like Tunisia to change sides, or that it takes a clearer stand, because for the moment Tunisia claims to be neutral."
The situation in Libya, which shares a common border with Tunisia, is another element fuelling the tensions between Tunis and Abu Dhabi. While the Tunisian government has said its policy towards strife-torn Libya is in line with positions adopted by the United Nations, it has moved further towards aligning itself with those of Qatar and Turkey.
Within this larger context, the row over the travel ban imposed by the UAE last Friday, and which was regarded in the North African country as a humiliation of Tunisian women by the Emirati authorities, may significantly increase the tensions between the two countries. "It could also be resolved within a few days if there is no escalation on the part of the Emiratis," commented Youssef Chérif. "But the [airline ban] crisis came at a bad moment, without any warning signs."
Meanwhile, Jamal bin Huwaireb, cultural advisor to the government of UAE emirate Dubai, home to airline Emirates, and who is notably also managing director of the Sheikh Mohammed bin Rashid Foundation, named after Dubai's ruler, posted a message on his personal Twitter account which was hardly conciliatory. "While the Emirates respect the Tunisian republic and its government, its men and women, the Emirates have the right to take all necessary decisions to protect their safety and that of their airline," he wrote. "Emirate airlines have lost nothing with the suspension of the company's flights, it is Tunisia which is the loser.
-------------------------
The French version of this report can be found here.
English version and additional reporting by Graham Tearse