An investigation over several months by Mediapart, based on around ten independent sources and many new documents, including audio tapes, casts fresh light on the secret background to the so-called Macron-Benalla affair involving the French president's disgraced former security aide Alexandre Benalla. Benalla was sacked by the Élysée in July 2018 when news and video footage emerged of him using violence against protestors on May 1st that year.
Mediapart's investigation, which started in August 2018, reveals that:
Ex-Élysée security aide Alexandre Benalla and the former head of the security for the ruling La République en Marche party, Vincent Crase, both placed under formal investigation over violence committed against protestors on May 1st 2018, met in person on July 26th 2018, in Paris, in clear breach of a judicial order banning any contact between them.


Contrary to what he swore on oath in hearings before the French Senate, Alexandre Benalla was personally involved, including in the financial arrangements, even when he was working at the Élysée, with a security contract with a Russian oligarch close to Vladimir Putin, an oligarch who is also suspected of links with the mafia. Benalla later received money linked to this contract.


Claiming he has the personal support of the head of state, Emmanuel Macron, with text messages to support his claims, Benalla kept strong links with the Élysée for several months after he was placed under formal investigation.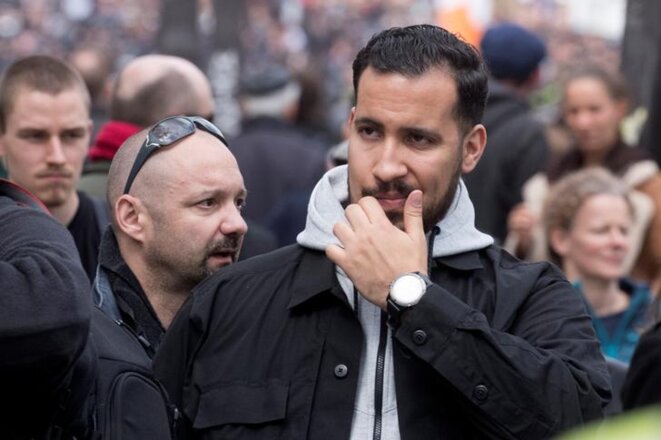 Alexandre Benalla and, just behind him, Vincent Crase in Paris on May 1st 2018 . © Reuters
1. Impunity in the shadows of the Élysée
The scene is Paris on the early afternoon of July 26th 2018. It takes place four days after Alexandre Benalla was placed under formal investigation for, in particular, "assault" in connection with the May 1st affair. Dressed in police uniform, the president's security aide was filmed as he assaulted opponents to Macron's policies, as Le Monde revealed on July 18th.
Alexandre Benalla and Vincent Crase, who had also been placed under formal investigation over the May Day protests affair, met together. They had no right to do so, under the terms of the judicial control orders which were made against them when they were placed under investigation. That does not seem to worry Alexandre Benalla who roams across all of Paris proudly showing his communications with Emmanuel Macron and his diplomatic passports, visiting various political or business establishments; and who, at the same time, has attracted the discreet attentions of the intelligence services.
That meeting between the two men on July 26th was recorded. Mediapart has been able to authenticate the recording. In it Alexandre Benalla seems to regard the acts he is accused of with a baffling lack of concern, so sure is he of the support of the head of state, as shown in this exchange with Vincent Crase.
Alexandre Benalla, talking light-heartedly: "Crazy thing, yesterday evening the 'boss' [editor's note, as Benalla calls Emmanuel Macron] sent me a message, he says to me, 'You'll eat them alive. You're stronger than them, that's why I had you beside me. I'm with Isma [editor's note, the president's special advisor, Ismaël Emelien] etc, we're waiting for Le Monde, whatshisname, etc..."
Vincent Crase: "So the 'boss' is supporting us?"
Vincent Benalla: "Ah, well, he's doing more than supporting us … He's like a madman ...And he said just like that, he said, he told me 'You're going to eat them alive. You're stronger than them.' Still, it's fantastic."
Here is the extract:
Contacted by Mediapart, the Élysée denied the existence of this text message.
At that time, however, the presidency's support - and particularly that of Emmanuel Macron – for Benalla was common knowledge. Two days before the banned meeting between Benalla and Crase, the president had given a passionate speech at the Maison de l'Amérique Latine in Paris where rather than attack his former aide, Emmanuel Macron pointed the finger at the work of the press, Parliament and the justice system. He then ended his speech with the now well-known words: "Let them come and get me!"
The day before the secret meeting between the two men, Alexandre Benalla gave an interview to Le Monde in which he appeared to have been helped by the high priestess of the paparazzi, Mimi Marchand. She is a close confidant of Emmanuel and Brigitte Macron and for several years she has controlled the stories and photos of them that have appeared in celebrity magazines and elsewhere.
On July 26th Alexandre Benalla was not in the least concerned by the turbulence his actions had caused in the highest echelons of the Élysée and to public opinion. On the contrary, he was crowing with his friend Vincent Crase, who had also worked with him at the Élysée before taking over joint responsibility for security issues at the LREM party, but who seemed much less light-hearted about events.
Alexandre Benalla: "It was like a film, that episode, wasn't it, eh?"

Vincent Crase: "Ah, well, it's a nightmare yes! A horror film."
Benalla: "It's good experience. … At 26, if you like, there aren't many who experience … who cause two Parliamentary commissions of inquiry, who block the working of the Parliament..."
Crase: "That amuses you?"
Here is the extract: