President Nicolas Sarkozy's appointment of veteran Gaullist politician Alain Juppé to the post of foreign affairs minister marked the consummation of a forced political marriage between two longstanding rivals,celebrated in November with Juppé's arrival as defence minister. Marine Turchi charts their turbulent 16 years of sniping and strife, all of which promise further fireworks ahead of next year's presidential elections.
--------------------------
Speaking to journalists in Bordeaux on Monday (see video below), after his appointment as France's new Minister of Foreign Affairs, Alain Juppé said of his brief experience as defence minister under President Nicolas Sarkozy: "I told myself that I'd have trouble working with him, but after three months I've realized that it is possible."
YouTube
Juppé's arrival at the foreign ministry, gives President Nicolas Sarkozy a heavy counter-weight to his prime minister François Fillon, and is something of sweet revenge for Juppé, who has seen his political career dive to almost fatal depths since his heady days as prime minister between 1995 and 1997. He is now back as an essential figure in the re-launch of Sarkozy's government, destabilized by ministerial excesses just three months after the last reshuffle; apart from Alliot-Marie's Tunisia debacle, interior minister Brice Hortefeux, ousted at the same time as the foreign minister, was trailing a sentence for making racist comments and another for violating 'presumption of innocence' (contempt of court) laws.
Juppé, who already served as foreign minister between 1993 and 1995, has imposed his own conditions. Claude Guéant, chief-of-staff at the Elysée Palace, the French presidential office, had until now been the backroom manager of French foreign policy, especially in Africa and the Arab nations. He has now replaced Hortefeux at the Minister of the Interior, out of Juppé's way, while Jean-David Levitte, Sarkozy's key foreign policy advisor and until now another key meddler in foreign ministry decision-making, has officially asked for, and been given, release for retirement as of April 1st.
But Juppé still has a few potential obstacles in his path. Not least among these is Nicolas Sarkozy himself. There is a long tradition among French presidents all the way through the Fifth Republic of allocating themselves the design and public presentation of foreign policy while leaving their governments the front line role in domestic matters. Although Nicolas Sarkozy has until now adopted a hands-on approach to both, his new role as chairman of the G8 and the G20 offers him an opportunity of attaining a gravitas hitherto absent in home affairs ahead of presidential elections in 2012.
Quite how successfully the two will perform together remains to be seen. If Juppé brings a perceived solid hand to a ministry that has lost its way, the conflict between the two men in both political vision and personal ambition promises fireworks ahead. The history of their relationship is one of swings-and-roundabouts fortune in the shadow of a man once the political father of both, former Gaullist leader and president Jacques Chirac.
May 1995: After a bitter and divided campaign on the right, Jacques Chirac was finally elected president on his third attempt, at the age of 62, beating Socialist Party candidate Lionel Jospin. Chirac had spent two years preparing for the event, sure of running as the unique mainstream right candidate, under the banner of his Gaullist RPR party. But just six months before the elections, then-Prime Minister Edouard Balladur, a long-standing Gaullist ally, betrayed Chirac by announcing he would also run as a mainstream conservative right candidate. Nicolas Sarkozy joined several other rebel Gaullist figures in rallying to Balladur. The schism left deep wounds on the right, which have never healed to this day. Balladur, despite being consistently presented by opinion polls as the favourite candidate, lost the elections and never recovered politically.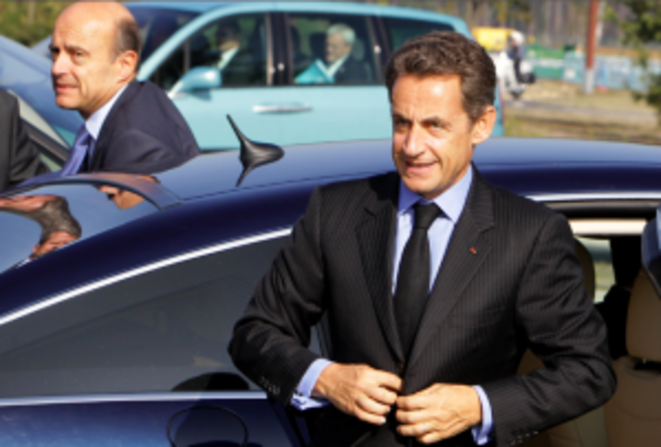 In: Alain Juppé (left) with Nicolas Sarkozy. © Reuters
After Chirac's RPR and conservative right allies won the legislative elections that immediately followed the presidential poll, he appointed Alain Juppé, his longtime loyal servant and then-dauphin, as prime minister. In his acclaimed and revealing biography of Chirac, '
La Tragédie du président
'('The tragedy of the president'), veteran French journalist Franz-Olivier Giesbert recounted how Chirac instructed Juppé "not to name any former Balladur minister into his team".
Sarkozy had been budget minister under Balladur, who had served as prime minister from 1993 to 1995 in an uneasy political 'co-habitation' between his right-wing government and socialist president François Mitterrand, and was Balladur's presidential election campaign spokesman.
"A proper fatwa," continued Giesbert. "The new prime minister [editors note: Alain Juppé] would not have the right to re-cycle Nicolas Sarkozy for whom he had always had a certain soft spot, even though he was wary of him." In the end, a few Balladur supporters, notably François Fillon, the current prime minister, were admitted into government - but not Sarkozy.
Juppé in 1995 was a powerful figure; prime minister, mayor of Bordeaux (he served an initial term between 1995 and 2004), and president of the ruling RPR Gaullist party (until 1997). Sarkozy, meanwhile, Member of Parliament for, and mayor of, the plush district of Neuilly-sur-Seine, west of Paris, defiantly faced Juppé in the role of leader of the Balladurian camp. In a largely successful attempt to remain a high-profile force to be reckoned with, he sniped at government in parliament, rallying support for amendments to bills, establishing himself as a political force to be reckoned with by becoming a thorn in Juppé's side.
April 1997: France entered into a social crisis unprecedented since the 1968 revolts, sparked by Juppé's attempts to reduce public spending, and in particular his attempted reform of France's comparatively generous public welfare system.As part of the political manoeuvring to shore up the right, Juppé hatched a plan to appoint two former Balladur ministers, François Léotard and Nicolas Sarkozy, to his own government. He intended appointing Sarkozy to the post of finance minister. In his biography of Chirac, Giesbert observed of Juppé: "He considered [Sarkozy] to be the best of the new generation. A professional who left nothing to chance. Along with that, a touch populist and very pedagogic. In short, an anti-Juppé."