Mayada Boulos, the communications advisor to French Prime Minister Jean Castex, led a PR campaign on behalf of Saudi Arabia in her previous job with advertising and public relations group Havas, where she worked within its so-called "influence" department from 2016 to the summer of 2020 when she was recruited by Castex.
Havas, one of the largest advertising, communications and lobbying groups in the world, continued, like others in the sector, to work for the Saudi authorities after the murder of dissident Saudi journalist Jamal Khashoggi in Istanbul on October 2nd 2018, and which a US intelligence report released last week said was carried out with the approval of Saudi Crown Prince Mohammed bin Salman, the de facto ruler of the kingdom.
France, one of the principal suppliers of weapons to Saudi Arabia, has remained largely silent amid the diplomatic response to the assassination of Khashoggi, a columnist with The Washington Post, who was lured to the Saudi Arabian consulate in Istanbul where the particularly gruesome crime was committed.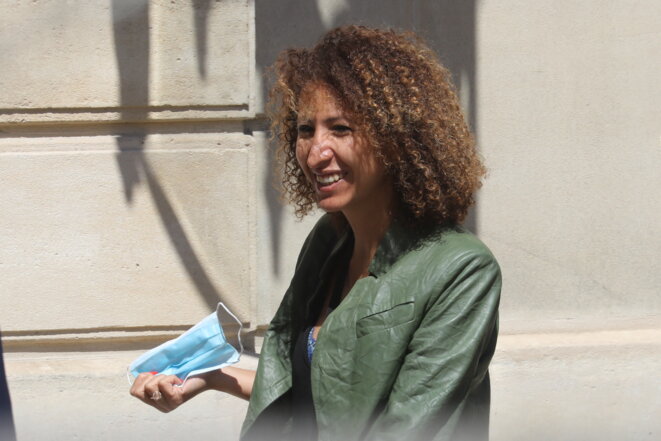 Mayada Boulos, communications advisor to the French prime minister, seen here leaving the Élysée Palace on June 29th 2020. © Ludovic MARIN / AFP
Questioned by Mediapart, Mayada Boulos said that her mission while working for Havas concerned the development of the Saudi tourist resort of Al-Ula, in the north-west of the country. "It involved bringing to attention a historic and cultural site, its monuments and activities – notably the discovery of the desert and the creation of a museum to come – which the region could offer foreign tourists in the future," Boulos said, adding that "diplomatic or state issues were not a part of the mission" she was entrusted with.
Concerning France, issues of state are managed by the Saudi embassy in Paris. However, the development of Al-Ula, funded by the Crown Prince to the level of billions of dollars and which is the subject of a controversial partnership with the Paris-based Institute of the Arab World (IMA), lies within the realm of Saudi diplomatic strategy in France.
Boulos, 39, lobbied a number of individuals in France, including politicians, to garner support for the project. She told Mediapart that the client who signed the contract with Havas "was not the state of Saudi Arabia" but was the Misk Foundation. The foundation was created in 2011 by Saudi Crown Prince Mohammed bin Salman, whoremains its chairman .
Boulos also told Mediapart that in her current governmental post, she "takes care not to deal with issues that were the subject of a mission in the framework of my responsibilities at Havas". It remains that the French prime minister saw no problem in the recruitment of a communications advisor who previously participated in promoting the image of Saudi Arabia's regime of absolute monarchy.
Meanwhile, Havas, which has influential connections within the French executive, has never been shy about its commercial ties with Riyadh. "The Khashoggi case does not place in question our contract with Saudi Arabia," declared Stéphane Fouks, the group's vice-president, in an interview with French business weekly Challenges in November 2018, one month after Khashoggi's murder. "The 'empty chair' policy has never been ours. We prefer to be on the side of the reformers and to do useful things."
Among French companies, this supposedly pragmatic approach of continuing to do business with Riyadh is not unique to Havas. It is notably also the case with advertising and communications giant Publicis, which has expanded the numbers of its deals with the Saudi regime over recent years, despite comments last year by its principal shareholder, the historian and philosopher Élisabeth Badinter, denouncing the penetration of a "Political Islamism" in France.
Saudi Arabia has also called upon the services of Image Sept, a communications consultancy firm run by Anne Méaux, who was an advisor to the disgraced former French prime minister François Fillon during his 2017 presidential election campaign. Another to count Riyadh as a client is corporate and financial communications firm Steele & Holt, co-founded by Sylvain Fort who served as a communications advisor at the French presidential office between 2017 and 2019.
The case of Mayada Boulos once again draws attention to the role of communications staff in France who, often working in the shadows, have promoted the interests of foreign powers or private entities before before joining public office. One notable example is Ismaël Émelien, who served as special advisor to President Emmanuel Macron between 2017 and 2019, previously worked with Havas where he led its team of communications advisors for Venezuelan leader Nicolás Maduro during the latter's 2013 presidential election campaign. Another case is Sacha Mandel who, in 2015, when serving as communications advisor to then defence minister Jean-Yves Le Drian, also served for three months as an advisor to Russian oligarch Dmitry Rybolovlev, who was at the centre of a vast corruption scandal in Monaco.
During her time at Havas, Mayada Boulos was also assigned to helping Doctolib, an online service for organising medical appointments. Before joining Havas, Boulos worked between 2012 and 2016 as communications advisor to then socialist health minister Marisol Touraine. Another communications advisor at the ministry was Henri Pitron, who left it in 2017 to become head of "institutional relations" at Doctolib. Sources have told Mediapart that after joining Doctolib he had advised the company to engage the services of Havas, and more particularly his former colleague Mayada Boulos, to improve its relations with the media.
Questioned by Mediapart, both Boulos and Pitron said that they received no objections or reservations on the part of the commission of ethics, a body in charge of approving, or not, the moves by public servants to join the private sector..
-------------------------
If you have information of public interest you would like to pass on to Mediapart for investigation you can contact us at this email address: enquete@mediapart.fr. If you wish to send us documents for our scrutiny via our highly secure platform please go to https://www.frenchleaks.fr/ which is presented in both English and French.
-------------------------
The original French version of this report can be found here.
English version by Graham Tearse