Its name invariably pops up at the heart of major political events in France. Even when it was placed at a relative distance during the 2012-2017 presidency of François Hollande who, according to French journalists Aurore Gorius and Michaël Moreau in their book Les Gourous de la com' ("The communications gurus") held it in "manifest detestation", it continued to maintain its presence within the machine of government.
"It" is Havas Worldwide (formerly Euro-RSCG), the communications, marketing and advertising giant owned by French billionaire businessman Vincent Bolloré, and whose vice-president is Stéphane Fouks, the PR advisor who took charge of the damage limitation communications strategy of former IMF chief Dominique Strauss-Kahn after his arrest in 2011 for an alleged sexual attack on a New York hotel worker.
Fouks played the same role for his friend and former French budget minister Jérôme Cahuzac, when Mediapart revealed in December 2012 how he had dodged taxes in France via a secret foreign bank account. Cahuzac, after initially denying the tax evasion, eventually confessed to the scam which ended his political career.
The influence Havas wielded within the French government under Hollande's presidency included its relationship with Emmanuel Macron, who was economy minister from 2014-2016. The then-junior minister for digital affairs, Axelle Lemaire, whose department came under the umbrella of the economy and finance ministry, described how she found herself surrounded by a mostly male team of 30- and 40-somethings she scathingly dubbed "the Havas Boys".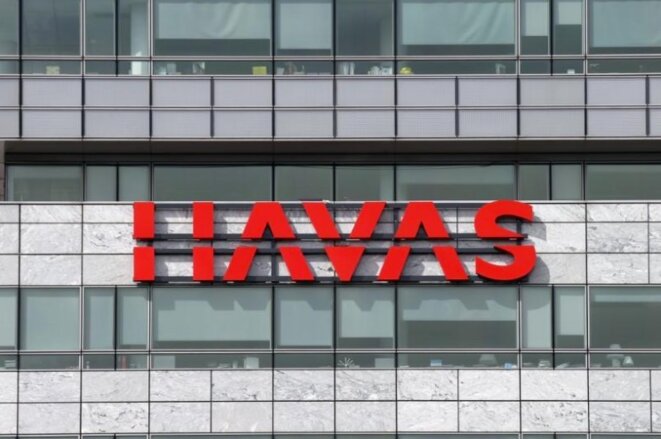 The Havas headquarters in France in the west Paris suburb of Puteaux. © Reuters
Among these was Ismaël Emelien, who today is a special advisor to President Macron. A senior consultant between 2009 and 2013 of what was then Euro RSCG (it was renamed Havas Worldwide in 2012), he joined Macron's ministerial team when the latter was appointed economy minister in August 2014. Emelien, who first met Macron in 2009, was placed in charge of communications and speechwriting, working alongside Anne Descamps who was in the same year as he at the Paris political sciences school Sciences-Po, where the two gained master degrees in public affairs in 2010. Descamps had also previously worked under Stéphane Fouks at Havas, where for four years, according to Les Gourous de la com', "she worked on the lobbying for electronic cigarettes, and also for [French-Israeli billionaire businessman] Patrick Drahi during the takeover of [French mobile phone and internet service provider] SFR, a very sensitive case for the economy ministry".
Anne Descamps is now head of communications for Macron's new centrist political party, La République en Marche (LREM). According to online magazine L'Opinion, she is one of the "brains" behind the party's project to partly shape itself as "a media" organisation, publishing online video reports about local activities and serving as an information hub for its militants. Meanwhile, Ismaël Emelien, now the president's special advisor, is part of what French daily Le Monde last month described in a headline as "this trio that governs France" (the other two being Macron and his Elysée Palace secretary general Alexis Kohler).
This 30-year-old principal strategist, known for his discretion and wariness with regard to the press, most often seen studying a computer behind large-frame spectacles, stays well clear of the spotlight and when he does speak with journalists he demands that he is never directly quoted. His domestic partner, Hélène Ribault also worked at Havas, where she became manager of public relations in 2010 before heading up the group's branch that organises events for VIPs, Private by Havas Event.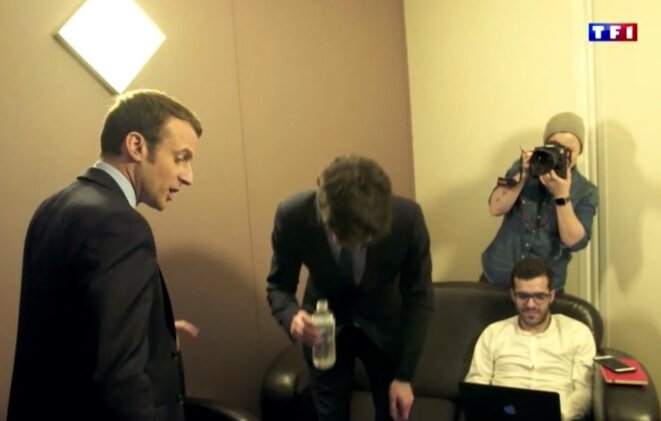 Ismaël Emelien (seated, right) in a scene from a fly-on-the-wall documentary broadcast on French channel TF1 carting Emmanuel Macron's presidential election campaign. © Capture d'écran TF1
When Emmanuel Macron stood down from government in August 2016 to officially present his presidential election bid, Emelien had already left the economy ministry several months earlier to help with the launching of Macron's "movement", then called En Marche !. He and Macron, beginning one year before the elections, used the tricks of traditional communications to present Macron's maverick candidature as a natural, almost obvious, move.
Emelien had already gained some experience in election campaigns, having interrupted his studies at Sciences-Po in 2006 when, aged 19, he joined the campaign staff of Dominique Strauss-Kahn in the latter's attempt to win the Socialist Party primaries to become its candidate in the 2007 presidential elections. In the event, Strauss-Kahn was beaten by Ségolène Royal. "He wrote up information reference cards," recalled Benjamin Griveaux, now a junior minister with the Ministry of Economy and Finance and a former spokesman for Macron's En Marche ! movement, who also worked on Strauss-Kahn's 2006 bid. A number of other Macron aides had worked for Strauss-Kahn, including Cédric O, who is now an advisor to the president and prime minister on the digital economy, and also Stanislas Guerini, elected in June as a Member of Parliament (MP) for Macron's LREM party, for which he is the official spokesman in the lower house, the National Assembly.
Meanwhile, Gilles Finchelstein, head of the Fondation Jean-Jaurès, a political think tank close to the Socialist Party, is another "Havas boy" who was close to Strauss-Kahn. Director of Studies at Havas under Stéphane Fouks, Finchelstein recruited Ismaël Emelien for the agency in 2009. The two worked closely together, including when Emelien joined Macron at the economy ministry in 2014. According to Aurore Gorius and Michaël Moreau in their book Les Gourous de la com', Finchelstein like to joke that, "He wrote everything, I re-read it".
Part of the job of the communications team at Havas is to advise on PR and political strategy to French and foreign politicians, services that are heavily billed. In 2013, Emelien found himself working as part of the Havas communications team for the presidential election campaign of Nicolás Maduro, the current and contested strongman leader of Venezuela who succeeded Hugo Chavez. "I went to Venezuela twice for three days," Emelien told Mediapart. "I spent one day per week on that mission for three months." Gilles Finchelstein detailed the contract: "It involved a complete service, with the making of ads, a documentary, the organization and conception of meetings, social media [content], and advising. Nicolás Maduro was presented then as the Venezuelan Lula, a pragmatic person, the unionised branch of Chavism." Finchelstein said he had travelled to Caracas "six or eight times" for the mission given to Havas, while its vice-president Stéphane Fouks went to Venezuela "two times". In the event, Maduro was narrowly elected on April 14th 2013, with just a 50.6% share of the vote. The Chavist movement later claimed the communications operation had been overly a marketing exercise.