Two former executives at giant French cement group Lafarge and the head of its security have been placed under investigation in connection with a French investigation into the activities of its cement plant at Jalabiya in Syria. They were questioned in custody by officers from French customs who are conducting the probe and then on Friday December 1st, 2017, they were brought before a judge to be formally put under investigation, which under French law is one step short of charges being brought.
Bruno Pescheux, director of Lafarge's Syrian subsidiary between 2008 and 2014, and his successor, Frédéric Jolibois, are being formally investigated for alleged "financing of terrorism", "endangering others" and "breaching European rules" in relation to the embargo on Syrian oil. A senior executive from the group's Paris headquarters, Jean-Claude Veillard, director of security at Lafarge, is being formally investigated for the "financing of terrorism" and "endangering others".
The investigation is into the circumstances in which the French cement group – which merged into Swiss firm Holcim in 2015 to form LafargeHolcim – maintained its activities in Syria in 2013 and 2014 in a conflict zone which was controlled by Islamic State. An internal company investigation has confirmed that money was handed to armed groups. Lafarge's Syrian subsidiary is also suspected of having used oil that came from territories controlled by Islamic State.
Below, Mediapart re-publishes an investigation into the affair that was originally published in French on May 3rd, 2017, a few days before the second round of the French presidential election which saw a head-to-head between the eventual winner Emmanuel Macron and the president of the far-right Front National, Marine Le Pen.
------------------------------------------------
It is a story that Marine Le Pen, who has promised she would be merciless against Islamic terrorism, could have done without just a few days before the final round of the French presidential election on May 7th, 2017. It has emerged that one of the senior executives at the Lafarge cement group who oversaw secret negotiations with Islamic State so that the giant firm could maintain its business activities in war-torn Syria is a strong supporter of the head of the far-right Front National. Indeed, he was a candidate for her party at the most recent municipal elections in Paris.
Jean-Claude Veillard is the current director of security at the Franco-Swiss group LafargeHolcim, formed after Lafarge and Holcim merged in 2015. Several documents and evidence from witnesses obtained by Mediapart today show his involvement in the Syrian case and his full knowledge of the negotiations which took place in 2013 and 2014 between the multinational and Islamic State, the terrorist organisation which, since 2015, has carried out an unprecedented wave of attacks against France.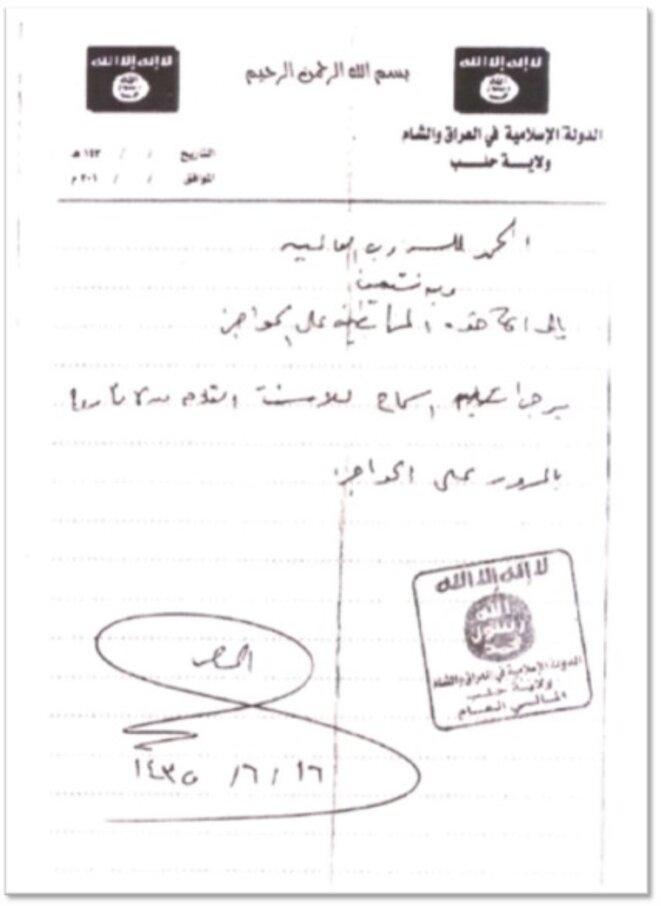 An example of a pass issued by Islamic State to Lafarge employees in 2014. © DR
This collaboration resulted in various forms of financial support being given to the terror group by Lafarge: the purchase of oil whose production was controlled by IS, the supply of cement lorries and the payment of a 'tax' to guarantee the safe passage (
see note right
) and safety of the company's employees in Syria.
The facts, which were unearthed by Le Monde and the specialist newsletter Intelligence Online, led the French NGO Sherpa, which supports victims of economic crimes, and the Berlin-based European Center for Constitutional and Human Rights (ECCHR) to lodge a formal legal complaint on November 15th, 2016. This was for the "financing of terrorism", "complicity in war crimes and crimes against humanity", "deliberately endangering others", "abusive exploitation of the work of others", "negligence" and unlawful "receipt" of unlawfully-obtained materials.
A Paris-based investigating magistrate is in the process of being appointed and an investigation will soon be formally launched. It comes on top of an existing investigation opened by France's Ministry of the Economy and Finance in October 2016.
Jean-Claude Veillard is a former marine who left the French military with the rank of frigate captain, equivalent to a lieutenant-colonel. For the past decade he has been a senior figure in the Lafarge group, a world leader in construction materials – cement, concrete, aggregate – with an annual turnover of 13 billion euros. He is also a committed far-right activist: at the municipal elections in March 2014 he was on the electoral list in Paris as a candidate alongside Wallerand de Saint-Just, who was the treasurer for Marine Le Pen's 2017 presidential campaign. This was precisely the period during which Lafarge was negotiating with Islamic State.
In 2007 the group had bought a Syrian cement plant which, after a great deal of work was carried out, was re-opened in 2010, two years after Veillard had become the group's head of security. At the time the Syrian plant was considered to be full of promise and one of the most modern in the Middle East, able to churn out three million tonnes of cement a year. It was located at Jalabiya in the north-east of Syria, 90 kilometres from Raqqa which had become Islamic State's 'capital'. The plant was the property of a subsidiary called Lafarge Cement Sysia (LCS), which was 98% owned by the parent company.
Despite his reputation as a very secretive person, who had kept the culture of compartmentalisation from his days in France's special forces, Jean-Claude Veillard left behind tracks which prove his involvement in Lafarge's embarrassing Syrian affair.
After Islamic State began controlling ever-more territory in Syria in 2013 and 2014 Lafarge took the decision – unlike other firms – to enter into financial negotiations with the terrorist organisation to be able to continue its business activities in the area and, according to his executives, to be able to ensure the safety of its staff.
According to the evidence that has been gathered Jean-Claude Veillard had been informed about each phase of negotiations with the jihadists. He received copies of emails addressed to management and had to give his opinion on the decisions taken. Several emails seen by Mediapart show this. For example, there was an exchange of emails in 2014 in which one of the Lafarge bosses in Syria announced that, following his discussions with Islamic State, the company had to provide proof of identity for its employees on the ground to facilitate their safe passage, and that this had been made possible thanks to a 'tax' paid to the jihadists.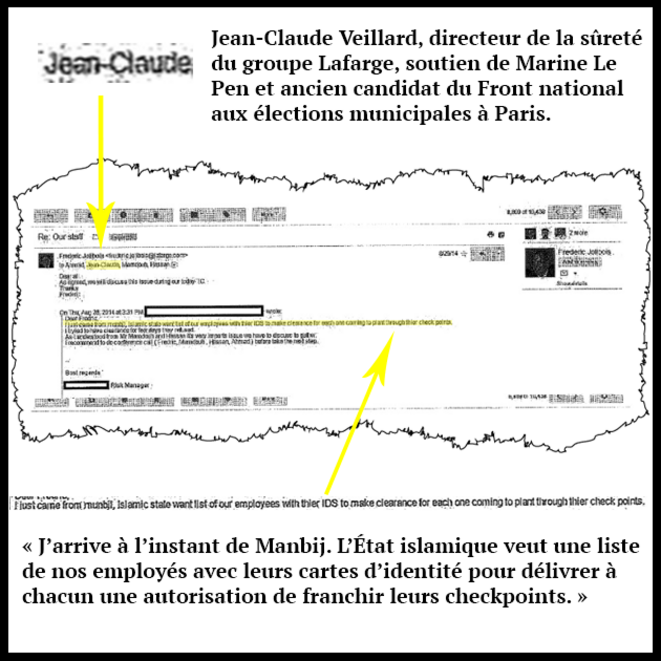 Extract from an email proving that Jean-Claude Veillard was involved in the negotiations with Islamic State. © DR
According to Sherpa and the ECCHR, a tax also had to be paid to allow the movement of materials into and out of the plant.