A French court is to investigate newly-appointed International Monetary Fund chief Christine Lagarde for suspected 'aiding and abetting falsification' and 'misappropriation of public funds' in her handling of a huge compensation payout awarded to controversial French businessman Bernard Tapie while she was finance minister. Michel Deléan reports (see also links to Mediapart's investigations and reporting of the Lagarde case on Page 2).

-------------------------
The decision on Thursday to open an investigation into Christine Lagarde's suspected 'aiding and abetting falsification' and 'misappropriation of public funds' when finance minister was reached after a five-hour debate - described by one judicial source to Mediapart as being "quite lively" - among the seven magistrates who make up the Petitions Committee of France's Court of Justice of the Republic (CJR).
The case centres on newly-appointed IMF chief Lagarde's management of the procedure that led to a 403 million-euro payout from the public purse to businessman Bernard Tapie in 2008. Lagarde has denied any misconduct.
Tapie, a twice-fold rags-to-riches entrepreneur, is also a former centre-left politician and minister during the presidency of François Mitterrand who campaigned for conservative right Nicolas Sarkozy's election as president in 2007.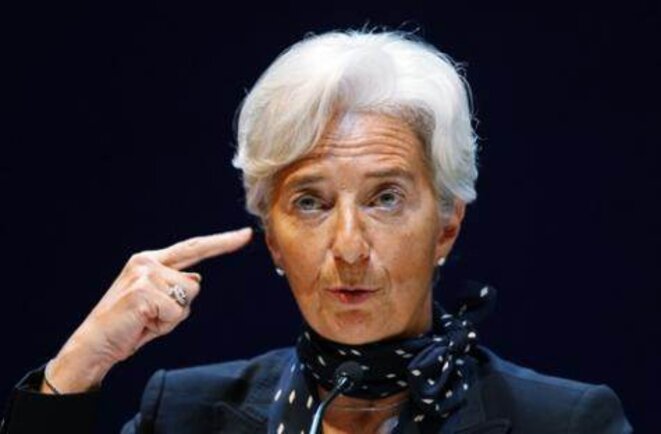 © Reuters
The CJR is the French court designated to investigate suspected malpractice by government members in the course of their duties, and to judge them if charges are brought. The decision on Thursday now formally transfers the case to the CJR's Investigation Committee, made up of a panel of independent magistrates.
Their investigation will decide whether Lagarde, 55, should be tried by the court or, on the contrary, whether there is insufficient evidence for charges. If she does stand trial, she will be judged by a CJR committee made up mostly of Members of Parliament.
The investigation now launched is likely to be a lengthy one because of both the complexity and volume of evidence in the case and the traditional slowness of the CJR's formal procedures.
"An investigation could take a very long time, one could expect it to take several years as there would be a lot of witnesses to interview, among them Madame Lagarde, who could also be investigated as a suspect," Virginie Duval, general secretary of France's USM magistrates union, told Reuters television.
Lagarde, based in Washington since her appointment as IMF managing director on June 28th, could be questioned either in the US or France. Before that, the magistrates must decide whether Lagarde should be formally placed 'under investigation' - mis en examen -, which under French law is one step short of being charged, or whether she will be questioned as an 'assisted witness'.
The events leading up to Thursday's decision to open an investigation were set in train on May 10th, when Jean-Louis Nadal, France's most senior public prosecutor before his retirement in June, referred the case to the CJR. His report detailed suspicions over the role of Lagarde and several senior civil servants in pushing through the private arbitration procedure that ensured the huge payout to Tapie, ending his longstanding dispute with a state agency handling the liabilities of the former Crédit Lyonnais bank.