The most productive employee at Renault does not work at the giant French carmaker's headquarters in Boulogne-Billancourt south-west of Paris, but in Malta. This unknown worker produces on their own an annual turnover of 108 million euros a year. For they are the sole employee of RCI Insurance Limited, one of Renault's two Malta-based insurance companies. The sole purpose of these cash cow companies is to avoid paying tax in France – at a time when many would argue that the French state has need of all the revenue it can get.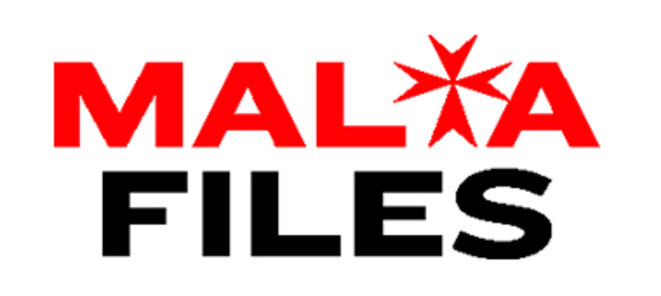 Thanks to documents unearthed as part of
Malta Files
, a four-month investigation by Mediapart and its partners in the European Investigative Collaborations journalistic collective (EIC), Mediapart has discovered that Renault has saved 62 million euros in four years by locating its insurance activities in the Mediterranean island of Malta. But Renault are not alone in this practice. The investigation has revealed that rival French carmaker PSA Peugeot Citroën has itself saved 57 millions in tax over five years.
Another group to benefit from this practice has been French retail group Auchan, owner of brands such as home improvement stores Leroy-Merlin, which has reduced its potential tax bill by 22 million euros over a period of three years. Overall, between the three groups, this constitutes a total of 141 million euros avoided that the French tax authorities will never receive. And the figure is growing each year.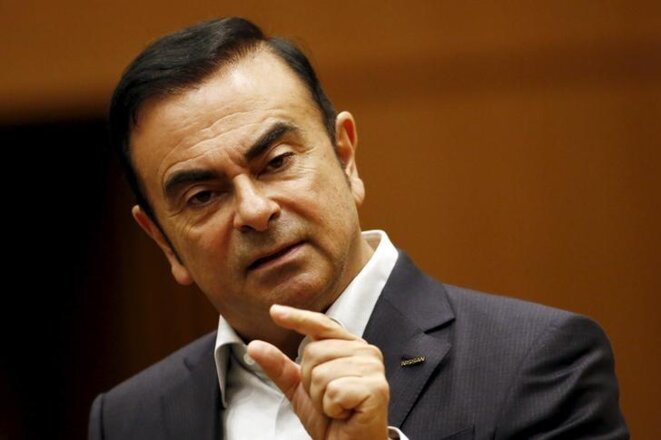 A little more profit: Carlos Ghosn, Chairman and CEO of Renault, one of the French groups using a legal tax avoidance set-up in Malta. © Reuters
This fiscal 'optimisation' is, in principle, perfectly legal though it is no less shocking for that. It is particularly shocking in relation to Renault and PSA as the French state is a shareholder in both carmakers. It remains the single largest shareholder in former public company Renault with a stake of 19.7%. Meanwhile in 2014 the French state bought a 13% stake in PSA for 800,000 million euros to save the manufacturer from collapse. Yet the company has continued to use the Maltese tax haven to reduce the level of taxes it pays in France.
The arrangement involves so-called 'captive insurance' companies, which are defined as a "company that provides risk-mitigation services for its parent company"; in other words they insure the customers of its parent company. At Renault, through RCI Banque, and PSA, via Banque PSA Finance, they sell car insurance. Retailer Auchan's bank Oney insures cars and also homes. So, for example, if a customer takes out a 10,000 euro loan from RCI Banque to buy the latest Renault Kadjar, they have to take out insurance that will reimburse Renault in case of their death. It is a similar story when a customers uses the credit facilities on their Auchan card to pay for their shopping on a Saturday.
What customers do not know, however, is that their insurance premiums are ending up in Malta. It is a practice that has been nonetheless been known about for a while in some circles, with a 2013 report from the French Parliament raising concern over the use of captive insurance companies as a way to 'optimise' tax liabilities on a large scale. "It is in this way particularly easy to locate a captive [company] in a tax-friendly state … As the captive's business activity is by its very nature immaterial (it simply concerns internal group flow) the company dedicated to the insurance can be based anywhere on the globe," said the report.
Traditionally, European multinationals base their insurance arms in Ireland or Luxembourg, But Malta has made huge efforts to lure such firms to its shores with two key attractions: flexible laws and huge tax advantages.
The most important tax benefit that Malta offers is a reimbursement of corporation tax for those foreign companies that pay dividends to their shareholders. These companies begin by paying corporation tax at the official rate of 35%. But after generous reimbursements by the Maltese tax authorities the real rate falls to just 5% against the 33.3% rate in France.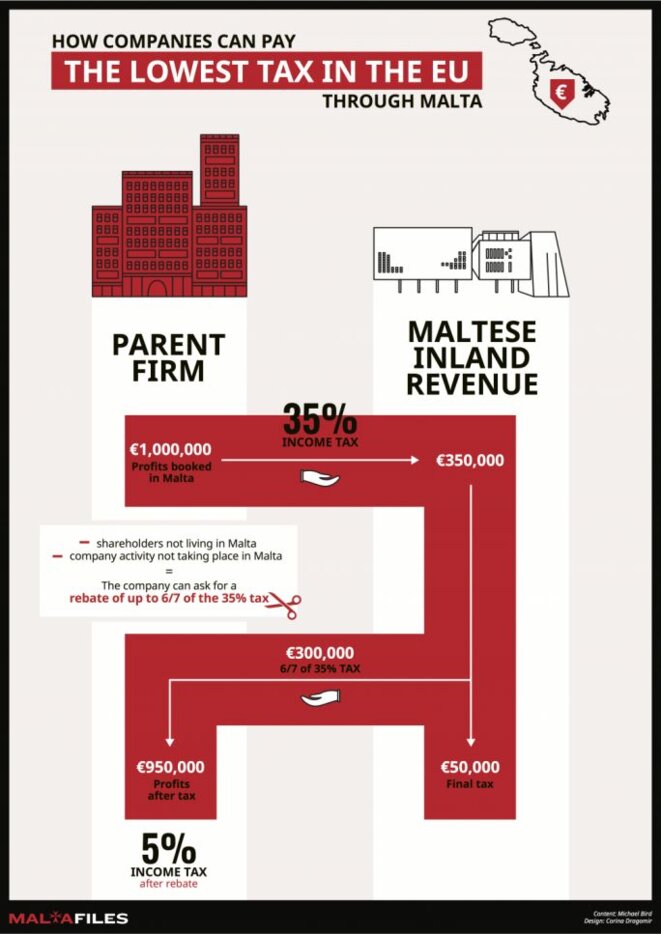 A diagram showing how French companies are making vast savings in the amount of tax they pay by basing their insurance operations in Malta.
Renault, PSA and Auchan have set up identical structures to take advantage of this opportunity. At the bottom of the structure there are two Maltese companies, one for life insurance and the other for regular insurance, a separation required by law. Sitting on top of these structures is a holding company that receives the dividends. However, all three companies are secretive. In their accounts the French groups' Maltese holding companies publish the official rate of tax they pay, which is 35%. But the sum reimbursed by the Maltese tax authorities is never explicitly set out.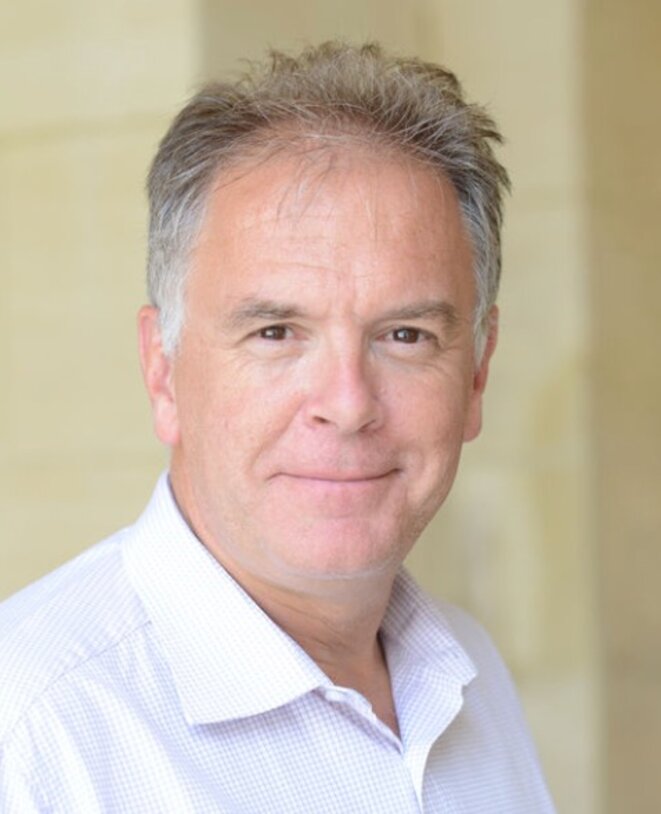 Régis Degelcke, chairman of Auchan Retail since March 2017. © D.R.
Nonetheless, Mediapart and the other media have managed to unearth the nature of these discounts thanks to the Maltese accounts relating to Oney Bank. This subsidiary of Auchan subsidiary is a 'captive' company working for all the chains owned by the very wealthy owners from the north of France, the Mulliez family, and also other retail chains such as
FNAC
and
Darty
– a total of 50 brands in all.
Oney Holding Limited's 2016 accounts show that last year the holding company received 23.8 million euros in dividends from the two insurers that it controls, and seven million euros in "other income". What this "other income" refers to is explained in a short note in the report's appendix: it was a "reimbursement received under articles 48(4)(a) and 48(4A)(a)" of Malta's 1994 Income Tax Management Act (see document below). They are the articles which set out corporation tax reimbursements.

This note in Auchan's Maltese holding company shows that the 'other income' referred to is the corporation tax reimbursement from Malta. © Mediapart
In 2016 the Auchan group's insurer thus made a profit of 23.7 million euros, paid 8.3 million euros in tax to the Maltese tax authorities and was then reimbursed 7 million euros. The result was that Oney Holdings only paid out 1.4 million euros net in corporation tax. This is a rate of 5.5% or six-and-a-half times lower than the rate in France. Auchan saved a total of 21 million euros in tax between 2014 and 2016 in this way.
A similar reference to "other income" is found in the accounts of PSA Services Limited, the Maltese holding company that oversees PSA Peugeot Citroën's insurance companies. Oddly, there were no such other revenues in the years 2014 and 2015 – the last years for which accounts have been published – but in the previous five years the car manufacturer received corporation tax reimbursements totalling 57 million euros. A PSA spokesperson confirmed by email to Mediapart that the "other income" referred to in the accounts did indeed relate to the "accumulated corporation tax reimbursed by the Maltese state since 2009".
However, the biggest beneficiary of the Maltese reimbursements has been Renualt. Between 2012 and 2015 its insurance companies got back a total of 62 million euros in corporation tax refunds. The accounts for 2016 have not yet been published but the levels of reimbursement has continued to grow, from 3.4 million euros in 2013 to 21.3 million a year from 2014 onwards.
Renault's two captive insurance companies are in effect huge cash cows. One of them, RCI Insurance Limited, received 108 million in premiums in 2015 and paid out just 10 million euros in customer insurance claims. That is a margin of 90%. "That's completely out of the ordinary. In our industry even 20% is a lot," said the finance director of an insurance company to whom Mediapart showed the accounts.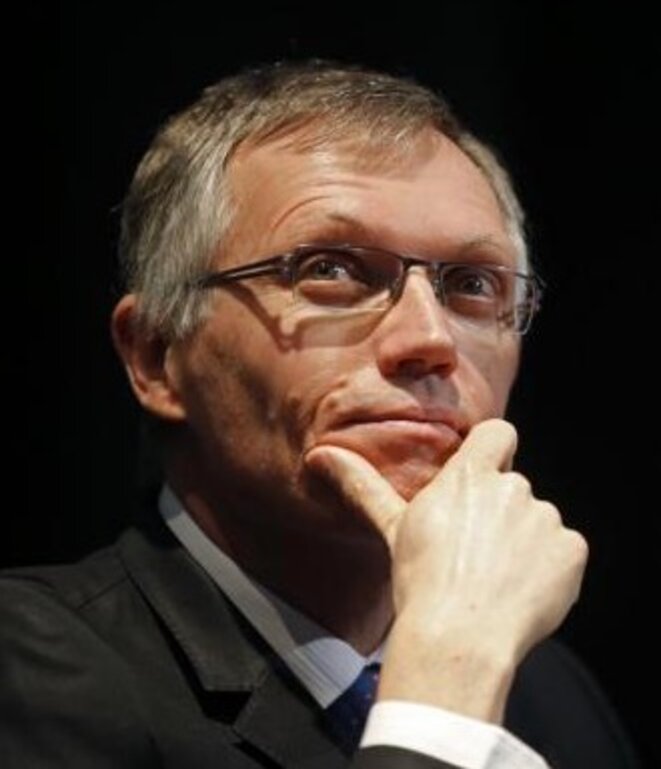 Carlos Tavares, Chairman of the Managing Board at PSA Peugeot Citroën. © Reuters
In the end Renault's two Maltese insurance companies, RCI Insurance and RCI Life, made a cumulated pre-tax profit of 86 million euros in 2015 with a total staff of only 17. RCI Insurance itself has just one employee. Renault, who refused to comment, seem to have employed just enough people in Malta to stop the insurance companies being regarded as bogus by the French tax authorities.
PSA Peugeot Citroën, who employ 31 people in Malta, say that their staff numbers there represent all the people who work in their insurance business. "There are no staff working on insurance activity in France or elsewhere in other countries than Malta (apart from sales functions). The relatively reduced number number of workers is linked to the fact that the range of products sold is quite simple (two)," said a spokesperson.
PSA also say that their Maltese operation has been "examined and approved by the European tax services of the different state members and has never been called into question". A spokesperson for Auchan's bank Oney said that their operations were "carried out with strict respect for the international conventions signed between the countries with whom this subsidiary works and the state of Malta".
However, all three French companies, Renault, PSA and Auchan, are thought to be deeply embarrassed that their tax set ups in Malta have been subjected to public scrutiny. No senior executives from any of the groups wanted to talk to Mediapart and the only response came in the form of emails. Their line of defence can perhaps be summarised this way: that they have done nothing illegal and therefore it would have been wrong not to have taken advantage of the rules.
--------------------------------------------------------------------------
The French version of this article can be found here.
English version by Michael Streeter
Si vous avez des informations à nous communiquer, vous pouvez nous contacter à l'adresse enquete@mediapart.fr. Si vous souhaitez adresser des documents en passant par une plateforme hautement sécurisée, vous pouvez vous connecter au site frenchleaks.fr.