It might as yet be nowhere close to the remarkable almost-1.5 million signatures that supported the petition led last year by feminist activist Caroline De Haas against the then socialist government's labour law reforms, but nevertheless the online petition launched just a few weeks ago by Thierry Paul Valette against a move to create an official 'First Lady' status for French president Emmanuel Macron's wife Brigitte has attracted a significant number of signatures (286,000 by Tuesday) and a loud buzz on social media.
Valette, who describes himself as a "militant artist and author, founder of the 'Movement for National Equality' to fight corruption and discrimination", and who, like De Hass, has a blog on Mediapart, has brought to the fore a problem that has for long haunted France's Fifth Republic, the constitution established in 1958 by General Charles de Gaulle.
It is a familiar phantom, one that is laughable and out of phase; the very words of the term "first lady" resonate as if we were transported back in time to the Arthurian legend of Guinevere and Lancelot or, more recently, the tales of the 19th-century writer, the Countess of Ségur. Why not give the husband of a "First Lady" the title of "Valiant Knight"?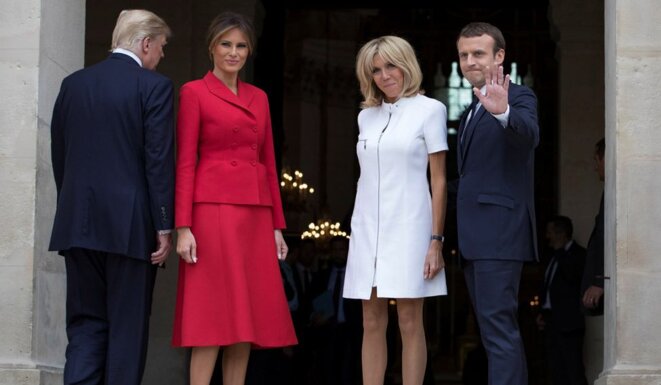 Left to right: US President Donald Trump and his wife Melania, Brigitte and Emmanuel Macron at the Invalides building in Paris, July 13th. © Reuters
But beyond this, the issue is in fact a very concrete one, highly political and also financial. The French president being who he is – in effect, an elected monarch – the role of his personal companion (or
her
personal companion if ever a woman was elected to the office) becomes fantastical and a potentially formidable one.
During his presidential election campaign, Emmanuel Macron spoke of how he intended to give the wife or partner of the head of state an official status, much in line with his pledges to create a new societal structure while following in the tracks of the old. Macron, argueing that until now the situation of France's "first ladies" had no legal framework and was therefore subject to improvisation, promised to put before parliament a bill of law to define the position – but which in fact does not exist. "Brigitte will have a role, she won't be hidden," he said of his wife in an interview with RTL radio on March 3rd this year.
It is the principle of giving his wife an official status that is now in question, and the arguments against it are solid ones. In the name of what can this person, who is an entirely private individual and not an elected figure, be listed with a public role in the state's organization chart? At a time when the French parliament is voting through legislation to ban MPs from employing, with public funds, members of their family, in the name of what can the president be granted the right to employ their spouse or companion?
In the introduction to Thierry Paul Valette's petition, he argues: "With such a status, the first lady will use her position as she sees fit, and it will recognise a legal existence that allows for a budget, an important role, numerous staff, drivers, increased security and other advantages… At a time when the state wants to make savings from the budget of the armed forces, and to moralize political life, a problem of national conscience is raised".
But until now, every previous French "first lady" has been given a budget for her activities, attributed according to the wishes of one person – their husband and president – and has disposed of staff, and an office – everything, in fact, that the supporters of Valette's petition are opposed to. It is as if this movement fears that everything that has happened until now will…continue to happen.
Another point is that Brigitte Macron has a staff of three, while Valérie Trierweiler, when she was president François Hollande's partner (until their separation after his parallel relation with actress Julie Guyet was exposed in the press) was given a staff of five during her position as "first lady" from May 2013 to January 2014. Carla Bruni, the singer-songwriter wife of Hollande's predecessor Nicolas Sarkozy, had a staff of eight, and a website devoted to her person which René Dosières, the former socialist MP who led a dogged campaign to bring government to account on its internal spending, estimated had cost the taxpayer 410,000 euros to create and maintain. Sarkozy's previous wife, Cécilia, who left him in October 2007, five months after his election, even disposed of a credit card account paid for by the presidential office.
So it is in this context that the issue of a status of "First Lady" is now raised (and virulently denounced on social media), at a time when the current incumbent appears inclined to reduce spending on her activities and also to wield less influence than her predecessors. While Cécilia Sarkozy (now Cécilia Attias) had considerable influence upon her husband's decision-making, and while Carla Bruni-Sarkozy infamously used a government cabinet meeting to promote her latest CD (offering each minister a copy which was touted by some before the press), and while also Valérie Trierweiler, during the 2012 legislative elections, very publicly Tweeted her support for rebel socialist candidate Olivier Falorni, standing in a constituency in south-west France against the party's official candidate (and Hollande's former partner) Ségolène Royal, Brigitte Macron cannot be accused of any such political interference.
The diverse, and occasionally inadmissible, attacks against Brigitte Macron target her person, despite being no doubt the most discreet and the least costly of any "first lady" before her. While the tone of the petition against her being granted a formal status is quite removed from the recurrent jibes about her clothes or her age, she has nevertheless aroused negative attention that is not based solely on the concern over public spending and the republic's prestige.
The unpopularity that Emmanuel Macron now appears to be sinking into plays a part in the concentrated attack on the potential role of his wife, and the text of the petition is witness to this when it underlines the "numerous modifications" of the status of sections of French society it regards as the real priority, citing "those of workers, those of abandoned lowly remunerated pensioners, students disadvantaged by the cuts in the APL [state aid for student rents], the migrant crisis etc".
However unjust this summer-season hounding of Mrs Macron might appear to be, the question of the status of a president's wife or husband is a symbolically sensitive affair. But with his project of providing a status, Macron approaches the subject by mixing up the issues. What is the legitimacy of giving someone from his family circle a public position?
Related articles
The solution for getting rid of this ambiguity is to come back to the very logic of the whole thing. The formal title of "First Lady" does not exist, and it is this inexistence that should be recognised and established by law. The living quarters within the Elysée Palace are sufficiently vast to allow the spouse of a president to set up an office there, and the presidential communications team is sufficiently competent to sift and reply to the correspondence addressed to the spouse. The solution, then, is to create no special status, no special administrative office and no special budget. With that, Brigitte Macron would be spared the attacks which, occasionally, are not just rock bottom but rather down in the gutter.
-------------------------
The French version of this article can be found here.
English version by Graham Tearse