'He hadn't even finished closing the door when he threw himself on me'
It was at this time, too, just after reports of the complaint against Besson that American actress Rose McGowan – who says Weinstein assaulted her – tweeted about the claims against the French director (see below). "I've been wondering how long this would take. We have heard about you, sir," wrote McGowan.
I've been wondering how long this would take. We have heard about you, sir. I stand with his accuser: Luc Besson Accused of Rape (Report) - The Hollywood Reporter https://t.co/pbkcB8lSDH

— rose mcgowan (@rosemcgowan) 20 mai 2018
Rose McGowan has subsequently told Mediapart: "Right after the Weinstein story came out, a French producer contacted me saying he wondered how long until Luc Besson was found out. Immediately I started hearing about Besson, but have no direct knowledge."
The American actress said that she did not herself talk with a woman complaining about the behaviour of Luc Besson.

The Italian actress and director
Asia Argento
, another woman who says she was sexually assaulted by Weinstein and who was one of the women behind the revelation of the scandal, was also contacted by Mediapart in relation to Luc Besson. "Just after the Harvey Weinstein scandal a woman wrote to me on twitter saying 'Luc Besson #Metoo," she said. "So I followed her on Twitter. And we started to speak of what had happened."
A few months later, and following her stinging indictment of Harvey Weinstein in a speech at Cannes, Asia Argento learnt in the press that the actress Sand Van Roy had made a formal complaint and gave her her private contact details. "She called me the next day and told her story," the Italian actress told Mediapart. "On that day a third woman wrote to me about Luc Besson via my agent, then we spoke." Argento said she did not know any of the women concerned but that she had a "tendency to trust" a victim of sexual abuse.
One of those women agreed to speak to Mediapart. She is an actress and lives in the United States. 'Mona', not her real name, described over the phone how she had known Luc Besson at the beginning of the 2000s – her agents organised a meeting with the celebrated director in Los Angeles. The first surprise for her was that the meeting took place in an hotel suite. During the course of Mediapart's investigation it became apparent that Luc Besson has for years used hotel rooms as a setting for professional meetings.
"Rather than having the meeting in the lobby, in the lounge as one often does, the meeting was in his room, which seemed a bit strange to me … with hindsight I realise the extent to which one was normalising some behaviour which is not normal … at the time we said 'Fine, fine, ok'," says the actress, who is now in her forties.
Mona says that at the time Luc Besson was "super charming", "nice", "very curious", "very respectful", "not at all threatening, quite the contrary". She went to Paris for a second meeting. At stake was a leading role in one of the films produced by Besson, for which she was among the favourites. She had a meeting in his office. "He hadn't even finished closing the door when he threw himself on me, to touch or kiss me," she told Mediapart.
She said: "He threw himself on me and I was against the wall so the only way to get out was to drop to the floor. And I remember that really very well because I dropped to the floor and went on all fours right up to the door so I could get up and run out."
In the end the actress did not get the hoped-for role. "It's a price I've had to pay more than once in my career," she said. "But for me the Luc Besson incident was by far the most traumatising." She has never had any further contact with the French producer.
Mona says that this incident left her "traumatised". She told Mediapart: "It took some time to speak about it." She said that it was only in 2012 that she spoke about it with the man who has since become her husband – a conversation he has confirmed to Mediapart. "I told myself that I had a certain culpability, as if it was me who had done something," Mona explained. She says she also changed her behaviour. "I became hardened to avoid any misunderstanding. For a long time I never wanted to show my sexuality or my body. I kept away from all roles that emphasised that, until I got over this trauma."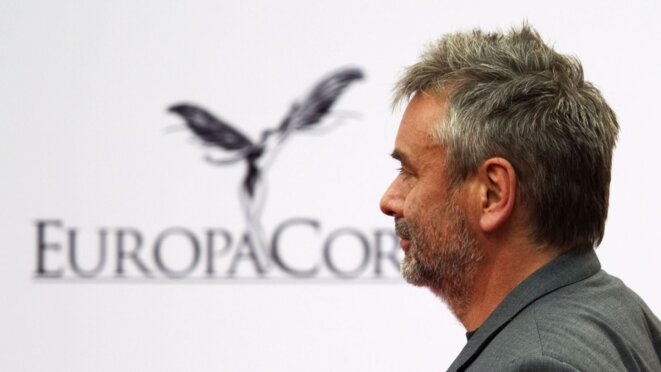 Boss of EuropaCorp: Luc Besson. © Reuters
The Weinstein affair also helped persuade someone who used to work with Luc Besson to speak out. This woman is not an actress, but worked with the French director and producer in casting between 2000 and 2005. When
The New York Times
and the
New Yorker
published damaging accounts about the American producer, Amandine wrote on Facebook to an ex-employee of Luc Besson. The message, sent among 20 or so others at 1.14pm on October 14th 2017, and seen by Mediapart, criticised the behaviour of the boss of EuropaCorp towards women and described what had happened to her.
Having seen these messages, Mediapart was able to find and meet Amandine, who has now retired from the industry. She agreed to tell her story on the condition that she could remain anonymous to protect her family. However, she used her real name when she wrote to the public prosecutor on Friday July 6th to "relate that of which I was both a witness and a victim".
As she pulled out some old work contracts stamped 'EuropaCorp' – the film production studios founded by Besson in 1999 - from a chest of drawers, Amandine told of the shock she felt when she learnt through the press of the first complaint made by Sand Van Roy. She immediately decided to support the actress. She told Mediapart: "I've nothing to gain in this saga but I swore I'd speak out the day a woman spoke out first."
Amandine wrote to the prosecutor: "It seems important for me today to express myself to you […] hoping that others will also do so and that Mr Luc Besson can no longer adopt such behaviour with anyone and in particular with the very young girls with whom he is in contact."
She told Mediapart the same story that she sent to prosecutors, who will now decide whether to speak to her in the context of the preliminary investigation they have opened after Sand Van Roy's formal complaint. It is a story of a working relationship which, according to this account, was very quickly tainted by a "very sexualised climate" and inappropriate actions that she considered to be "sexual aggression".
Amandine worked for Luc Besson for the first time in 2000, on the Jet Li film Kiss of the Dragon. According to her, the producer "quickly" became "oppressive". He would "come close to my back frequently when I was coaching actors and kissed me on the neck. Other times he forced me to sit on his knee. He established an ever-greater physical closeness which made me very ill at ease," she said in the letter to the prosecutor, seen by Mediapart.
She described how one day at a rehearsal "Luc Besson again slid up behind me and openly in front of everyone grabbed me by my breasts. I then violently pushed him back with my elbows."
At the end of 2000 Amandine was treated for depression. "I understood that I'd been the victim of permanent mental and sexual harassment," she said in her complaint. She stopped working for Luc Besson. Four years later she met him by chance in a luxurious Parisian hotel. He suggested that she come back to work for him and she agreed. "I put it out of my mind in order to pay my rent," she explained.
She was then hired by Dog Production, a subsidiary of EuropaCorp that specialised in producing commercials. Her job involved casting models. "Luc Besson gave me an enormous number of magazines, of cassettes of girls that he had filmed in his hotel room during his trips, books from all the model agencies... he put a Post-it note on the profiles of the girls that I or he had to meet."
Amandine claimed that, once again, she experienced the same atmosphere at work. "Luc Besson frequently asked me, in the presence of a technician, to give him fellatio, which I refused without fail. Once he accompanied this demand with putting pressure on my head, making the gesture of pushing it towards his penis. He took me on his knee quite often [...] Each time we took the lift together he forcibly kissed me, putting his tongue in my mouth, and although I pushed him back he'd take me in his arms and touch my breasts and bottom," she said.
Amandine also did some casting in the projection room in the basement of the former headquarters of EuropaCorp on the rue du Faubourg Saint-Honoré in Paris. In her formal complaint, she recalled one episode in 2004 that particularly marked her. "Luc Besson pressed me against the soundproof wall," she wrote. "I realised that no one could hear me if I ended up shouting. Luc Besson rubbed himself against me, touched my breasts and put his tongue in my mouth. To get out of that situation I told him that a model was waiting at reception."
"This behaviour affected me a lot," noted Amandine.