Mediapart has obtained access to secret notes belonging to a now-retired senior French intelligence officer which establish how for years the French secret services collaborated with suspected war criminals, military officers from the former Yugoslavia, while they were wanted by the International Criminal Tribunal for the Former Yugoslavia (ICTY) based in The Hague. Among them was Croatian General Ante Gotovina, finally captured in the Canary Islands in 2005, as revealed in this investigation by Jean-Arnault Dérens and Laurent Gesli.
-------------------------
This story begins amid the scores of notebooks belonging to General Philippe Rondot, a now-retired senior French secret service officer. They were seized by French judicial investigators during enquiries by investigating magistrates into a major corruption scandal that broke in 2004 and which became known as 'The Clearstream Affair'.
'Clearstream', which was anything but, centred on what later proved to be falsified records of cash payments for senior French politicians, including current French President Nicolas Sarkozy, into a Luxembourg-based clearing house called Clearstream. These were initially suspected as being kickback payments for the sale of six French frigates to Taiwan in 1991. The affair developed into a blatant political mud-slinging campaign, finally pitting Sarkozy against former French Prime Minister Dominique de Villepin.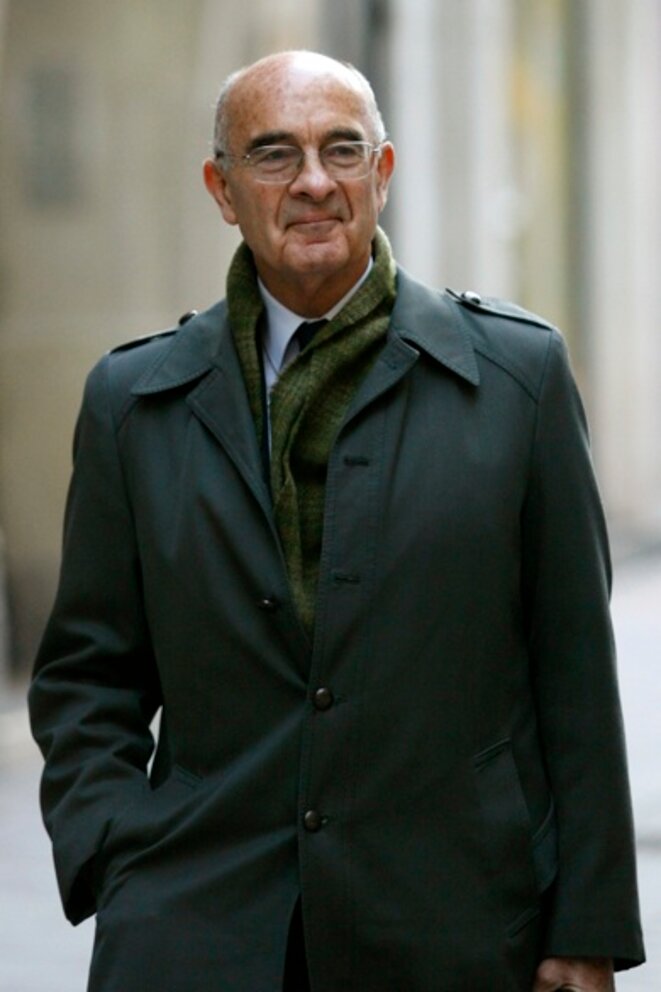 General Philppe Rondot. © Reuters
But amid the notes written by Rondot that were seized as evidence by the French judicial investigation into the Clearstream case was one, dated March 17th 2005, addressed to General Jean-Louis Georgelin, then personal chief of staff for defence to President Jacques Chirac, which Mediapart has gained access to and which openes up a quite different affair.
It was copied to the then-French Minister of Defence, Michèle Alliot-Marie (who was last month forced to resign as foreign minister). This document formally attests to the links between France's foreign intelligence services, the DGSE (Direction Générale de la Sécurité Extérieure) and Croatian independence war criminals on the run from the ICTY.
In his notes, General Rondot reveals in particular how the DGSE kept in touch with Croatian General Ante Gotovina between 2001 and 2005, when he went underground while he was indicted and sought by the ICTY.
On a wider scale, the general reveals how the French intelligence services kept a close watch on all war criminal dossiers. They only delivered information to international justice drip by drip, protecting collaborators and partners despite their indictments.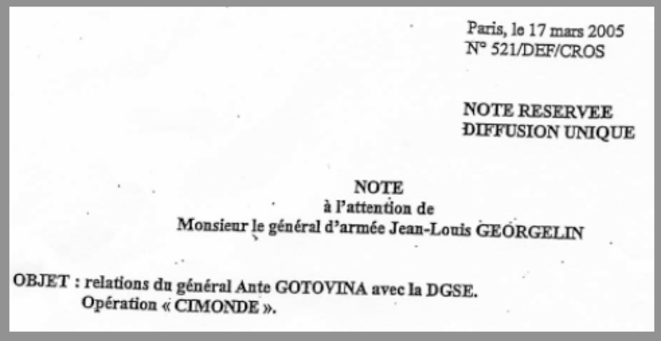 Note adressée le 17 mars 2005 au général Georgelin.
To see the memo in full (in French only): clikc here for page one, and here for page two.

As a consequence of such limited collaboration with the international justice system by countries such as France, General Mladić is still on the run, more than 15 years after his first indictment.
The ICTY-indicted war criminals are mentioned virtually every day in the Rondot notebooks: Mladić Karadzic, arrested in Belgrade in July 2008; Goran Hadžić (former President of the Serb Republic of Krajina, accused in 2004 of war crimes and crimes against humanity), also still on the run. They describe regular communication between defence minister Michèle Alliot-Marie, President Jacques Chirac, and directors of the French secret services.
Over a long period, the ICTY's priority was Ante Gotovina, a former member of the French Foreign Legion. He was finally arrested in the Canary Islands on December 7th, 2005. A few months earlier Rondot had noted, "Stop covering Gotovina". Before being abandoned by the DGSE, the man currently being tried at the Hague for 'violating the laws and customs of war and crimes against humanity' benefited from a long period of protection, which can be explained by numerous services he rendered to France.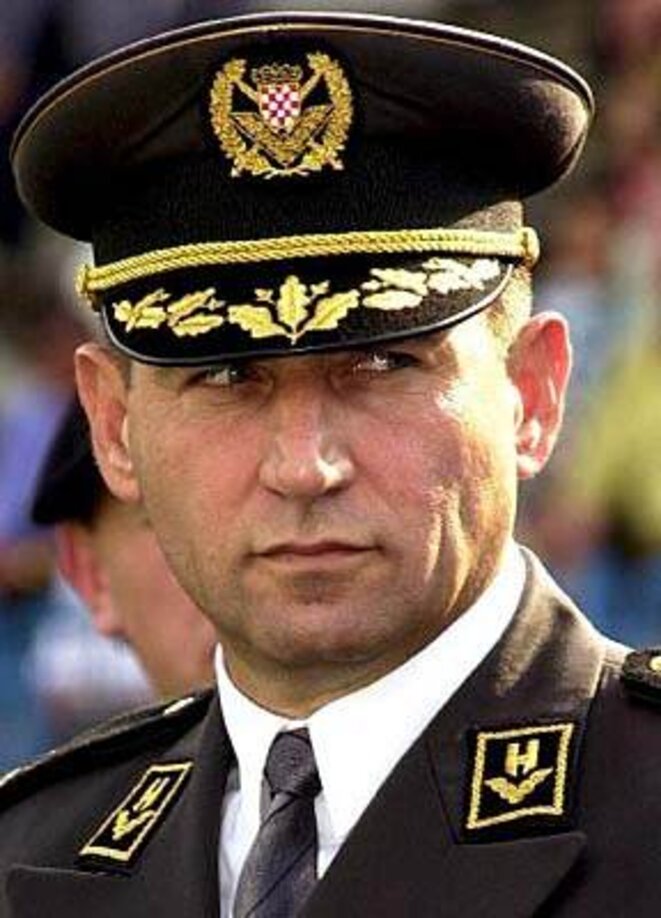 Ante Gotovina. © (dr)
Born in 1955, Ante Gotovina fled Tito's Yugoslavia and joined the French Foreign Legion on January 1st 1973 under the false identity of Ivan Grabvac. Posted to the 2nd Foreign Parachute Regiment (2ème Régiment Étranger de Parachutistes), in Calvi, Corsica, he made an important acquaintance, that of Dominique Erulin. The two of them served under Dominique's brother, Philippe Erulin, commandant of the 2nd Foreign Parachute Regiment. Their greatest feat of arms was to jump over Kolwesi (Zaire), in 1978, in order to repatriate Europeans under threat from rebel forces. Ante Gotovina left the Legion in 1978, with the rank of senior corporal, before gaining French nationality in April 1979.
After a period working for French private security companies, he became involved in various criminal activities before going to Croatia in June 1991 (for more details of this itinerary, click here). Then he shot up through the army hierarchy to attain the rank of Lieutenant-General in 1995, and command of the military district of Split. He participated in Operation Tempest (Oluja), the 'lightning war' that allowed the Croatian army to reconquer the territory briefly occupied by the secessionists of the Republic of Serbian Krajinain.
This operation was in fact prepared in collaboration with Western military intelligence services, notably those of France and the U.S. In the March 17 accessed by Mediapart , Rondot writes, "This is how, in August 1995, a member of staff [of the DGSE] followed the unfolding of Operation Oluja and its reconquest of Krajina by the Croatian army. It is for deeds dating back to this period that General Ante Gotovina is today accused by the ICTY."
Indeed, beginning in the autumn of 1992, as the General affirms, "the Service initiated [a mission of] clandestine help for the Croatian special forces: personnel training and non-lethal weapons provision." These "non-lethal weapons" are said to have been military telecommunications equipment. This is an explicit recognition of the sale by French Intelligence of equipment to the Croatian forces, in flagrant violation of the United Nations embargo.
The Olujua operation was sealed by the exodus of the region's Serb population, abandoned by its leaders and Belgrade. Between 200,000 and 250,000 refugees took to the road to reach Serbia. A number of Croatian army units have been recorded to have been involved in looting and massacres.
Gotovina's arraignment specifies that he is suspected of persecution with political, racial and religious motives, of the forced displacement of a population, and the destruction of towns and villages. He was accused of the murders committed under his authority of at least 150 Serbian civilians from Krajina, and of looting and destroying Serbian homes and other buildings, with the apparent aim of preventing any return of Serbian inhabitants to this region.
After the war, Ante Gotovina was promoted to the role of Inspector General of the Croatian Army, of which he became one of the strongmen. It was only after the death of the ultra-nationalist president Franjo Tujman, on December 9th 1999, that events took a different turn. Croatia, inclined towards European integration, chose to cooperate with the Netherlands-based ICTY, sited in The Hague. Ante Gotovina and six other generals were immediately retired. The Croatian weekly Nacional wrote that Ante Gotovina then attempted to hatch a military coup, whilst selling arms to the terrorist movements of the Irish republican army IRA, and Spanish Basque separatists ETA.
The ICTY prosecutor's office opened an inquiry into Ante Gotovina. In spring 2001, the imminent publication of his official indictment was announced. And yet, on April 11th 2001, Ante Gotovina presented himself at the French embassy of Zagreb and was immediately granted the renewal of his French passport, a precious talisman for the fugitive he was about to become. His indictment ended up being communicated to the Croatian authorities on June 8th 2001, and made public by them on July 26th. By this time, the General had wasted no time fleeing Croatia and going into hiding.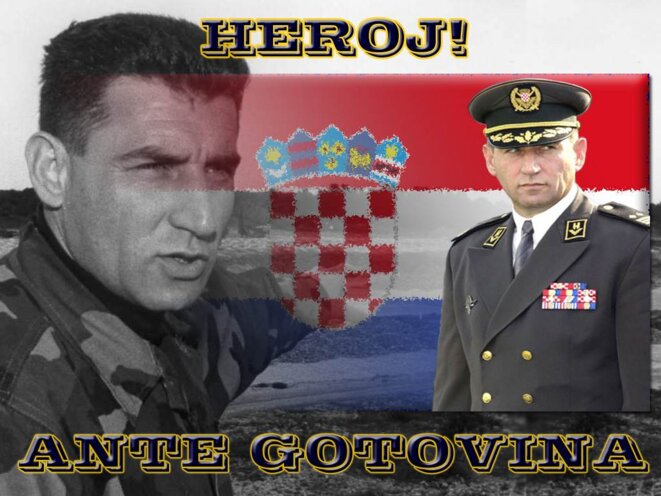 «Héros» Gotovina: affiche des ultranationalistes croates. © (dr)
The Gotovina case became a matter of major concern to western diplomats in early 2003. The United States offered a reward of 5 million dollars for his capture, and pressure piled up on Zagreb. In February 2003, according to newspaper Le Monde, France's counterintelligence agency, the DST (Direction de la surveillance du territoire), had been informed by the Croatian services of Gotovina's presence in the vicinity of Calvi, Corsica. There was, however, no attempt to arrest the fugitive.
France's role is mentioned in well-informed circles to explain the ease of his escape. In a diplomatic telegram dated April 18th 2003, addressed to its Zagreb embassy and copied to all police authorities, the French foreign ministry acknowledged the error, "committed in good faith", they had committed by delivering a new passport to Ante Gotovina. The telegram also specifies that, "to the best of the knowledge of the French authorities, Gotovina does not reside in France".
In early April 2003, General Rondot wrote in his notebooks, "see Ante Roso", referring to a meeting in Dubrovnik on April 16th, 12.30 p.m., at the Orhan restaurant, adding, "Say to Ante Roso that AG must stay where he is". This note explicitly indicates that General Rondot was in contact with Ante Gotovina via an intermediary, another equally notorious character, General Ante Roso, who he had known since the beginning of the 1990s.
In the March 17th 2005 note, Rondot says, "I went to Croatia and Bosnia several times, liaising with General Ante Roso [Editor's note: a former legionnaire and chief of special forces at the time], to check on how our actions were advancing, and this up until my departure from the Ministry of Defence in 1993".
During the war, Ante Roso, also a former legionaire, had been head of the Croatian army special units, the Specijalne Jedinice HV. In reality, these units worked outside the army's chain of command, under the direct orders of the Croatian Minister of Defence, Gojko Šušak. They committed atrocities in the regions controlled by Serbian forces. The name Ante Roso is also cited in affairs concerning the sales of French counterintelligence arms by the DST, where he acted as a local go-between in collaboration with Jacques Monsieur, who supplied Zagreb with tens of millions of dollars worth of equipment from China and Iran.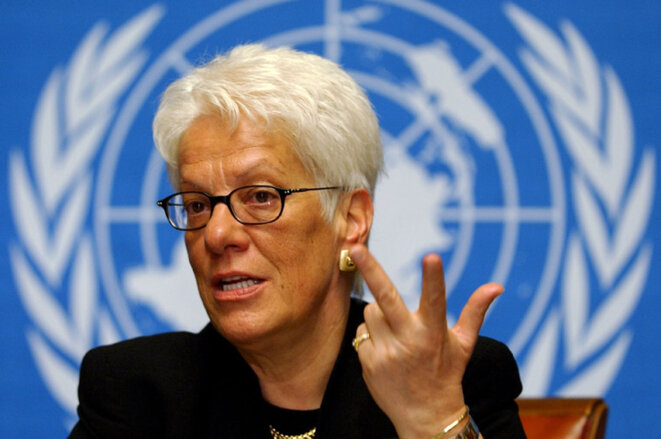 La procureure Carla del Ponte. © (dr)
In the spring of 2003, General Rondot mentions the conditions of the eventual surrender of Ante Gotovina, suggesting it might be an idea to discuss it with Carla Del Ponte, the ICTY prosecutor. He even adds that Gotovina could negotiate his freedom in exchange for "K and M" - meaning Radovan Karadžić and Ratko Mladić. This mention raises a serious question: who, according to Rondot, was in a position to provide the ICTY with information on the two incriminated Serbs? Ante Gotovina, or the French secret services?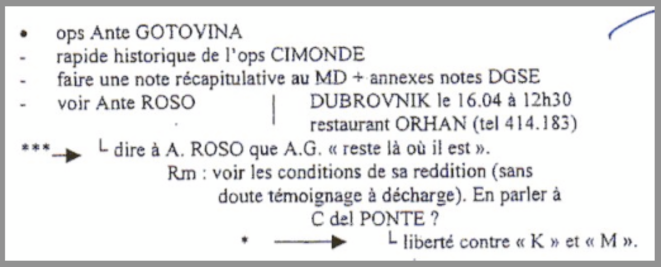 Extrait des carnets Rondot.
Throughout this period, France indeed held special negotiations with Belgrade concerning the capture or surrender of the two fugitives. On January 31st, General Rondot refers to negotiations with the Serb Prime Minister Vohislav Koštunica and the Minister of the Interior, Dušan Mihailović, adding this disenchanted comment: "DGSE ineffective".
Later, on December 17th, "K and M" were apparently willing to surrender, and General Rondot considered making a trip to Belgrade in order to meet up with KOS, the Serbian military counterespionage service. On July 21st 2004, General Rondot recalls the fact that the arrest of the both fugitives is a "priority" for the President of the Republic, but considers any intervention from the DGCSE would be the "wrong approach". This type of comment appears almost once a month, but the Gotovina dossier always remained the main priority.
On October 8th 2004, in a note summarising the situation, first cited in French daily Le Monde, the DST had tracked down General Gotovina, no longer in Corsica, but in the South-East of France this time. He "apparently has chosen to settle in south-eastern France, because of a network of contacts he had woven as a legionaire, in the far-right and criminal circles entrenched in the region [...] He apparently benefits from enough protection from local Mafia, and indeed leading local figures, to be able to live without having to bury himself, and is apparently in a position to move abroad without any particular difficulty." Once again, no French police service was officially ordered to seek out the fugitive.
On December 6th 2004, General Rondot noted in the minutes of a meeting with Philippe Marland, director of Michèle Alliot-Marie's cabinet, that "Gotovina is not in France." He adds that he might be in "Catholic Croatia". This information, widely circulated by the Croatian press, was said to be from Britain's M15. Carla Del Ponte publicly accused the Catholic church of hiding the fugitive after meeting Cardinal Giovanni Lajolo, the Vatican's Secretary of State, who refused to divulge any information. This hypothesis has never been confirmed.
From the beginning of 2005, the hunt for Ante Gotovina picked up speed. On February 17th 2005, one of Rondot's notes, referring to "Operation war criminals G," says that a "process has been set in motion". On March 1st, he notes, "operation G is coming along," specifying that "G had better not move until the 17/03" It was at that date that negotiations for Croatia's accession to the European Union were due to open. They were delayed precisely because of the lack of cooperation by Zagreb with the ICTY, and the non-arrest of Ante Gotovina.
On that same March 1st, according to his notebooks, General Rondot mentioned in a meeting with Philippe Marland that he planned to go to Zagreb in order to meet "Mme G", very probably Dunja Gotovina, the fugitive's wife. Also brought up in this meeting were recent declarations of Carla Del Ponte, who was threatening to reveal information on "NATO's incompetence". The general calmly added, "nothing to reproach the French for on that front."
At that point, France was in a very delicate position regarding the ICTY. General Rondot speaks of the need to speak to the French president's personal defence chief of staff, General Georgelin, noting that Jacques Chirac "has no desire to put France in a difficult position with respect to the ICTY."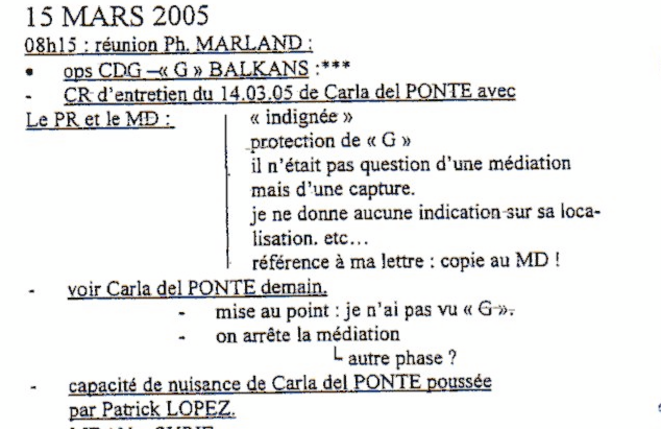 Extrait des carmets Rondot.
On March 14th 2005, Carla Del Ponte arrived in Paris for a turbulent meeting with President Chirac and his defence minister Michèle Alliot-Marie. According to Rondot's notes, the prosecutor was "outraged". She spoke of "France's protection of G" and said that there had never been any question of "mediation, but of capture". In turn, Rondot was to meet Del Ponte on March 16th. Shrewdly, he prepared for the interview with a 'note to self' found in his notebooks: "I haven't seen G. I give no indication of his whereabouts. We end the mediation."
Rondot's pussy-footing was, however about to end. According to General Georgelin, the French president left his meeting with Carla Del Ponte somewhat rattled, giving the clear order, "General Ante Gotovina must be captured."

Extrait de la note adressée au général Georgelin.
Three days after the meeting between Chirac and Carla Del Ponte, on March 17th, Rondot notes this new strategy, while underlining the consequences that France could suffer as a result. In the summary memo he then addressed to Jean-Louis Georgelin, he looks back on 15 years of Paris's engagement with the Croatian forces and remarks that the "overall outcome of this operation is very positive".
He therefore advised that "for these reasons - which are naturally unknown to the ICTY prosecutor, and are covered by the 'defence secrecy' protecting DGSE operations and personnel [...] the 'Gotovina case' needs to be handled in a very special way."
However, General Rondot remained confident: "General Ante Gotovina had let me know, through General Ante Roso [...], that he would never reveal the links that might have existed between him and us during the war."
Nevertheless, he adds, "There very probably remain traces left by the action of the DGSE, in view of the scale of our operations and the substantial number of staff we employed on the side of the Croats in those particular circumstances. I think, like the DGSE, that this French support could become revealed by a thorough investigation."
On March 22nd, a crisis meeting was held in the home of Philippe Marland. Rondot notes that "the Minister of Defence has got the message" - this probably means that Michèle Alliot-Marie had fully understood the new presidential stance, as well as the dangers that the capture of Gotovina could represent for France. Rondot continues: "There is no question of our playing the goat", meaning acting as bate to lure Gotovina into a trap. He remarks that, "the ball is in A.G.'s court. We'll see what we do if he shows up. Warn Daniel." The latter, frequently mentioned by Rondot, was a DGSE agent operating in the Balkans.
On April 4th 2005, tension was mounting. Michèle Alliot-Marie was reprimanded over the phone by Carla Del Ponte. The prosecutor specified to the Minister of the Defence that she is "only interested in Gotovina." Two days later, on April 6th, a meeting at the minister's in the presence of Philippe Marland, offered an opportunity to take stock.
Rondot announces his refusal to "capture Gotovina by ruse." Michèle Alliot-Marie approves. Those present at the meeting envisage two outcomes: "Gotovina speaks" (if arrested), or else "Gotovina is killed, and fingers will be pointed at France." The General explains "the consequences for the DGSE if Gotovina is captured," recommending that "elements of language" be prepared.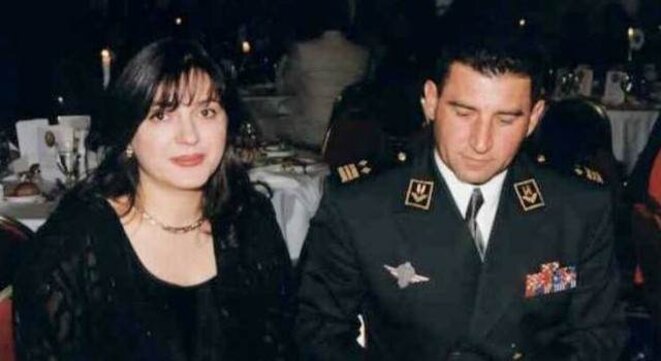 Gotovina et son épouse Dunja, collaboratrice du ministre de la défense croate. © (dr)
The meeting concluded with the decision that Michèle Alliot-Marie was to call Carla Del Ponte, to announce to her that General Rondot "won't be handling war criminal operations with her anymore."
In effect, France was saying that it would stop carrying out operations on its own, concentrating resources on the 'Able Archer' task-force, an operation shared by several NATO countries. However, the general then went on in the memo to outline the new "framework": military intelligence was to collaborate with Able Archer, but the DGSE would still continue its " clandestine operations".
One month later, another meeting at Philippe Marland's led to a more radical conclusion: "No longer cover G", that is to say, no longer grant him any kind of protection. Ante Gotovina was arrested eight months later, on December 7th 2005, in a restaurant on Tenerife in the Canary Islands.
A few days before the arrest, the Croatian police had intercepted a call from the fugitive on one of his wife's 18 phones. Carla Del Ponte writes in her memoires that Dunja Zloic had failed to change her mobile phone's SIM card after receiving a call from her husband, a "slip" that could indicate she was "acting like a neglected housewife." Ante Gotovina was indeed arrested "in the company of a very beautiful woman"
The joint trial of Ante Gotovina and the two other Croatian generals, Ivan Čermak and Mladen Markac, commenced on March 11th 2008. Indictments and pleas were delivered between August 30th and September 1st 2010. The sentence is pending. But the protection that France granted General Gotovina has never been mentioned in court.
-------------------------
English version: Chloé Baker
(Edited by Graham Tearse)
Si vous avez des informations à nous communiquer, vous pouvez nous contacter à l'adresse enquete@mediapart.fr. Si vous souhaitez adresser des documents en passant par une plateforme hautement sécurisée, vous pouvez vous connecter au site frenchleaks.fr.