The differences between the French president and his prime minister began notably surfacing as of last summer. This has been in part a tactic with which to manage a left-wing parliamentary majority that has been thrown off balance and split by moves like the government's tax breaks-for-jobs deal with business, the Responsibility Pact, and its recent retreat over a planned bill of law on family issues (including making divorce procedures easier and handing greater rights to step-parents) in face of stern opposition by the traditionalist, mostly right-wing and Catholic, lobby. It is also partly down to amateurism, particularly in the management of their public communications.
But importantly there are also differences in each man's political judgement, both on method and on substance. According to several sources close to them, Ayrault is irritated by Hollande's solitary, tactical and sometimes unpredictable way of operating.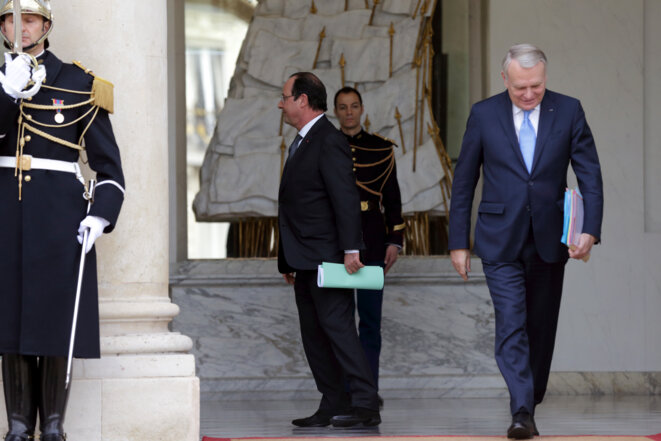 François Hollande et Jean-Marc Ayrault début janvier à l'Elysée © Reuters
Some socialists describe Ayrault as more of a social democrat than Hollande. Ayrault has for some time been happy with this perception, while Hollande had sidestepped the label, preferring to call himself a socialist - until his press conference on January 14th when, during his policy speech, he happily adopted the term of social democrat.
Ayrault, says a Member of Parliament (MP) close to him who did not want to be named, is "less social-liberal" than Hollande. The prime minister's office, called the Hôtel Matignon after the building in which it is housed, has more frequently stressed the obligations placed on business in the Responsibility Pact than has the presidency. Ayrault, 64, formerly mayor of the shipbuilding and port city of Nantes, in north-west France, is said to be more inclined than Hollande, 59, to push ahead with social reforms.
While these are more issues of emphasis, unlike the stormy debates the two have with the Left of the Socialist Party, the differences of opinion between the two men appear to be growing over time and can be traced back to their respective reasons for entering politics.
When Ayrault joined the Socialist Party in 1971, he initially identified with a left-wing faction led by ex-Communist Jean Poperen. Hollande, however, only joined the party in 1979, just two years before François Mitterrand was elected as the first French socialist president. After a fruitful early career in government he co-founded a movement called the Transcourants, or trans-factional movement, with other moderates.
Their careers have been very different, with Ayrault running a large urban area while Hollande presided the regional council in rural Corrèze in central France. And their current positions expose them to different pressures, with the prime minister running the gauntlet in his own majority, while the president is somewhat removed from the fray within the grand presidential offices of the Élysée Palace.
Their increasing distance was at its most public when Ayrault promised a "deep reform" of the convoluted French tax system last November. Ayrault had managed to extract presidential permission for his announcement – Hollande apparently decided to let him go ahead after a discussion between the two men, yet rumours of a government reshuffle were allowed to circulate unhindered during the days before. Some of his team, who asked for their names to be withheld, have since said that at the time they thought they would be packing up to leave Matignon at any time, and that interior minister Manuel Valls, widely tipped as a potential PM, had begun to assemble his own team.
Several of Ayrault's closest aides, who requested anonymity, said that during this period the prime minister was furious that the executive would cave in to mobilisation and pressures from various quarters. For example, it was the president's office that decided last November to postpone implementation of the planned eco-tax when the protest movement in Brittany reached its height, while Matignon tried to hold firm.
Back in the autumn, Ayrault envisaged a big shake-up at the finance ministry to clear the way for his tax reform, but he ultimately only succeeded in lining up replacements for two key figures, Budget director Julien Dubertret and Treasury director Ramon Fernandez (who was previously viewed as an ally of Nicolas Sarkozy, the former president and finance minister, but has since become close to the current economy minister, Pierre Moscovici). Now, three months on, while Dubertret was replaced in late November, Fernandez is still in his job - and there is no certainty that the tax reform will be carried out.
As for the volte-face on the family bill, what appeared to be a joint decision in fact carried Hollande's imprint. The move was decided after Ayrault and Holland lunched together on February 3rd, and Ayrault was the one who gave the news to Secretary of State for Family Affairs Dominique Bertinotti.
But one of the president's advisors, who did not want to be named, made it known that "the president's wish is to concentrate efforts, symbolically and politically, solely on the battle for jobs". Under pressure from front-page headlines and his own majority the following day, the president then telephoned Bertinotti and met with her at length the following Saturday.
Since that episode something has changed both at Matignon and the Élysée. Hollande's aides say the president has no desire to address social issues, never supported medically-assisted procreation – one of the most controversial aspects of the family bill – and that in any case, these are not the issues that will get him re-elected in 2017.
"The President of the Republic is there to bring people together, and he does not want false debates that will add to tensions in an already tense society, especially not when a major new labour compromise is being sought," said one of his aides. "It's hard to carry out reforms of society in France." Hollande, the aide said, is also aiming to move forward on another of his campaign promises with a bill on 'end-of-life care', which addresses the issue of euthanasia.