The continuing avalanche of shocking allegations of rape, sexual assault and harassment levelled at Hollywood producer Harvey Weinstein and numerous other well-known figures in various professional spheres has prompted a wide debate in France, as elsewhere, about how to tackle violence and sexist behaviour towards women which permeates all social levels.
French President Emmanuel Macron last month announced his government is preparing new legislation to more effectively combat the problem, in a speech in which he described a society that was "sick with sexism". The new measures, to be presented in a bill of law next year, include changes to the statute of limitations concerning sex crimes, facilitating the procedures to report rape and assault, and a move to make unsolicited lecherous behaviour in a public place, from catcalls to insistent sexual advances, a legal offence.
The publication last week of a study by the French national institute of demographic studies, INED, provided a timely insight into the issue. While its approach was to gather the experiences of violence suffered by both men and women, the very different results highlight the extent of acts of sexual violence and harassment against women, and notably that perpetrated in public spaces where its findings highlighted the potential problems of making unsolicited advances a legal offence.
It found that victims of violence in public spaces were above all young women living in cities and large towns, and that more than one out of every five women questioned complained of being subjected to either sexual violence or harassment of a sexual nature (such as insistent propositioning or cat calls) in public.
In the first project of its kind by INED since the year 2000, the study questioned 27,000 women and men aged between 20 and 69 living in mainland France, a group INED considers representative of the wider population, about their experiences of violence over the preceding 12 months in several types of environment; within their family, within their relationship as a couple – past or present – , at the workplace, during their educational activities, and in public spaces.
The survey was carried out during 2015 and the information gathered is presented and analysed in a report entitled Virage (for "Violences et rapports du genre" – violence and gender relations) which was published on December 7th.
It clearly emerges from the study that women are significantly more prone to violence of one type or another in public spaces (such as in the street or public transport) than men, with 25% of female respondents complaining of suffering at least one act of aggression over the previous year, compared to 14% among male interviewees.
The type of incidents of aggressive or violent behaviour reported by respondents differs according to the gender of the victim. Among women, the most frequent incident they cited was that of pestering propositioning or being subject to catcalls (20%). The next most common experiences for women were receiving insults (8%), being followed (3%), being the victim of unwanted physical contact – including body rubbing, touching of the bosom, the buttocks, or forced lip contact – (2%), while 1% complained of being the victim of exhibitionism or voyeurism, and another 1% of being subjected to a person's recurrent and insistent lewd propositioning.
Less than 0.1% of women questioned said they had been victims of rape in a public space.
"When a woman is the victim of several incidents, most of the time they report that these involved different perpetrators," the study notes. "The cases of repeated incidents carried out by the same perpetrator in a public space are exceptional."
Among the men interviewed, the most common complaint of aggression in public areas was that of receiving insults (8%), followed by physical violence (4.1%), and by being whistled after (3%). The study concluded that the comparatively high proportion of experiences of physical violence, which includes fights, is explained by the social behavioural role given to males, who "would be thus more inclined to enter into physical confrontation or expected to have recourse to it".
According to the responses, most sexual aggression occurs in public spaces. The most frequent environment in which respondents said they had been victim of rape was within the family.
INED researcher and co-author of the study Amandine Lebugle said that in order "to measure more exactly what women and men had experienced" the survey used descriptions of violence that were often more detailed than the strict legal terms used to describe a crime.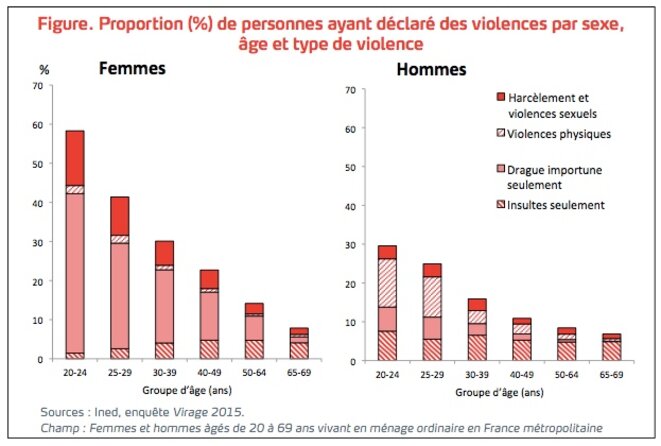 Above: this table from the study shows, by age group (bottom line) and gender (women left, men right), four broad types of violence and aggression which respondents to the 2015 census said they had experienced over the previous 12 months. Sexual violence and harassment is indicated in red, physical violence in pink stripes, unsolicited advances in pink, and insults in red stripes. © Ined
This resulted in the study establishing several categories of experiences; there are those who said the violent incidents they had been subjected to were limited to insults, and others who complained only of unwanted attention (being propositioned or whistled after) which they considered of little or no serious consequence. Beyond these are respondents who described their experiences as serious aggression, in the form of gratuitous violence, or – and most often concerning women victims – sexual assault or harassment, often occurring in the context of exhibitionism, being followed, and propositioning. The remaining category concerned those – and again mostly women – who described experiencing particularly grave incidents of sexual assault.
"There is therefore a strong overlap of incidents considered by some people as insignificant – such as being whistled after, propositioned or being subject to insistent sexual suggestion – with more serious acts, which can be legally defined as criminal, such as having been petted, forcibly kissed, or also being victim of the fondling of genitals, rape or attempted rape," the study observed.
"Not every propositioning under the pretence of chatting up leads to sexual violence, but every victim of rape has suffered from insistent propositioning despite their refusal, or has been followed or whistled at and so on," commented Amandine Lebugle.
The study highlights the mostly sexist or sexual nature of violence against women in public areas like the street or public transport. If the results of the census of the 27,000 people interviewed were to be transposed to the same age group among the entire French population, the percentage of women who complained of experiencing lecherous advances (and mostly from men) over the period of a year would represent a total of more than three million. The results would also suggest that another one million women each year suffer sexual assault or harassment in public spaces. Combined, these two extrapolated figures represent every one woman in five in France.
According to the study, women victims of sexual violence are mostly young and live in large urban areas. While the average of all women questioned in the survey complained of having been subjected to violence of a sexual or sexist nature over the previous 12 months was 25%, that figure jumps to 58% among women aged between 20 and 24, and rises to 68% among women aged 20-24 living in Paris and the Greater Paris region. The significantly higher rates of violence against women in urban areas, and notably in and around the French capital, was also mirrored, but to a lesser degree, in the incidents of violence reported by men.
"It is not so much [because of] the density of the population than the fact that people use public spaces a lot, notably transport," argued Amandine Lebugle. Another INED researcher, Elizabeth Brown, suggested that anonymity was another factor. "In small towns and in villages the phenomenon of knowing one another can create a sort of social control," she said.
French President Emmanuel Macron announced the new measures to more effectively combat violence and sexual harassment against women in a speech on the occasion of the International Day for the Elimination of Violence Against Women on November 25th, when he said unsolicited propositioning in public spaces would be made a legal offence, to be termed as an outrage sexiste (roughly translated, a "sexist affront"). The proposed new offence, which Macron said would be "immediately punishable" by police with a fine of a "dissuasive amount", will be proposed in a bill of law dealing with sexist and sexual violence to be presented to parliament next year by gender equality junior minister Marlène Schiappa and justice minister Nicole Belloubet.
For Elizabeth Brown, booking the perpetrator "appears very complicated all the same, because I can't see how one would go about proving that one was harassed, and the persons who have been subject to whistling or propositioning under the pretext of chatting up consider, for most of them, that it's not so serious".
Meanwhile, the INED study observes that, compared to the last such survey carried out in 2000, "public mobilization has contributed a collective recognition of the intolerable nature of these acts, leading women to report and denounce them more often".
-------------------------
The French version of this article can be found here.
English version by Graham Tearse