International Monetary Fund (IMF) managing director Christine Lagarde is to be tried by France's Court of Justice of the Republic on the charge of "negligence by a person in position of public authority" over her role, as French finance minister, in the awarding of more than 400 million euros of public funds to French tycoon Bernard Tapie in 2008, Mediapart has learned.
The charge carries a maximum sentence of one year in prison and a fine of 15,000 euros.
The move comes just three months after senior French public prosecutor Jean-Claude Marin in September recommended charges should not be brought against the IMF chief. Lagarde, 59, succeeded Dominique Strauss-Kahn as head of the IMF in 2011 after he was forced to stand down over a sex scandal.
After news of the story broke, Lagarde issued a statement in which she said she would be appealing to France's top appeal court, the Cour de Cassation, in the light of the "difficult to understand" decision to send her for trial.
The statement issued on behalf of the former minister said that she had "always acted in this affair in the interests of the state and with respect for the law. She considers, like the prosecution authorities at the Cour de Cassation, that there is no evidence that can be imputed to her". The statement said Lagarde would be informing the IMF board of directors "about this latest development in the case". Lagarde's lawyer Yves Repiquet told French TV channel iTele that the decsion to make her stand trial was "incomprehensible". IMF spokesman Gerry Rice said the organisation "continues to express its confidence in the managing director's ability to effectively carry out her duties". He added: "The Board will continue to be briefed on this matter."
Lagarde also received some backing from the French governement. "She's innocent until proven guilty, so I don't see how this should prevent her from carrying out her current duties," finance minister Michel Sapin told reporters while in New York.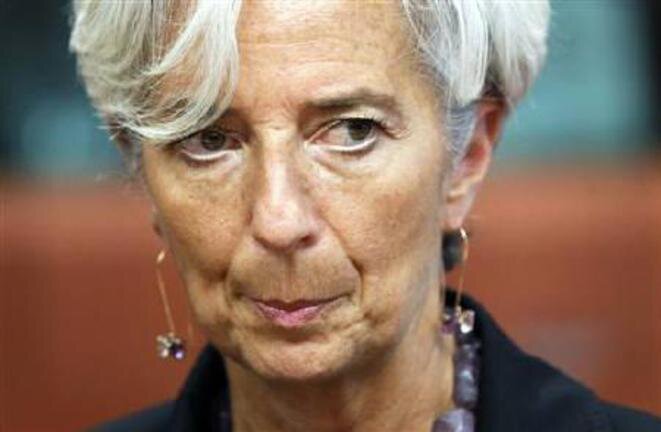 Facing trial: IMF chief Christine Lagarde. © Reuters
The Court of Justice of the Republic (CJR) is a special court designated to investigate suspected malpractice by government members in the course of their duties, and to also judge them if charges are brought. The verdict in Lagarde's trial will be decided by a judging committee made up mostly of French Members of Parliament.
The decision by a CJR panel of three magistrates to send Lagarde for trial, rejecting Marin's recommendation, follows a more than four-year probe by the court's investigating commission, which also revealed conflicts of interest among members of the arbitration panel.
The commission finally placed her under investigation in August 2014 (a French legal status that is one step short of being charged), along with five others including Tapie and the CEO of French telecommunications giant Orange, Stéphane Richard, who served as Lagarde's chief of staff when she was finance minister.
There is no suggestion that Lagarde benefited personally from any decision she made, and she has always denied any wrongdoing.
Tapie, 72, was ordered by the Paris appeals court on December 3rd to pay back to the French state the 404 million euros awarded to him by a panel of private arbitrators seven years ago. That award ended a longstanding legal battle until then played out in courts of law. The case centred on Tapie's alleged spoliation by the former state-owned bank Crédit Lyonnais during its mandated sell-off of Tapie's business interests, notably his controlling share of the Adidas sportswear and accessory company, in the early 1990s.
The appeals court ruling on December 3rd found that Tapie had not been defrauded by the Crédit Lyonnais.
The lengthy legal battle that opposed Tapie and the French state - in the form of the public agency responsible for managing the liabilities of the now-defunct Crédit Lyonnais, the Consortium de Réalisation (CDR) – began more than 20 years ago, after the Crédit Lyonnais collapsed following a high-risk lending scandal in 1993.
Shortly after the election of Nicolas Sarkozy as president in 2007, his first finance minister, Jean-Louis Borloo, a close friend of Tapie for whom he once served as a lawyer, took the decision of removing the ongoing case from the courts and placed it into private arbitration, a move that gave Tapie a significantly greater chance of winning a payout.
One month later, in June 2007, Borloo, a close friend and former lawyer of Tapie's, was moved to another ministry and replaced by Lagarde who pursued Borloo's controversial decision, one made all the more questionable because Tapie, a flamboyant tycoon and former centre-left politician, was also a friend of Sarkozy's, and gave public support to the latter's 2007 election campaign.
In September 2007 Lagarde gave written instructions to senior civil servants to start the arbitration process. In July 2008 she signed instructions ordering the same civil servants not to appeal against the 404 million-euro award given by the arbitration process, and which included 40 million euros in damages.
In her several statements given to the investigating magistrates of the CJR since she was first questioned by them in early 2013, Lagarde has defended her role by suggesting her then-chief of staff, Stéphane Richard, now Orange CEO, was responsible for the principal decisions made regarding the arbitration process, while she has also claimed she was not kept fully informed.