For a long while, Nicolas Sarkozy believed that his return to politics, two years after losing office in 2012, and explaining that he was a changed man, was all that was needed to erase unfavourable memories of his term as president and his electoral defeat at the hands of François Hollande.
"He hasn't been able to recreate an élan," commented one of his former close advisors, speaking on condition that his name was withheld, as is the case of most others cited in this article. "It's now too late. The detestation he produces is far too important for him to be able to fight it."
It has been a hard landing for Sarkozy, and he has panicked as a result. One year after his election as head of the conservative UMP party, tainted by scandal and which he has since succeeded in renaming Les Républicains (LR), none of the objectives fixed by the former president have been met. He had wanted to swell the party's membership to 500,000, whereas between September 2014 and September 2015 it has in fact decreased from 181,000 à 178,920.
© Reuters
He had wanted to bring back into line all those among his former allies in the party who had left the fold but, as symbolised by his ex-minister Nadine Morano, more and more now in fact distance themselves from their one-time mentor.
Sarkozy saw himself as the buttress against the increasing electoral gains made by the far-right Front National (FN) party, but in reality he has appeared to be running behind the agenda set by FN leader Marine Le Pen.
Finally, he had clearly hoped that his party would serve as a shield against the various judicial investigations into corruption in which he is implicated, but he remains stuck in the scandals.
The result is an opposition party that has hardly evolved under the past 12 months of his leadership. If anything, it has weakened. "The party no longer attracts because he [Sarkozy] is the showcase and he no longer attracts," said one LR Member of Parliament who supports conservative veteran heavyweight Alain Juppé in the race to become the party's presidential candidate.
The party's principal spokespeople, Lydia Guirous and Sébastien Huygue, put on a show of unity before the press. But one well-placed LR insider and Sarkozy critic described how "they hate each other and never meet up outside of the weekly press briefing", adding: "They together sum up what the UMP has become under Sarkoy, a gathering of the double-faced."
It appears as if Sarkozy, with an eye to the primary race next year to decide the party's candidate for the presidential elections in 2017, is trying to find potential scapegoats for the problems surrounding him. Mediapart has learnt that during a meeting of the LR leadership on September 22nd, Sarkozy told the party's deputy leader Nathalie Kosciusko-Morizet: "When, with Juppé, you called [on the electorate in local elections] for a vote for the socialists where there was a [Socialist Party-Front National] duel there was, from that moment on, a hole in membership applications. So you carry a heavy responsibility in that decrease."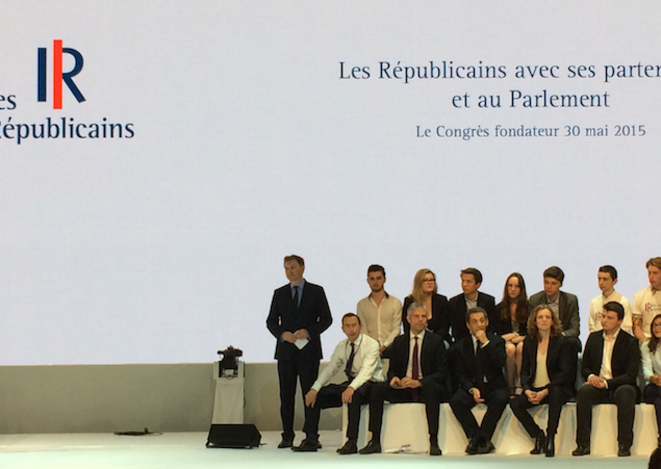 Congrès LR à Paris, le 30 mai 2015. © ES
Last year Sarkozy's 2012 presidential election deputy campaign director, Jérôme Lavrilleux, was placed under investigation (one step short of being charged) over his self-confessed role in a scam by which Sarkozy's campaign meetings were billed to his then-UMP party instead of to his campaign organization, as required by law, and which is the subject of an ongoing judicial investigation. The events company which organised his meetings, Bygmalion, invoiced the party with falsified bills to get round the strict rules on the funding of French political campaigns.
In an interview last week with French weekly news magazine L'Obs, Lavrilleux was scathing of Sarkozy. "There is only he who can say in his statement [given to investigators] that this [Bygmalion] business doesn't concern his campaign," he said. "It is a system of defence that is bound to fail totally. He adopts the same [tactic] in all the affairs he is questioned about – 'it's not me, it's the other one' [...] He is shirking. He lives in an unreal world, and doesn't know how to assume [his actions]. Top leaders are however those who assume [their actions]. Ingratitude is the mark of the weak."
Sarkozy is certainly weakened in that he is ringed by enemies. Firstly by his fellow LR party rivals, notably Alain Juppé but also Sarkozy's former prime minister, François Fillon, who watch over him, ready to pounce, and prevent him from doing as he would like. Secondly by the investigating magistrates before whom both Sarkozy and a number of his former allies are regularly summoned for questioning in several ongoing corruption investigations.
While none of his political adversaries will attack with him on-the-record comments over the scams, Sarkozy knows only too well the potential danger to his political future that the probes represent. "I will be the king or the kingmaker" the former president is keen to repeat among his entourage. One party official told Mediapart that Sarkozy would choose his former economy minister François Baroin as his replacement if ever he was unable to stand in the primary elections. Baroin, 50, who has, according to observers, been at pains of late to present himself as a potential prime minister, showed his loyal support for Sarkozy and the belief that he will be chosen as LR candidate, in an interview earlier this month with Paris Match magazine. "I'd like to have a return match because that has never been had, because Nicolas Sarkozy deserves it, because he wasn't playing on an even field in 2012 against François Hollande."
In a sign of his self-doubt over the primaries, aware that his only chance of winning them is if there is a low turnout, Sarkozy told a meeting of regional LR party branch secretaries on October 12th that the 10,000 voting centres for the race should be reduced. Despite the fact that the number of urns was validated by the party's leadership committee in April, he told the branch secretaries that the figure of 10,000 was "not realistic" and that the number should be reduced by 2,000.
"Concerned about mobilisation, Nicolas Sarkozy explained to the [regional] secretaries that it would be very difficult to have 10,000 voting centres because that means having an army of 80,000 volunteers to manage them," said LR party director general and Sarkozy ally Frédéric Péchenard in an interview with French daily Le Monde. That appeared to be something of a climbdown over Sarkozy's past belief in his capacity to mobilize party sympathisers.